Tweeddale Herd Dispersal Tops at 13,000gns
The great show heifer Tweeddale Hawkeye secured the top price of 13,000gns at the Tweeddale Dispersal Sale at Carlisle on Friday 21st August 2015 for Messrs Redhead & Watson of Berwickshire.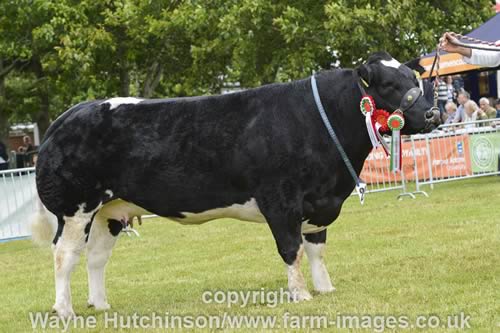 Hawkeye's accolades of show successes included the Royal Highland Show, Great Yorkshire Show and Royal Welsh Show during this year. The impressive Tweeddale Ebony daughter and out of Estelle sold in calf of the Limousin bull Goldies Goldmine and also included the embryo package by Dafydd d'Ochain. Hawkeye sold to Messrs Beal of Malton, Yorkshire.
Following at 8,000gns was the first in-calf heifer into the sale ring, Tweeddale Inhance, a daughter of the much admired Enhance cow and sired by Ebony. She also sold in calf to the Goldmine Limousin bull and included an embryo package of the great show bull Ballygrange Alex and Gitan du Pit't Mayeur. Inhance was another great show winner for the herd at the major shows including this season winning 2nd prize at the Royal Highland Show. She was purchased by Jenny Devine & Martyn Hil of Biggar.
Also selling for 8,000gns was the very last young bull through the ring, Tweeddale Jebony. This July 2014 born son of Tweeddale Hebony and out of the noted show winning Flutter family, he was knocked down to Messrs Wiliiams of Powys.
A cow and calf outfit sold for 7,200gn price tag. Tweeddale Fussy, a direct decendant of imported being lines with her sire Etna de l'Ecluse and dam Emise de l'Happe. Fussy sold with her July born bull calf at foot, Kracker, a Tweeddale Guinness son. This eye catching unit, sold to Matthew Jones of the Graymar herd based at Telford, Shropshire.
Heading up the maiden heifer section was Tweeddale Jessie J selling for 7,000gns. She is sired by Mountjoy Utopia and out of Broomfield Amanda who is also the grand –dam of that great Hawkeye heifer. Jessie J travels to Montgomery, Powys for EH Pennie & Son.
Attracting a bid of 6,800gns was Tweeddale Hesther and her April bull calf Kane. This Gitan du Pit't Mayeur daughter is related, through his dam line Esther, to the Genus AI sire Tweeddale Gee Whiz. Hesther sold in calf to Tweeddale Heros and was knocked down to Messrs Beal again of Malton.
Another two cow and calf units both sold for 6,000gns each. First to hit the mark was Tweeddale Hopeful, an Imperial de l'Ecluse daughter and out of the imported cow Justesse de Fooz. Her fostered calf at foot is a Guinness sired heifer out of the Finch family. They sold to Roly Carr for his Homilton herd based near Newcastle upon Tyne.
A few lots later followed the second 6,000gn bid this time for Tweeddale Hooch and her bull calf Kestrel. This second calved cow is also a Gitan daughter and out of Harestone Barbara and back in calf to Tweeddale Impresa. They were purchased by KW Gamble for the Unthorpe herd of Easingwold, Yorkshire.
A further 10 lots all sold over the 5,000gn mark and 18 lots sold over the 4,000gn. The combined average for the cows, served and maiden heifers was an impressive £4,832.
Averages
27 Cows served and or suckling £4911.67
8 Heifers in calf £5079.38
12 Maiden Heifers £4488.75
2 Recipient with Calves £3202.50
4 Recipients carrying Embryos £2992.50
1 Stock Bull £4200.00
11 Young Bulls £3951.82
Auctioneers: Harrison & Hetherington