Stars of the Future 2016
Overall Junior Continental Champion Abington Lionel. Report to follow.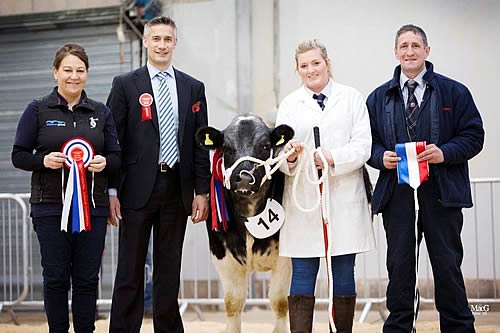 Judges praise one-day showcase at Balmoral
Breed judges from throughout the UK and Ireland were unanimous in their praise for the Pedigree Calf Fair and Beef NI Expo, held at the Balmoral Showgrounds in Belfast.
Youth of the Blues Workshop Weekend
11th - 12th February 2017
By kind permission of Allan & Deirdre Wilkinson, Springfield, Lancashire. Anyone interested please get in touch with the society office.
Society Sale Dates 2017
Dates for the 2017 Society Spring Sales have been agreed.
Kersey herd wins Improved Herd Award for the British Blue
The Kersey herd, owned by R Partridge and Son Ltd, has been recognised by AHDB Beef & Lamb as the Most Improved Herd of British Blue cattle in England in 2016.
Successful Pedigree Calf Walk for British Blues
British Blue breeders took top prizes at the recent Pedigree Calf Walk in Anglesey.