NOTICE TO MEMBERS
Update to the Sale Health Entry Requirements
Would members please note an update to the sale health entry requirements. details
Borderway Online Auction Deemed a Success
The Annual British Blue Society & Border Club Spring Sale was held in the form of an Online Timed Auction due to the current Covid-19 pandemic. report
Wanted
Pedigree Blue Roan Heifer Calf (orphan) or just weaned.
Please contact the Office 01768 870522
Simmental High Health Recipients for Sale
P. Burgess 07710 447807
Shrewsbury "Blue Genes" Sale of British Blue Cattle saw a 95% Clearance
The Society held it's inaugural sale of British Blues at Shrewsbury Auction Centre on 7th March 2020.
Border British Blue Club Primestock Show & Sale
At Borderway Mart, Carlisle on Monday 16th March 2020, The Border British Blue Club held their annual show and sale of primestock in conjunction with Harrison and Hetherington's weekly primestock sale. report
Oliver - New Blue Leader
Oliver McCann, Dromaroad Hill, Castlewellan, Co Down is the new chair of the NI Blue Cattle Breeders Club following a well attended and convivial 2020 AGM. report
Border Club Open Calf Show 2020
The Border British Blue Club staged their twenty-first annual open calf show on Friday 24th January at Borderway Mart, Carlisle. report
British Blue Newsletter
Would members please note that on page 7 -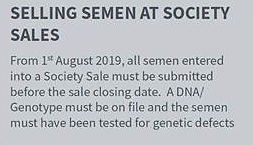 The ruling for testing for genetic defects applies to semen collected after 1st January 2012.