Blues All the Way at The Great Yorkshire
Tuesday 14th - Thursday 16th July 2015
Tweeddale Hawkeye takes Beef Interbreed.
Jonathan & Jayne Watson's Tweeddale Hawkeye took the Beef Interbreed Championship and, in the commercial section British Blue sired animals took Champion & Reserve.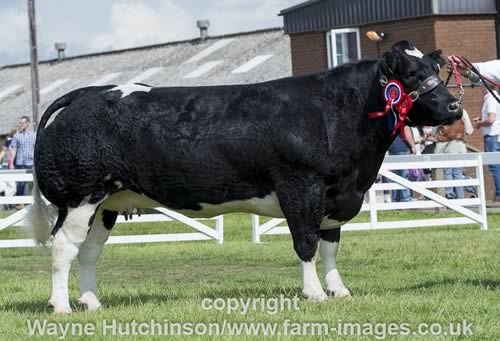 Class Results
Pedigree Judge: Stephen Brough, Carlisle
Commercial Judge: Jason Wareham, East Sussex
Class 108: Bull born before 1 January 2014
1st: 734
Messrs Lawson & Wilkinson, 1 Ivy Farm Cottages, Leyburn, North Yorkshire
Hawk
Class 109: Bull born on or after 1 January 2014
1st: 736
D J & B Spours, Twizzell Farm, Belford, Northumberland
Brownridge Blues Jackpot
2nd: 738
Messrs Redhead & Watson, Bowsden Moor, Bowsden, Berwick on Tweed
Tweeddale Jedward
3rd: 737
Mr R Pattinson, Temon Farm, Low Row, Brampton
Topside John Joe
Class 110: Heifer born in 2013.
1st: 750
Mr R Pattinson, Temon Farm, Low Row, Brampton
Topside Isla
2nd: 749
Mr R Carr, Homilton Farm, Capheaton, Newcastle Upon Tyne
Homilton Iris ET
3rd: 743
V & G Bowring, The Park, Nether Langwith, Mansfield
Bedgebury Image
Class 111: Heifer born in 2014
1st: 756
Mr M Hartley, Pendle Valley Farm, Roughlee, Nelson, Lancashire
Pendle Jewel
2nd: 759
Messrs Redhead & Watson, Bowsden Moor, Bowsden, Berwick on Tweed
Tweeddale Jazzy
3rd: 757
Mr G C Brown, Pond Farm, Lockton, Pickering, North Yorkshire
Brennand Jilly
Class 112: Cow or Heifer in calf or with calf at foot, born in or before 2013
1st: 768
Messrs Redhead & Watson, Bowsden Moor, Bowsden, Berwick on Tweed
Tweeddale Hawkeye
2nd: 766
Watret Mr D & Mrs L, Muirfield, Hightae, Lockerbie
Criffelview Gracious
3rd: 765
Mr S & Mrs K O, Hampshire House, Tollerton Road, Huby, York, North Yorkshire
Keadyview Gorgeous
Class 113: Group of Three Animals the property of the same exhibitor
1st: 770
Messrs Redhead & Watson, Bowsden Moor, Bowsden, Berwick on Tweed
2nd: 771
Mr D J Saunders, Maidenlands Tarn, Tarn Flatt, Marton , Nr Ulverston
Class 114: Pair of Animals by the Same Sire
1st: 774
Messrs Redhead & Watson, Bowsden Moor, Bowsden, Berwick on Tweed
pair sired by Tweeddale Ebony
2nd: 776
Mr G C Brown, Pond Farm, Lockton, Pickering, North Yorkshire
pair sired by Cromwell Fendt
Commercial Beef: Class 127a: British Blue or British Blue cross Heifer, any weight
1st: 912
Wilkinson Miss B & Mr L, 1 Ivy Farm Cottages, Leyburn, North Yorkshire
British Blue X British Blue Cross
2nd: 915
Mr S & Mrs K O, Hampshire House, Tollerton Road, Huby, York, North Yorkshire
British Blue X Limousin
3rd: 914
Mr J W Stephenson, Bordley Green Farm, Bordley, Skipton, North Yorkshire
British Blue X Limousin Cross
Commercial Beef: Class 127b: British Blue or British Blue cross Heifer, any weight
1st: 900
Mr S Bett & Miss L McKay, Castleton Farm, Airth, Stirling
British Blue X Limousin Cross
2nd: 910
Mr S & Mrs K O, Hampshire House, Tollerton Road, Huby, York, North Yorkshire
Limousin X British Blue Cross
3rd: 908
Mr T A Lyon, Lintre House, Water Lane, Thurlby, Bourne, Lincolnshire
British Blue X Limousin Cross
Commercial Beef Champion
1st: 900
Mr S Bett & Miss L McKay, Castleton Farm, Airth, Stirling
British Blue X Limousin Cross
2nd: 912
Wilkinson Miss B & Mr L, 1 Ivy Farm Cottages, Leyburn, North Yorkshire
British Blue X British Blue Cross