North East British Blue Club - 18th Annual Calf Show
Sunday 2nd October 2016
Newark Showground, Newark, Notts.
Report & Results
Sunday 2nd October was the 18th Annual British Blue Calf Show, held again at Newark & Notts Showground. We were once again blessed with fantastic weather for Autumn.
Philip Halhead was our cattle judge for the day and gave his reasons to the crowd after every class, which was great for exhibitors and spectators alike.
Our Calf Show Champion who was awarded the Newark Livestock Auction Trophy was Windmill Lamberetta, from V & G Bowring from Mansfield Notts. This was a Bringlee Waldo sired calf out of Boomer Armarni. Reserve Champion came from Dylan Townend, Malton North Yorkshire with his heifer calf Cliftown Lady Luck.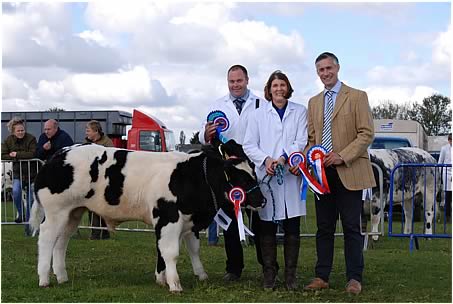 Champion Calf Under 6 Months old was again Windmill Lamberetta from the Bowrings. Reserve was Beckside Blues with Beckside Lyric
The Crossbred section was won by last years calf show winner Polly from Anthony Holmes & Katie Burgess, from Skellingthorpe, Lincolnshire, reserve to her was Robin a steer from Everatt & Scarborough of Goole East Yorkshire.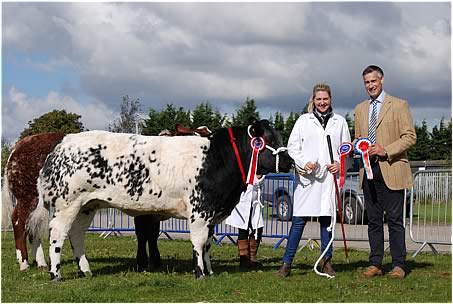 The Over 10 Month old pure bred section Champion & Reserve was taken by Wright & Hallam from Derbyshire. Champion was Dewlands Juliet and Reserve to her was Dewlands Kylie.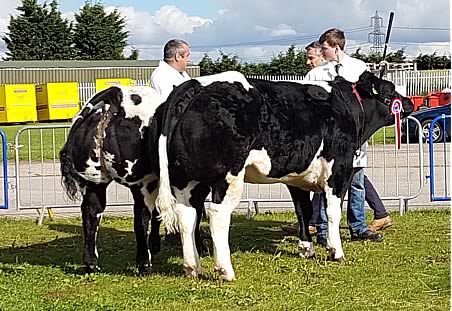 Robin Ivory then took on the reins to judge the young handlers. The winner was 9 year old Emma Allen with William Gent 2nd and Shannon Graves in 3rd place.
Full Results
Class 1 Pure Male Under 6 Months
1st V & G Bowring Windmill Lamberetta
2nd Beckside Blues Beckside Lyric
3rd V & G Bowring Windmill Lancelot
Class 1 Pure Female Under 6 Months
1st V & G Bowring Windmill Lets Dance
2nd Malc Taylor Brantside Lolipop
Class 3 Crossbred Male Under 10 Months
1st V & G Bowring
Class 5 Pure Bull 6-10Months
1st S Hough Featherstone Lofty
2nd Shaw & Miller Saxthorpe Luigi
3rd M Taylor Brantside Lincoln
Class 6 A Pure female 6-10 months
1st D Townend Cliftown Lucky Star
2nd Wright & Hallam Dewlands Leanne
3rd S Hough Featherstone Lulu
Class 6 B Pure female 6-10 months
1st D Townend Cliftown Lady Luck
2nd W LaightWitham Bank La La
3rd S HoughTopside Kiss
Class 7 Crossbred female Over 10 months
1st Holmes & Burgess Polly
2nd L ToddGuerlain
3rd D ThompsonBeyonce
Class 8 Crossbred Male Over 10 Months
1st Everatt & Scarborough Robin
2nd L ToddBrexit
3rd W Hardy & Sons Black Grouse
Class 9A Pure Female 10-30 Months
1st S KirkBlackberry Kendal
2nd W LaightWitham Bank Kracker
3rd GC BrownBees Katrina
Class 9B Pure Female 10-30 Months
1st Wright & Hallam Dewlands Kylie
2nd W LaightWitham Bank Kloud
3rd Beckside Blues Chardanay Kazza
Class 10 Pure Female Over 30 Months
1st Wright & Hallm Dewlands Juliet
2nd w LaightWitham Bank Jade
3rd GC BrownTrencom Jubilee Queen
Pairs Under 10 Months
1st V & G Bowring
2nd D Townend
3rd S Hough
Pairs Over 10 Months
1st W Hardy & Sons
2nd W Laight
3rd G C Brown