Royal Highland Show 2023
22nd - 25th June
He's landed many Championships at the Royal Highland Show but was a first for Ali Jackson's own herd as his Topgun Splash was tapped forward as Supreme British Blue Champion on Thursday, 22 June.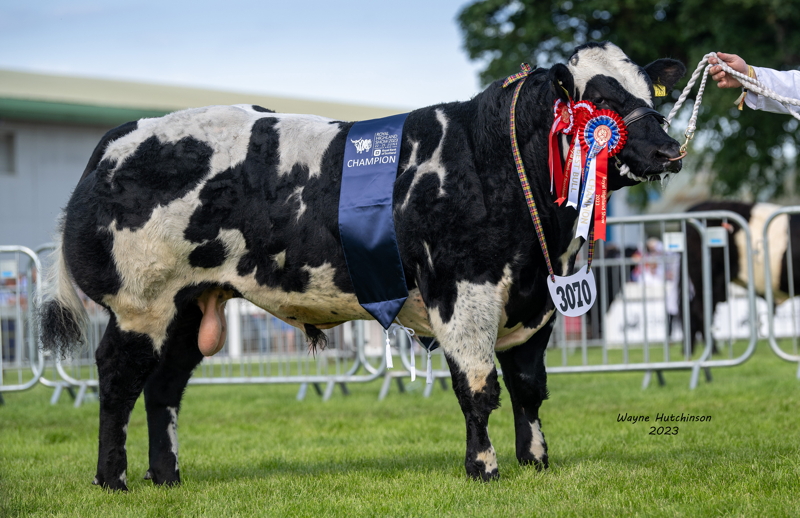 The result of a flush from a cow gifted to him as a wedding present, 13-month-old Splash is by Engin D'Hontoir and out of Solway View Oesha, a full sister to the 27,000gns Solway View Odin. First in his class at the Borderway AgriExpo, he has since been Reserve at both Lesmahagow and Cumberland shows and secured the Male and Junior titles before going on to stand Supreme Champion.
"He has everything I want in a bull and all the bits in the right place – he has power, size, style, while also being very correct and showy, a real classy bull and just the sort I'd love to have in the Norbreck breeding station," commented the judge, Phil Halhead.
Taking the Reserve ticket was the Female Champion Ellglen Olympia, a heifer with calf at foot from debut exhibitor, Ellen Elliot. Her home-bred Olympia was born in November, 2019, out of Auchenlay Kerry and is sired by Attribut Du Fond De Bois. She was shown with her February-born heifer calf at foot, Ellglen Touch of Class, which is by Clinton Du Falgi.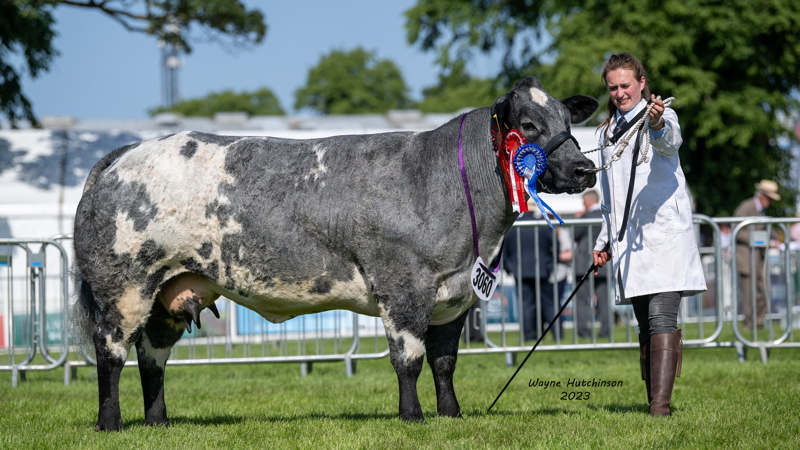 "She's a true modern Blue – a medium framed cow which is feminine yet carries plenty of muscle and is making a great job of her natural calf with loads of milk," added Mr Halhead.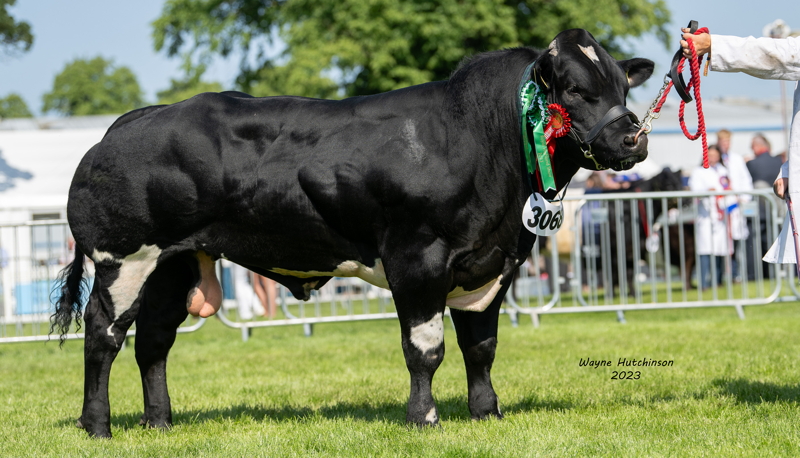 Standing Reserve Male was Ian McGarva's Abington Sonic, a 14-month-old full of home breeding being by Abington Nitro and out of Abington Kiwi.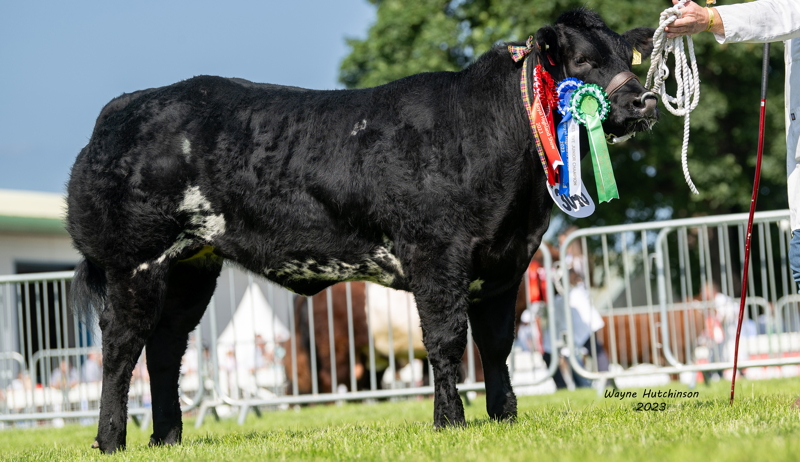 Kevin Watret's Solway View Spicey, a yearling by Dodou De St Remacle and out of Solway View Kesha, was Reserve Female and Reserve Junior. Kevin also won the Group of Three class.
Other red rosettes went to Robert and Maimie Paterson's Auchenlay Sylvie, Coul Estate's Solway View Ria, and David and Linda Watret's Criffelview Romeo.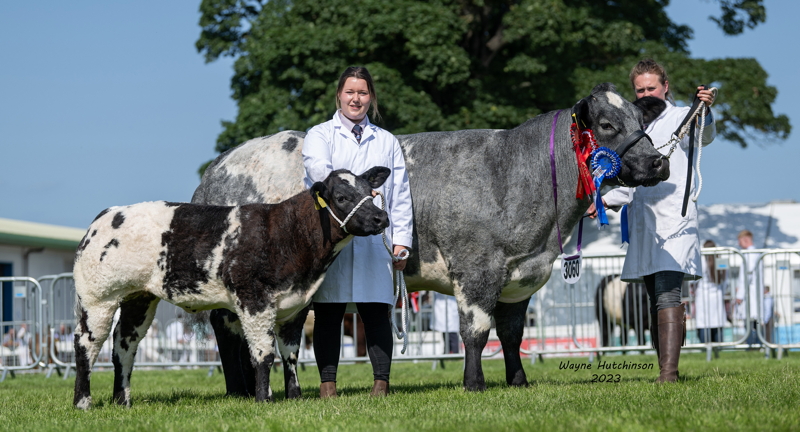 ROYAL HIGHLAND SHOW 2023 RESULTS
290-FEMALE, born on or between 1st January and 30th April 2022
1st 3040 – AUCHENLAY SYLVIE (Sandyvale Jagerbomb) – R & M Paterson
2nd – 3042 – MAKING PLACE SANDY (Sandyvale Jagerbomb) - J & S Crowther
3rd 3043 – MAKING PLACE SHEILA B (Bedgebury Kent) - J & S Crowther
4th 3041 – THISTLE SHOW A LEG (Bedgebury Kent) - G SCOTT
291-FEMALE, born on or after 1st May 2022
1st – 3046 – SOLWAY VIEW SPICEY (Dodou De St Remacle) - Kevin Watret
2nd – 3045 – KINGSIDE SIENNA (Bedgebury Kent) - Tom & Alison Cockburn
3rd – 3044 – AUCHENLAY SADIE (Tamhorn Ethan) - R & M Paterson
4th – 3047 – TOPSIDE STYLISH (Glaieul Du Pont De Messe) - R & E pattinson
292-FEMALE, born on or between 1st Janaury and 31st December 2021
1st – 3059 – SOLWAY VIEW RIA (Dodou De St Remacle) - Kevin Watret
2nd – 3058 – SOLWAY VIEW RHUBARB (Solway View Odin) - Kevin Watret
3rd – 3051 – ABINGTON ROXANNE (Abington Nitro) - Ian Mcgarva
4th – 3048 – TOPSIDE REALUN (Naby Golddust) - Ross Pattinson
5th – 3055 – BLACKSTANE ROYAL (Tenace de la Praule) - Kelly Blackwood & Duncan Davidson
6th – 3050 – THISTLE ROSETTA (Dodou De St Remacle) - G SCOTT
293-FEMALE, born on or before 31st December 2020, in calf or with calf at foot
1st – 3060 – ELLGLEN OLYMPIA (Attribut Du Fond De Bois) - Ellen Elliott
2nd – 3062 - SOLWAY VIEW PIXIE (Bedgebury Kent) - Coul Estate
295-BULL, born on or between 1st January and 30th April 2022
1st – 3068 – ABINGTON SONIC (Abington Nitro) - Ian Mcgarva
2nd – 3066 – AUCHENLAY SKYE (Sandyvale Jagerbomb) - R & M Paterson
3rd – 3067 – BLACKSTANE SUPREME (Tenace de la Praule) - Kelly Blackwood & Duncan Davidson
4th – 3063 – KENRAY SIMBA (Clinton Du Falgi) - Beth Hill
5th – 3064 – MAKING PLACE SAUNDERS (Maidenlands Marvel) - J & S Crowther
296-BULL, born on or after 1st May 2022
1st – 3070 – TOPGUN SPLASH (Engin D Hontoir) - Alastair Jackson
2nd – 3073 – TOPSIDE SANCHO (Naby Golddust) - Ross Pattinson
3rd – 3071 – STONEBYRES SAMSON (Stonebyres Ninja) - A & CS Comrie
4th – 3069 – AUCHENLAY SOMERLED ( Mountjoy Utopia)  - R & M Paterson
297-BULL, born on or before 31st December 2021
1st – 3076 – CRIFFELVIEW ROMEO (Greystone Noveltee) - D&L Watret
5433-SP01-British Blue-Best Junior Female
1st – 3046 - 3046 – SOLWAY VIEW SPICEY (Dodou De St Remacle) - Kevin Watret
5434-SP02-British Blue-Reserve Junior Female
1st -3059 - SOLWAY VIEW RIA (Dodou De St Remacle) - Kevin Watret
5444-SP03-British Blue-Best Female
1st -3060 - ELLGLEN OLYMPIA (Attribut Du Fond De Bois) - Ellen Elliott
5445-SP04-British Blue-Reserve Female
1st – 3046 - SOLWAY VIEW SPICEY (Dodou De St Remacle) - Kevin Watret
5446-SP05-British Blue-Best Junior Bull
1st -3070 - TOPGUN SPLASH (Engin D Hontoir) - Alastair Jackson
5447-SP06-British Blue-Reserve Junior Bull
1st – 3068 - ABINGTON SONIC (Abington Nitro) - Ian Mcgarva
5448-SP07-British Blue-Best Bull
1st – 3070 - TOPGUN SPLASH (Engin D Hontoir) - Alastair Jackson
5449-SP08-British Blue-Reserve Bull
1st – 3068 - ABINGTON SONIC (Abington Nitro) - Ian Mcgarva
5450-SP09-British Blue-Breeder of Best Bull
1st -3070 - TOPGUN SPLASH (Engin D Hontoir) - Alastair Jackson
5451-SP10-British Blue-Best Junior Animal
1st – 3070 - TOPGUN SPLASH (Engin D Hontoir) - Alastair Jackson
5452-SP11-British Blue-Reserve Junior Animal
1st – 3046 - SOLWAY VIEW SPICEY (Dodou De St Remacle) - Kevin Watret
5453-SP12-British Blue-Champion
1st – 3070 - TOPGUN SPLASH (Engin D Hontoir) - Alastair Jackson
5454-SP13-British Blue-Reserve Champion
1st – 3060 - ELLGLEN OLYMPIA (Attribut Du Fond De Bois) - Ellen Elliott
5455-SP14-British Blue-Best Animal Bred by Exhibitor
1st – 3070 - TOPGUN SPLASH (Engin D Hontoir) - Alastair Jackson