Great Yorkshire Show 2016
Tuesday 12th - Thursday 14th July 2016
Judge: Mrs G Ellis, Trevarrack, St Ives, Cornwall
Tweeddale Hawkeye took the Female championship and Supreme Overall Championship for the 2nd year running. This time, having been sold last year at the Tweeddale Dispersal Sale, she was shown by Claire Beal from Malton, North Yorkshire.
Taking the Junior championship and Reserve Overall was Pendle Knock Em Out, a March 2015 born heifer from the Hartley family, Nelson, Lancashire.
Ross and Elaine Pattinson had a successful day, taking the Male Championship with Topside Joey.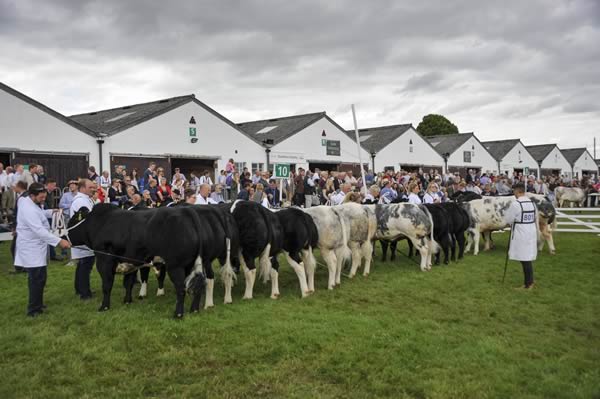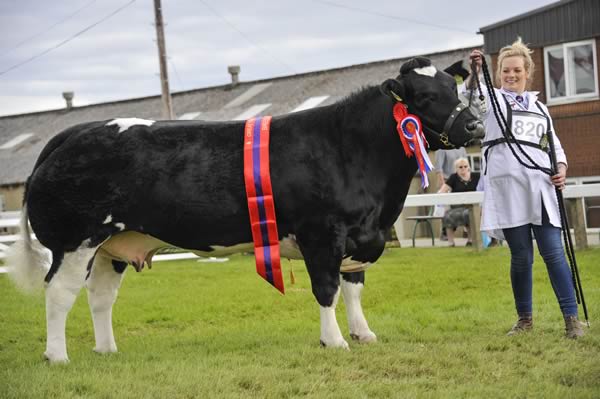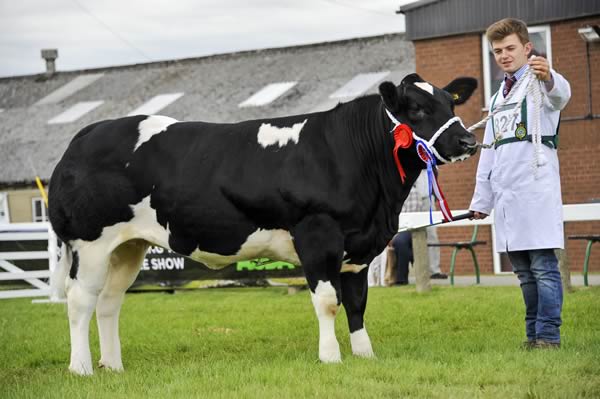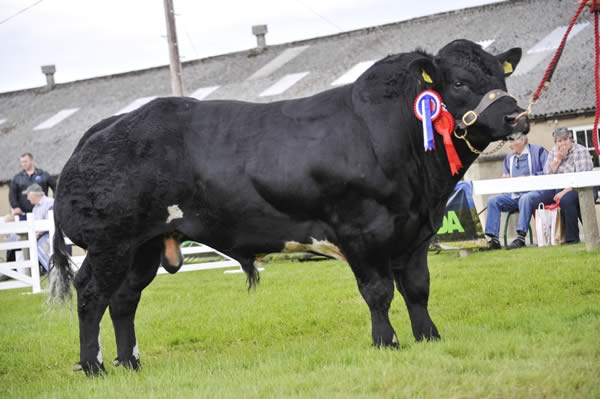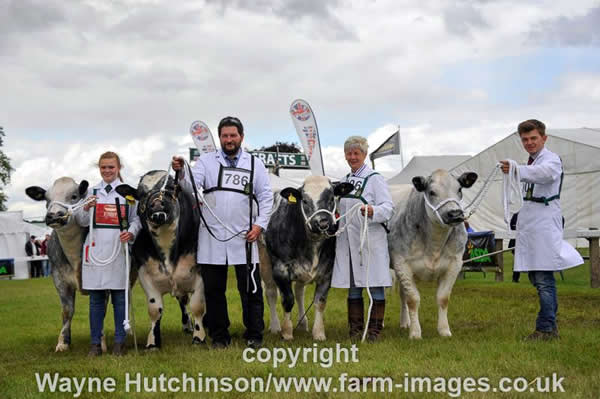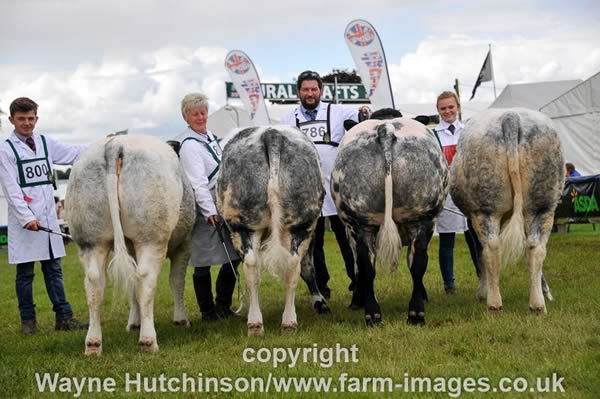 RESULTS
Class 118: Bull, born before 1 January 2015
1st: 783
R & E Pattinson, Temon Farm, Low Row, Brampton, Cumbria, CA8 2JG
Top Side Joey
2nd: 782
R & E Pattinson, Temon Farm, Low Row, Brampton, Cumbria, CA8 2JG
Top Side Jake
3rd: 781
Mr R Carr, Homilton Farm, , Capheaton, Newcastle Upon Tyne, NE19 2BE
Homilton Jupiter
Class 119: Bull, born on or after 1 January 2015
1st: 786
D J & B Spours, Twizzell Farm, Belford, Northumberland, NE70 7HY
Brownridge Blues Kingpin
2nd: 787
Beal Miss C & Mr C F, Abbey Farm, Yedingham, Malton, North Yorkshire, YO17 8SW
Tweeddale Kane
3rd: 788
Mr J W Stephenson, Bordley Green Farm, Bordley, Skipton, North Yorkshire, BD23 6NE
Bordley Kilnsey King
Class 120: Heifer, born in 2014
1st: 800
Mr M Hartley, Pendle Valley Farm, Roughlee, Nelson, Lancashire, BB9 6NT
Pendle Josie
2nd: 791
Mr J Laight, The Chestnuts, Horncastle Road, Boston, Lincolnshire, PE22 7AX
Witham Bank Jade ET
3rd: 794
Mr R Carr, Homilton Farm, , Capheaton, Newcastle Upon Tyne, NE19 2BE
Homilton Jet
Class 122: Cow or Heifer, in calf or with calf at foot, born in or before 2014
1st: 820
Beal Miss C & Mr C F, Abbey Farm, Yedingham, Malton, North Yorkshire, YO17 8SW
Tweeddale Hawkeye
2nd: 818
Hampshire Livestock, Hampshire House, Tollerton Road, Huby, York, North Yorkshire, YO61 1JA
Keadyview Gorgeous
3rd: 819
Watret Mr D & Mrs L, Muirfield, Hightae, Lockerbie, Dumfriesshire, DG11 1JG
Criffelview Gracious
Class 123: Group of Three Animals, the property of the same exhibitor
1st: 826
Mr R Carr, Homilton Farm, Capheaton, Newcastle Upon Tyne, NE19 2BE
2nd: 827
Mr M Hartley, Pendle Valley Farm, Roughlee, Nelson, Lancashire, BB9 6NT
3rd: 825
Mr J Laight, The Chestnuts, Horncastle Road, Boston, Lincolnshire, PE22 7AX
Class 124: Pair of Animals by the Same Sire
1st: 832
Mr J Laight, The Chestnuts, Horncastle Road, Boston, Lincolnshire, PE22 7AX
pair sired by Lennie van het Caloenhof
2nd: 830
Master M Benson, Horrace Farm, Pennington, Cumbria, LA12 7SB
pair sired by Ridgedean Delta
3rd: 833
Mr M Hartley, Pendle Valley Farm, Roughlee, Nelson, Lancashire, BB9 6NT
pair sired by Jalon de Martinpre
CH57:
1st: 808
Mr M Hartley, Pendle Valley Farm, Roughlee, Nelson, Lancashire, BB9 6NT
Pendle Knock Em Out
2nd: 800
Mr M Hartley, Pendle Valley Farm, Roughlee, Nelson, Lancashire, BB9 6NT
Pendle Josie
CH58:
1st: 783
R & E Pattinson, Temon Farm, Low Row, Brampton, Cumbria, CA8 2JG
Top Side Joey
2nd: 782
R & E Pattinson, Temon Farm, Low Row, Brampton, Cumbria, CA8 2JG
Top Side Jake
CH59:
1st: 820
Beal Miss C & Mr C F, Abbey Farm, Yedingham, Malton, North Yorkshire, YO17 8SW
Tweeddale Hawkeye
2nd: 808
Mr M Hartley, Pendle Valley Farm, Roughlee, Nelson, Lancashire, BB9 6NT
Pendle Knock Em Out
CH60:
1st: 820
Beal Miss C & Mr C F, Abbey Farm, Yedingham, Malton, North Yorkshire, YO17 8SW
Tweeddale Hawkeye
2nd: 800
Mr M Hartley, Pendle Valley Farm, Roughlee, Nelson, Lancashire, BB9 6NT
Pendle Josie