Blues Do 'Dam' Well at English Winter Fair
Saturday 15th - Sunday 16th November 2014
The Crossbred steer Championship was taken by Neil Slack with "Stevie Gee" a Limousin x bullock, out of a Limousin x British Blue dam.
Reserve was also a Limousin sired bullock, again, out of a "Blue" X Dam
Baby Beef Championship was won by Robert Miller from Northern Ireland with a British Blue x heifer "Dashing Lady" a daughter of Dafydd D'Ochain, which weighed in at 340kg. Judge, Paul Tippetts commented "This is a very stylish heifer being an incredibly smart calf, very easy to put up first."
National Pedigree Calf Show
This inaugural event, attracted 170 calves, of outstanding quality.
The British Blue Championship was taken by Kevin Watret, with Solway View Irresistible, by Serum D'Anloy / Solway View Black Beauty.
The Reserve Championship again, won by the Solway View Herd with Solway View Jackpot, a Solway View Firecracker son, out of Bringlee Evadine.
The Reserve Male Champion was won by D White with Dewlands Jethron, a son of Boherard Cantona. The Reserve Male Champion was Chalford Major Jazzy, bred and exhibited by David Plested.
Crossbred Cattle
British Blue Heifer class was won by Elfed Williams with Chang Chang, weighing in at 555kg.
Following on from this, the Alford family won their Blue class with Pokerhontas, weighing in at 565kg. Second in this class, exhibited by Messrs. Beardsley and Heath, with Special Edition, weighing in at 600kg.
Finally, third in the British Blue heifer class, was Hot Buns, exhibited by Vicky Bowring , with second place being Neil Slacks, Sassy Lassie, weighing in at 650kg.
The first Blue Bullock class was won by Trevor Lyons, with "Fire Fly" 550kg, second place going to Del Boy from Messrs. Cropper and Mellin. Third prize going to Messrs. Hardy with Dib Dab (605kg).
The second Blue Steer class was won by Messrs. Sedgwick with Vodka Bleu, weighing 655kg.
Cull Cows
The winner of the Cull Cow class was Berwyn Hughes and family, with Lukeroyal Ella, second was Richard & Judy Fountaine's White Sapphire.
Cattle Carcase Competition
The Champion overall carcase was exhibited by Frank Page, being out of a "Blue" x cow.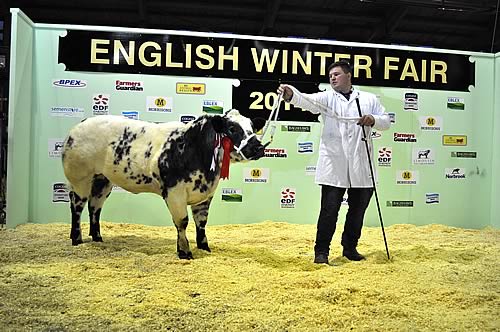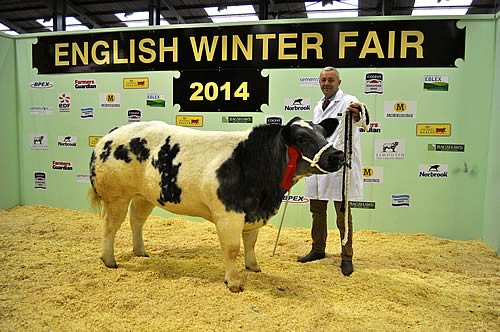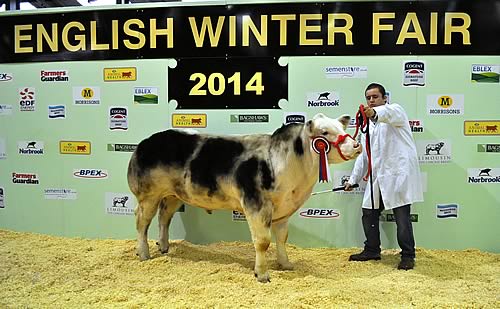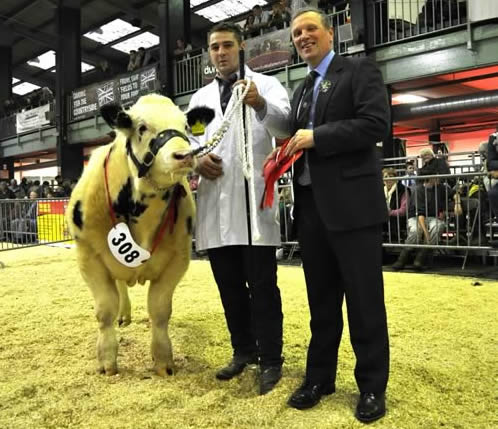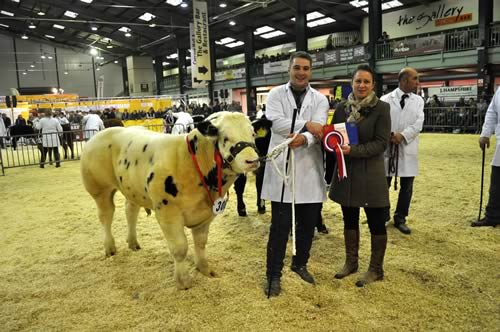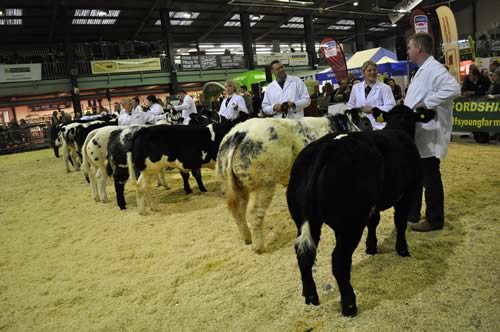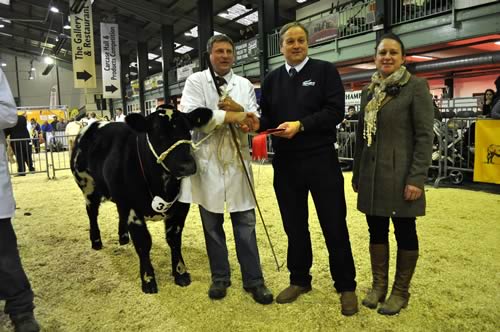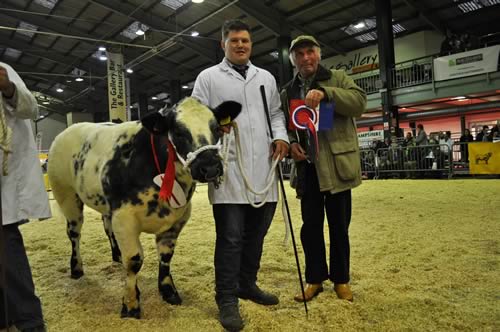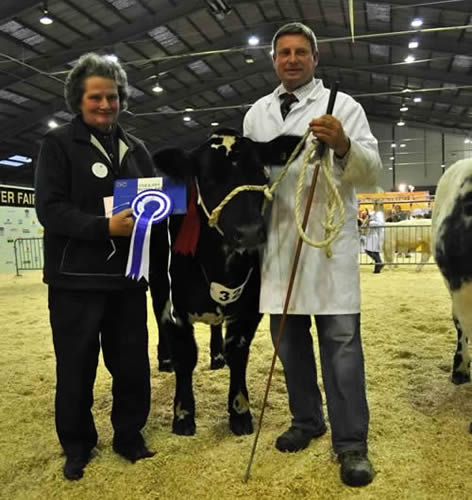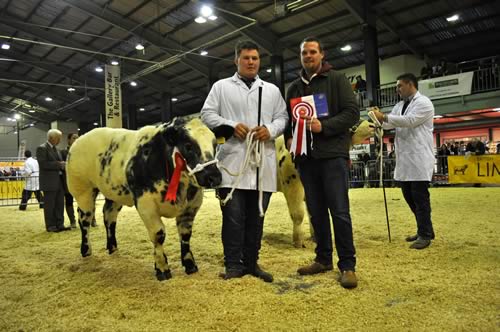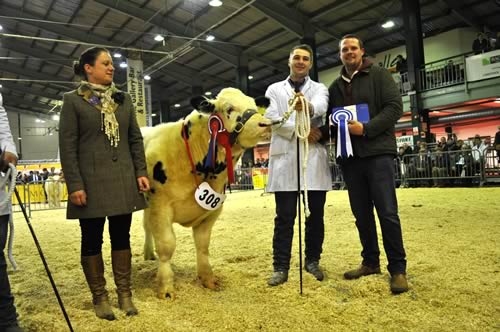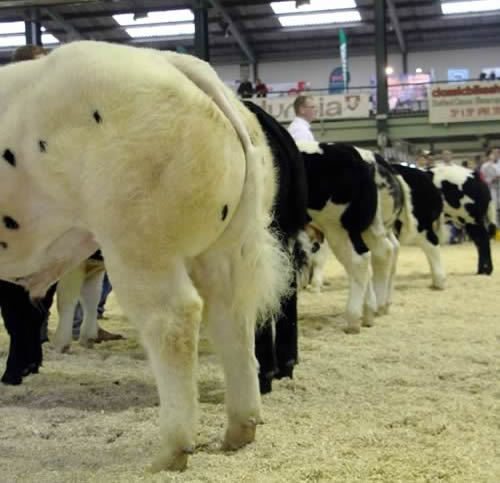 Judging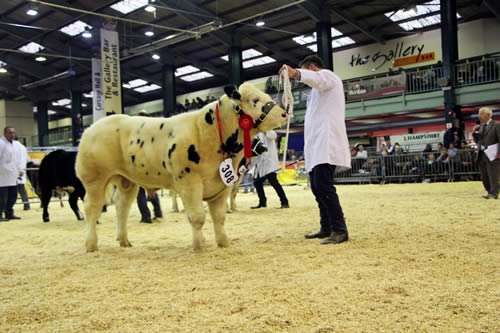 Judging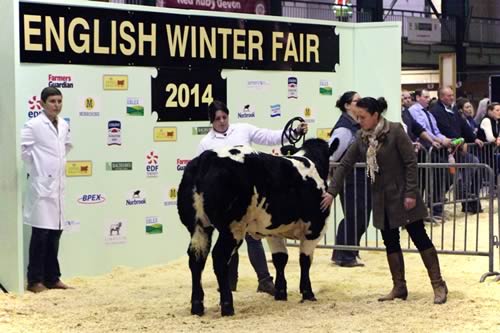 Judging