Stars of the Future Pedigree Calf Show
Saturday 16th November 2013
Quality shines through in British Blues at Stars of the Future
The Stars of the Future Calf Show, held for the first time at United Auctions Stirling, saw strong support for British Blues with quality shining through for judge Andrew Woodburn.
In the British Blue championships Mr Woodburn selected the senior female champion Tweeddale Headgirl from the Redhead and Watson team as overall senior champion. This December born Tweeddale Ebony daughter is out of Genesis De Boulogne.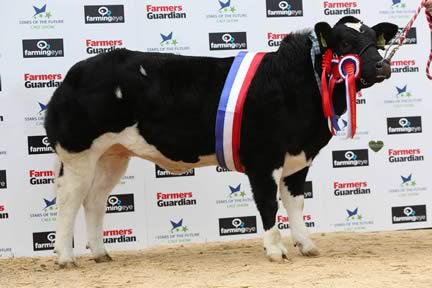 Taking reserve spot was the senior male champion Solwayview Horny from Kevin Watret. He is a Solwayview Firecracker son out of Balzer Dancing Queen.
Reserve senior female champion was Tweeddale Herlapa from Redhead and Watson partnership. She is another Ebony daughter out of Tamhorn Ulapa. While the reserve senior male championship went to A and C Comrie's Stonebyres Hamish. This Volkawagon son is out of Stonebyres Divina.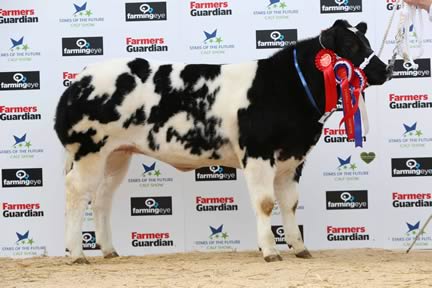 In the junior overall championship top spot went to the junior female champion Gass Isa from J Kay. She is a February born Solwayview Firecracker daughter out of Gass Echo.
Standing reserve to her was Kingside Inka Warrior from T and A Cockburn. He is a January born Empire D'Ochain son out of Lyonpark Evelian.
Taking the reserve junior female ticket was A Wight's Midlock Isla, this Solwayview Dynamite daughter is out of Andys Fanta. While reserve junior male went to Abington Irn Blue from I McGarva, this one is by Tweeddale Ebony and out of Abington Esther.
Class results:
Class 13: Bulls born 5th October to 28th November 2012
1, Kevin Watret's Solwayview Horny, by Solwayview Firecracker
2, A and C Comrie's Stonebyres Hamish, by Bringlee Volkawagon
3, A and C Comrie's Stonebyres Hamish, by Bringlee Volkawagon
Class 14: Heifers born 28th August to 19th December 2012
1, Redhead and Watson's Tweeddale Headgirl, by Tweeddale Ebony
2, Redhead and Watson's Tweeddale Herlapa, by Tweeddale Ebony
3, Kevin Watret's Solwayview Hotspot, by Solwayview Dynamite
Class 15: Bulls born 7th January to 16th February 2013
1, Messrs Cockburn's Kingside Inka Warrior, by Empire D'Ochain
2, Kevin Watret's Solwayview Inferno, by Solwayview Dynamite
3, Messrs Cockburn's Kingside Iceman, by Empire D'Ochain
Class 16: Heifers born 8th January to 1st June 2013
1, J W Kay's Gass Isa, by Solwayview Firecracker
2, A Wight's Midlock Isa, by Solwayview Dynamite
3, Redhead and Watson's Tweeddale Intention, by Mountyjoy Utopia
Class 17: Bulls born 7th March to 4th April 2013
1, I McGarva's Abington Irn Blue, by Tweeddale Ebony
2, Redhead and Watson's Tweeddale Ironman, by Tweeddale Fireman
3, Redhead and Watson's Tweedale Interest, by Mountjoy Utopia