Royal Welsh Show 2013
Monday 22nd - Thursday 25th July
Elegance Completes the Hat-Trick
After taking the Supreme Championship at the Royal Highland and Great Yorkshire Shows earlier in the season, Solway View Elegance completed the hat-trick by taking the Royal Welsh Show Supreme Championship for her owner Kevin Watret.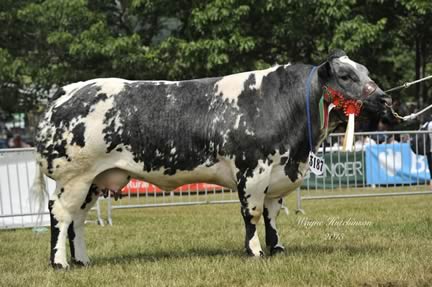 Reserve Supreme and Champion Male was Bavan Empire bred by T Dodds and shown by EA & DA Ellis.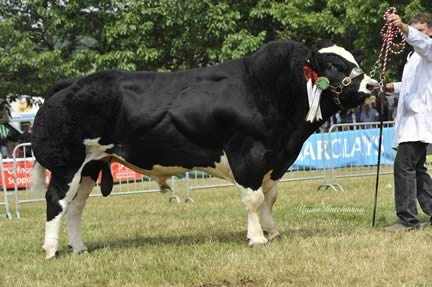 Reserve Champion Male was Brown Clee Grainger, bred by David Skellern and shown by Nigel Pritchard.
The Junior Male championship was awarded to Tanat Halfpenny, bred and exhibited by WR & WW Jones.
B & C E Wilson and Messrs Redhead & Watson were runners-up in the Females of the Future Pairs Championship with Haughton Hattie and Tweeddale Hawkeye.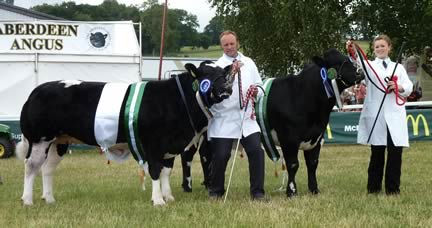 Kevin Watret won the Beef Stockmens Competition with Solway View Horny.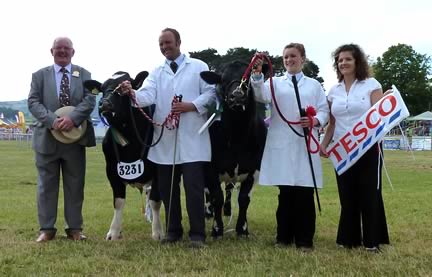 The judge commented that all lines of British Blue cattle were a credit to their exhibitors.
Results
Class 494: Bull born before 31.12. 2010:
1st – EA & DA Ellis – Bavan Empire - SIRE: YBLACK ET 3088 VD WILDEBEEK
2nd – EC Haste – Oxcroft Elmo – SIRE: EMPIRE D'OCHAIN
Class 496: Bull born on or between 1.1.11 & 31.12.11:
1st – N Pritchard – Brown Clee Granger - SIRE: DAFYDD D'OCHAIN
2nd – Redhead & Watson – Tweeddale Guinness - SIRE: DAFYDD D'OCHAIN
3rd – Adam Neachell – Cromwell Gunner – SIRE: NETHER HALL BUSTER ET
Class 497: Bull born after 1.1.12:
1st – WR & WW Jones – Tanat Halfpenny ET - SIRE: IMPERIAL DE L'ECLUSE
2nd – B Hughes – Bercwm Hulkster – SIRE: DRAGON BLUES DARKY ET
3rd – D Rees – Blue Stone Howard – SIRE: BLUE STONE EDWARD
Class 498: Highest Placed Junior Bull:
1st – WR & WW Jones – Tanat Halfpenny ET: SIRE: IMPERIAL DE L'ECLUSE
2nd – B Hughes – Bercwm Hulkster: SIRE: DRAGON BLUES DARKY ET
Class 499: The Gwili Jones & Son Award:
1st – EA & DA Ellis – Bavan Empire - SIRE: YBLACK ET 3088 VD WILDEBEEK
2nd – N Pritchard – Brown Clee Granger - SIRE: DAFYDD D'OCHAIN
Class 500: The Merial Animal Health Shield – Best Male Exhibit:
1st – EA & DA Ellis – Bavan Empire - SIRE: YBLACK ET 3088 VD WILDEBEEK
2nd – N Pritchard – Brown Clee Granger - SIRE: DAFYDD D'OCHAIN
Class 501: Female, in calf or with calf at foot, born before 30.6. 2010:
1st – K Watret – Solway View Elegance - SIRE: GITAN DU PTI'T MAYEUR
2nd – A & J Phillips – Balzer Elegant – SIRE: GITAN DU PTI'T MAYEUR
3rd – Redhead & Watson – Tweeddale Fussy – SIRE: ETNA DE L'ECLUSE
Class 502: The King Thomas & Lloyd Jones & Co Trophy for the Best Female:
1st – K Watret – Solway View Elegance - SIRE: GITAN DU PTI'T MAYEUR
2nd – A & J Phillips – Balzer Elegant - SIRE: GITAN DU PTI'T MAYEUR
Class 503: Female in calf or maiden, born on or between 1/7/10 & 30/4/11
1st – K Watret – Solway View Foxy Lady – SIRE: COLOS VAN DAISEL
2nd – M Froggatt – Blithbury Geneva – SIRE: MOUNTJOY UTOPIA
3rd – JN & LP Dunn – Highridge Blues Glitter - SIRE: BRINGLEE BLACKSTAR
Class 504: Female in calf or maiden, born on or between 1.5.11 & 28.2.12:
1st – M Jones – Graymar Glitter – SIRE: COLIBRI DU COIN
2nd – S O'Kane – Keadyview Gorgeous – SIRE: HARISSON DE PLATTE ET
3rd – D Rees – Blue Stone Goddess - SIRE: BLUE STONE EDWARD
Class 505: Female, in calf or maiden, born on or after 1.3.12:
1st – PJ & B Borlase – Tamhorn Helga ET – SIRE: BALLYGRANGE ALEX
2nd – Redhead & Watson – Tweeddale Hawkeye - SIRE: TWEEDDALE EBONY
3rd – M & J & SW Madders & Johnson – Boomer Halle Pure Orchid - SIRE: IMPERIAL DE L'ECLUSE
Class 506: The Colborn Dawes Cup for the highest placed Junior Female:
1st – PJ & B Borlase – Tamhorn Helga ET - SIRE: BALLYGRANGE ALEX
2nd Redhead & Watson – Tweeddale Hawkeye - SIRE: TWEEDDALE EBONY
Class 507: BBCS Trophy – Best Female Exhibit:
1st – K Watret – Solway View Elegance - SIRE: GITAN DU PTI'T MAYEUR
2nd – M Jones – Graymar Glitter - SIRE: COLIBRI DU COIN
Class 508: Ingrid Phillips Memorial Trophy – Best Pair:
1st – JN & LP Dunn – Highridge Blues Glitter (BRINGLEE BLACKSTAR) & Highridge Blues Glisten (BRINGLEE BLACKSTAR)
2nd – Redhead & Watson – Tweeddale Gabriella (VISCONTI DE ST FONTAINE) & Tweeddale Hawkeye (TWEEDDALE EBONY)
The Stephen O'Kane Trophy – EA & DA Ellis – Bavan Empire - SIRE: YBLACK ET 3088 VD WILDEBEEK
Supreme Champion: K Watret – Solway View Elegance - SIRE: GITAN DU PTI'T MAYEUR
Beef Cattle, Females of the Future Pairs Championship:
2nd – Haughton Hattie (GITAN DU PTI'T MAYEUR) (B & CE Wilson) & Tweeddale Hawkeye (TWEEDDALE EBONY) (Redhead & Watson)
Beef Cattle, Beef Stockmens Competition:
1st – K Watret – Solway View Horny – SIRE: SOLWAY VIEW FIRECRACKER