Fantastic Trade for British Blues at Carlisle
Bull Average £6415.50 (+£393.97)
Female Average £4375.00 (+£595.00)
The Annual first sale of the year for the British Blue Cattle Society was held at Borderway Mart, Carlisle on Friday 21st January 2022.
The sale saw a great demand for bulls and females alike, which resulted in a fantastic average for bulls, of £6415.50 - up over £393.97 on the previous year and £4375.00 for heifers, up £595.00 on last year.
BULLS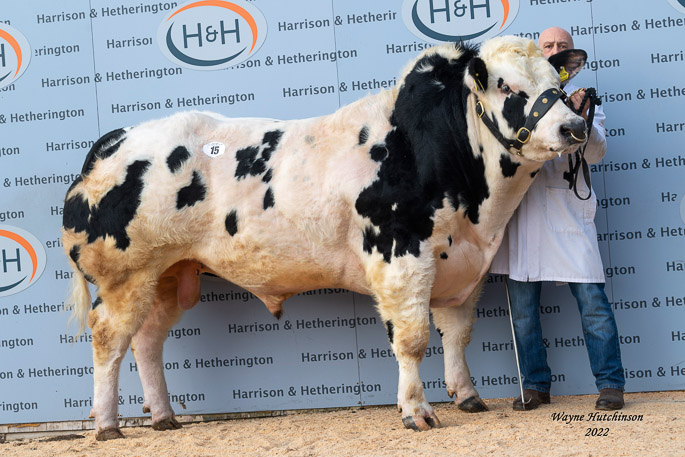 Topping the sale at 10,000gns was Lot 15 Newpole Pierrot from Newpole Livestock Ltd. This long, well-grown bull was sired by the renowned Empire D'Ochain and out of the imported cow Inouie D'Ozo. He sold to Messrs. Fawcett, Bishopdale.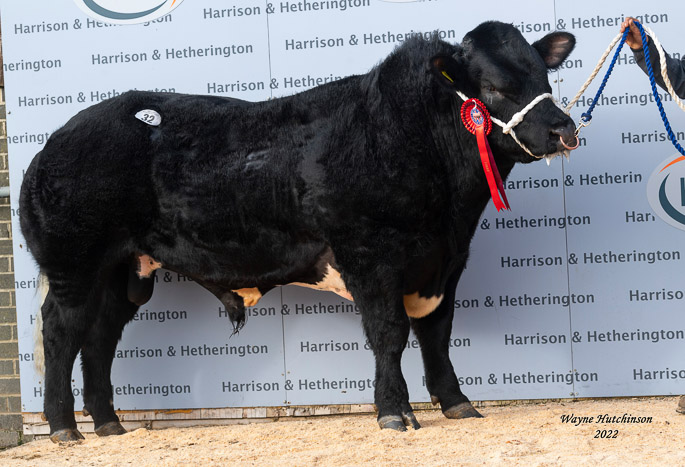 Selling for 9,000gns was the last bull into the ring, Lot 32 Kelowna Pilot from Steve, Claire and Jo Pattinson. Standing first in his class, this tall, long black bull was sired by Sandyvale Jagerbomb and out of the home-bred, Kelowna Honeybadger. The successful purchaser was Messrs. Wallis & Sons, Louth, Lincolnshire.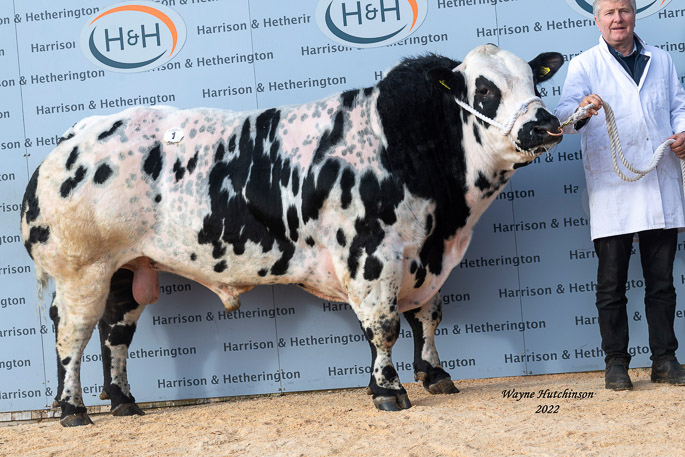 Following closely behind at 8,500gns was the first bull in the ring, Lot 1, Almeley On Top. This powerful black and white son of Pinnacle Hero, out of Almeley Jemima, stood third in his class. Signing the cheque for him was Messrs. Rees & Son, Brecon, Powys.
Also selling for 8,500gns was Lot 20, Stonebyres Pavarotti. The last of a run of three powerful bulls from Blair & Shona Comrie, standing first in his class, this one was sired by Nayakou du Bois Remont and out of Stonebyres Jessie, herself a show champion. He finds a new home with Messrs. Paton, Falkirk. From the same stable and standing third in his class was Lot 19, Stonebyres President who sold for 7,500gns. One of the first bulls to be sold sired by Clinton Du Falgi, he was out of Stonebyres Morven and finds a new home with Messrs. Peart, Hamsterley, Co. Durham.
Four bulls sold to 7,000gns, the first, Lot 5 Redmires On It from Stephen & Ashley Mills. Another powerful, black and white son of Empire D'Ochain and out of Redmires Matilda, this bull stood second in his class and was purchased by Messrs. Scholefield, Malton, North Yorkshire.
Then came the third prize winner, Lot 12 Brennand Prince from J C Walker & Son. A very stylish and powerful son of Cromwell Fendt, he was out of Brennand Holly, who herself was a Bluegrass Cyclone daughter. He caught the eye of Messrs. Porter from Gunnerside, Richmond.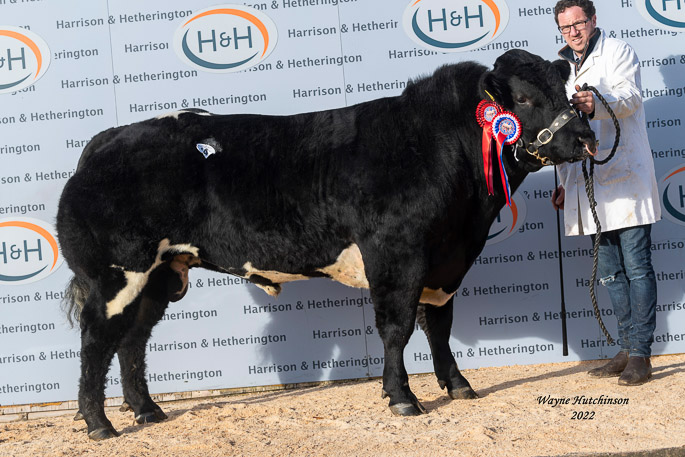 The Male and Supreme Champion of the show was next at 7,000gns, Lot 14, High View Pedro. Pedro was the first bull to be sold out of the High View herd of TA & LC Lyon & Son. This predominantly black bull sold to David & Alisdair Prickett, Carnforth, Lancashire and was sired by Glewstone Kit Kat and out of Majestic View Heardy.
The final bull at the same money was the fifth prize winner, Lot 21, Birsemohr Popeye, all the way from the Aberdeenshire herd of Grant Dinnie. This one, sired by Bringlee Carlos and out of Birsemohr Kitkat sold to Messrs. Scrivin & Son, Elslack, Skipton.
FEMALES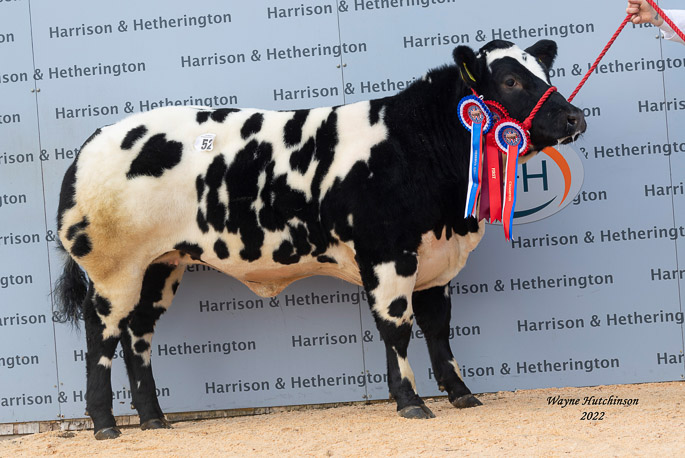 A fantastic trade for females, topped at 10,000gns for the last one through the ring, Lot 52 Top Side Respect from Ross & Elaine Pattinson. Standing Female Champion and Reserve Supreme Champion, this very eye-catching daughter of Empire D'Ochain was out of the prolific show winner, Top Side Isla, Respect being the first female to be offered for sale out of her. The successful purchaser was Messrs. Harker & Son, Kendal.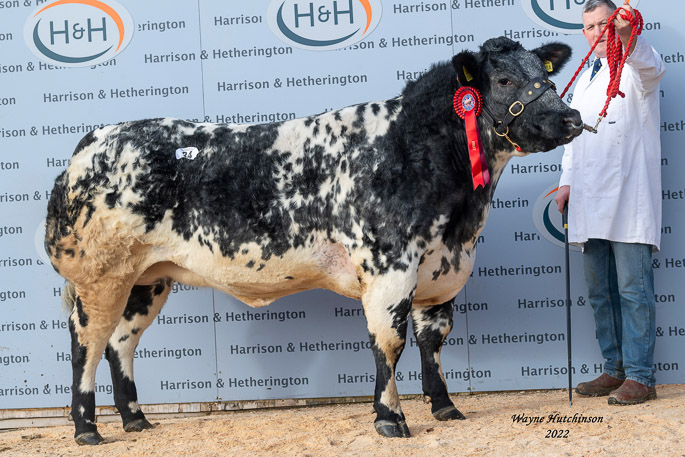 Thor Atkinson sold first prize winner, lot 34, Newland Petra for 7,000gns, sired by Langoureux De Fooz and out of Croftends Khloe, this successfully shown lady caught the eye of Messrs. Crowther, Sowerby Bridge, for their Making Place Herd.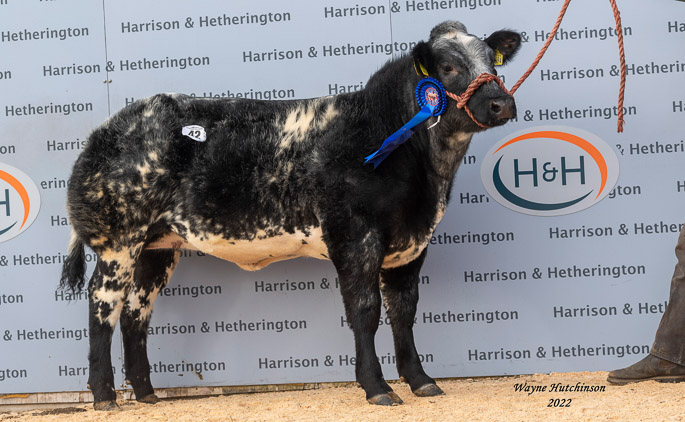 Again, from the Brennand Herd at 6,500gns was Lot 42, the second prize winner, Brennand Rita. This sweet heifer was sired by Dragon Blues Champ and out of the multi-show-winning Dragon Blues Meg. Messrs. Benson from Ulverston were the successful bidders on this occasion, to join their Mewstone Herd.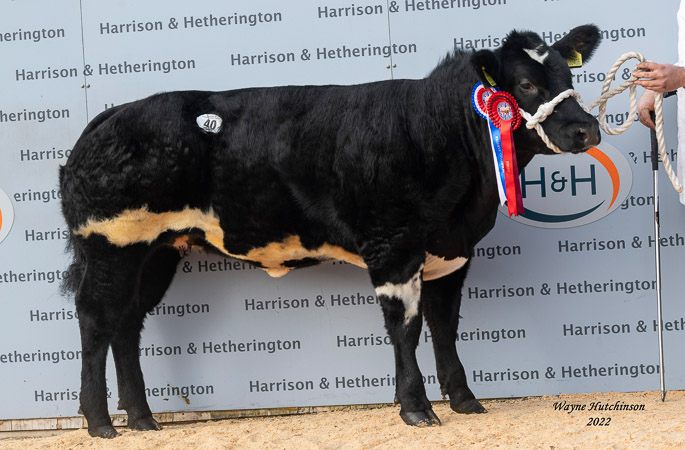 Two heifers sold for 5,000gns, the first, Lot 40, Clifftown Royal Highness, from Dylan Townend. Standing first in her class and Reserve Female Champion, Highness was sired by General De L'Ecluse and out of the successful show-winner, Clifftown Ladyluck. Dean Partnership of Selby were the successful buyers.
Also at 5,000gns, was Lot 49, the second prize winner, Sunnybank Ruby from a lovely run of heifers from Henry Jewitt. Sired by Toscan VD Ijzer and out of Springhill Naughty Girl, this one caught the eye of Messrs. Carvey, Northallerton.
Following on from the successes above, a batch of 37 straws of semen from Empire D'Ochain, sold for 220gns, to Elite Pedigree Genetics, Dungannon.
Averages –
20 Bulls £6415.50
15 Females £4375.00
Auctioneers: Harrison & Hetherington
If you have any queries, please don't hesitate to contact us.
Photos: Wayne Hutchinson, Farm Images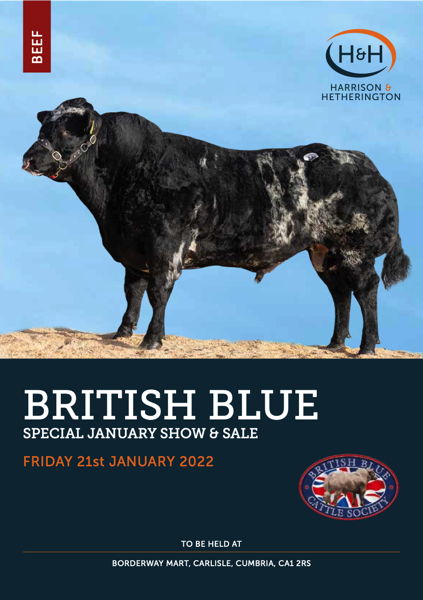 Auctioneers: Harrison & Hetherington