Shrewsbury "Blue Genes" Sale of British Blue Cattle
Saturday 6th March 2021
100% CLEARANCE AT THE "BLUE GENES" SALE
The British Blue Cattle Society held the second sale of British Blues at Shrewsbury Auction Centre on 6th March 2021.
Despite current Covid restrictions a small entry was forward but found a solid trade throughout.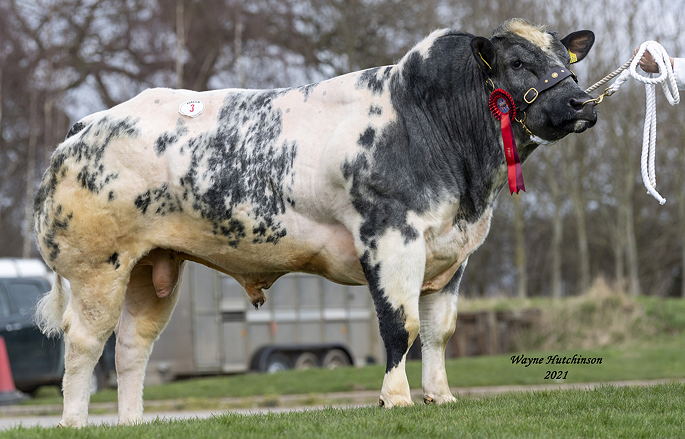 Topping the sale at 6,400gns was the first prize Bull Graymar Navigator (Lot 3) from Matthew Jones. Navigator a December 2018 powerful blue and white bull, was sired by Astrics JJ and out a home bred dam, Graymar Immaculate. The successful purchaser was W H Dixon, Pembroke shire.
Selling at 4,700gns was Delhorn Otto (Lot 13) from Mr. & Mrs. Hopkins. This 2019 born, mostly black bull, was again sired by Astrics JJ out of Delhorn Kiss My Pixel. He finds a new home with OM & JR Whittingham, Shropshire.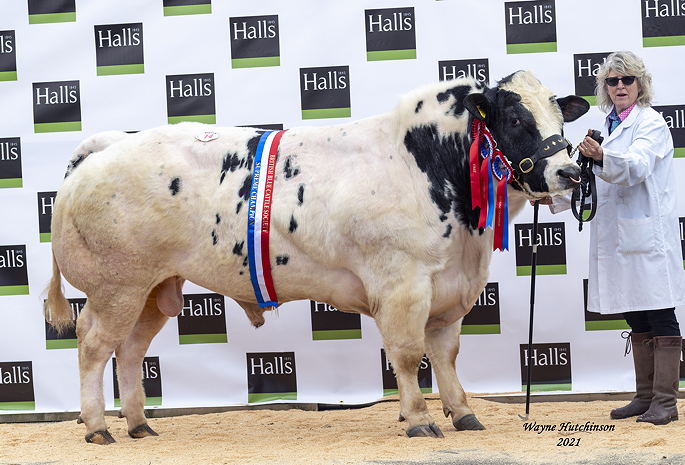 The Supreme Champion from the show, was the next in the price ratings, selling for 4600gns, Ty Isaf Octavio (Lot 14) from Wyn and Linda Morgan. The judge, Society Chairman, Graham Brindley, chose this powerful, well-muscled bull as his top choice. Octavio was sired by Liley Knight, out of Ty Isaf Gentle Whisper. He found a new home with M Jenkins, St Clears.
Emyr Wigley sold two bulls for 4,000gns for his charity project, founded in 2017, with all proceeds being split between RABI and Ovarian Cancer Action. Old Stackyard Blues Otto (Lot 8) was first into the ring, sired by Newton Blues Kracker and out of Greystone Khandy, this naturally born, tall, blue roan bull, found his new home with C & FM Percival, Youlgrave. Old Stackyard Blues Otts Lee a Black and white bull, sired by Boherard Cantona and out of Stonebyres Heidi, again from a natural calving line, sold to Messrs. Probert and Probert, Powys.
Females
In the female section, a fantastic run of strong heifers from Gail Ellis, caught the attention of pedigree breeders and topped at 3400gns for Trencrom Oprah the reserve female champion (Lot 27). A striking blue roan heifer, sired by the successfully shown Bavan Empire, was a naturally born calf out of Ashledge Helen. She was purchased by Joe Crust for his newly-established Betterbread Herd.
Following closely at 3200gns was Trencrom Okra (Lot 26). This black and white, May 2019 born heifer, again from a natural calving line, was sired by Trencrom Lennie and out of the home-bred, Trencrom Kool Chick. The successful purchaser was Adrian Owen, Powys, for his Cwmbyr Blues Herd.
Also from the same stable came the Female and Reserve overall Champion Trencrom OJ (Lot 25), this well-muscled, blue roan mobile heifer, was sired by Silverwood Hugo and out of Penfro Freda. She caught the eye of CA Sharpley, Wildboarclough, who purchased her for 2800gns.
 Averages:
13 Bulls averaged £3876.92
7 Females averaged £2797.50
Auctioneers: Halls
Photographs available from Farm Images (Wayne Hutchinson)