Blistering Trade for British Blues at Carlisle
Friday 22nd January 2021
The Annual first sale of the year for the British Blue Cattle Society was held at Borderway Mart, Carlisle on Friday 22nd January. 
Despite the on-going Covid Restrictions and with a smaller entry than normal, the sale saw a great demand for bulls which resulted in a fantastic average of £6021 - up over £1000 on the previous year.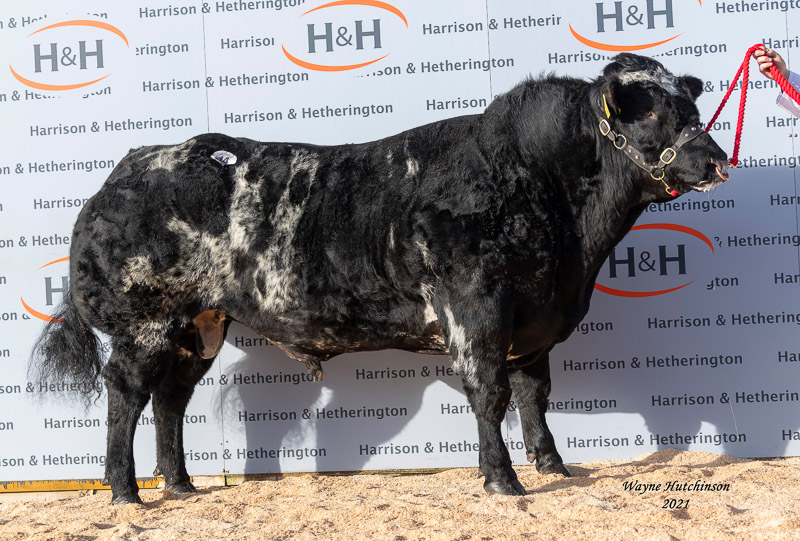 Topping the sale at 12,000gns was Lot 14 Devine Optimist from Martyn Hill & Jenny Devine. This very smart, mainly black bull was sired by the prolific Dafydd D'Ochain and out of Tweeddale Inhance a Tweeddale Ebony daughter. Optimist has a Carcase Yield Index of +21 and Pedigree Breeding Index of +16.  He attracted a great deal of interest around the ring and the successful purchaser was Messrs Tiplady from Langleydale, Barnard Castle, for his Tiplady's Herd.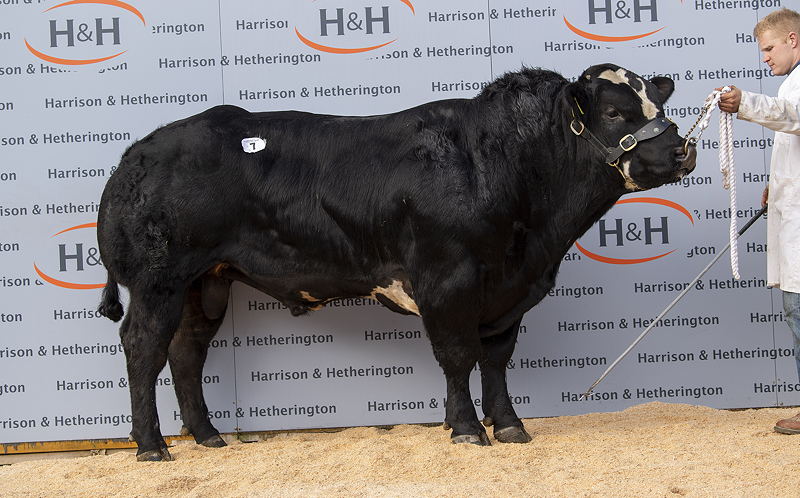 Two bulls sold for the next best price of 11,500gns. The first of these was Lot 7, Stewart Gill's Hallfield Nixon, a predominantly black bull, by Tenace De La Praule and out of Greystone Lilia.  He was purchased by Messrs. Allinson from Baldersdale, Barnard Castle.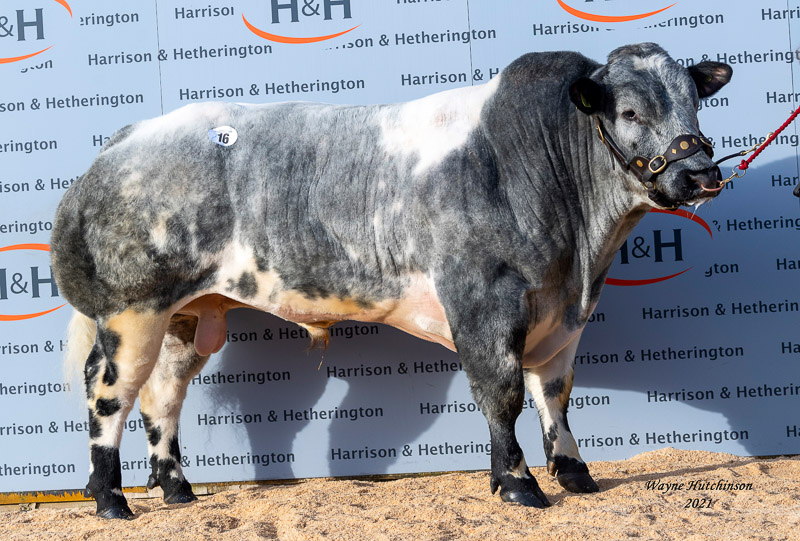 Henry Jewitt's Sunnybank Orlando, Lot 16, was the other bull to achieve 11,500gns. This blue and white son of the very popular 15,000gns Bedgebury Kent had previously won 1st prize bull calf and Reserve Male Champion at Agri Expo 2019 and Male Champion at the Border British Blue Club Calf Show in Jan 2020. Orlando's dam Meadowrig Ladana was also shown and won Reserve Junior Champion at the Highland and Champion at Border Union show. Orlando was successfully purchased by Messrs. Porter from Richmond, North Yorkshire.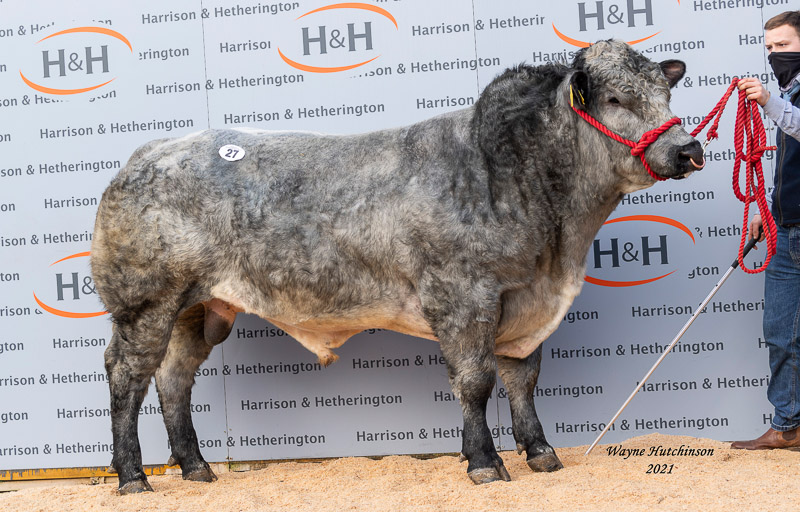 Selling at 9000gns was the dark blue roan, Auchenlay Outlaw Lot 27, from R & M Paterson.  Sired by Sandyvale Jagerbomb and out of the Tamhorn Ethan daughter Auchenlay Ivy, the successful bidder on this occasion was Messrs. Sinclair from Orkney who purchased him over the phone.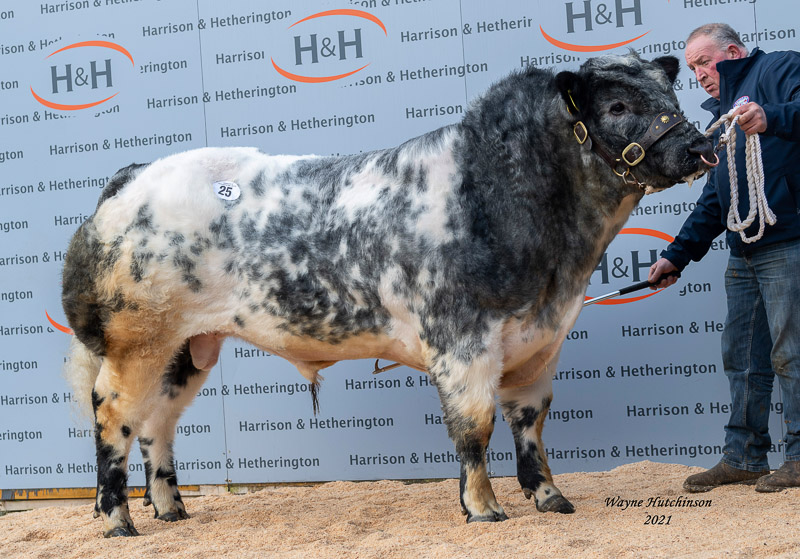 Paul Walker's Crackley Bank Orlando, Lot 25 sold for the next best price of 8000gns. This bull was also sired by Bedgebury Kent and his dam, Crackley Bank Baroness, has been a prolific breeder for the herd with sons being used in AI studs. Orlando was off to Wales when he was purchased by Messrs Pennie from Montgomery.
Selling at 6500gns was Kingside Norseman, Lot 5, yet another son of Bedgebury Kent from T & A Cockburn. He was purchased using the online bidding facility by Messrs. Cruickshank from Elgin.
Two bulls in a row sold for 6000gns. First coming in was lot 12, Blackstane Outlaw, from Kelly Blackwood and Duncan Davidson. Outlaw was sired by Tamhorn Enterprising and out of Blackwood Jadore who won Champion at the Border British Blue Club Calf Show and Reserve Junior Female Champion at the Highland Show. He was purchased by Messrs. Paton from Avonbridge, Falkirk.
Lot 13 then came in and sold for the same money to Messrs Townsend from Colne, Lancashire. Littlebank Oreo, consigned by HR & WJ Maudsley was sired by Farouk De St Amand and out of Littlebank Honey, an Empire D'Ochain daughter.
Females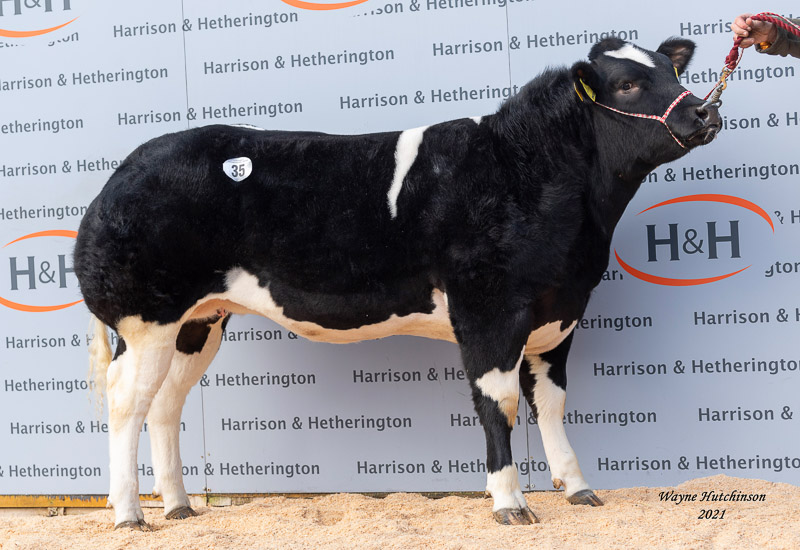 Topping the small but high quality entry of females was Brennand OMandy, Lot 35 from JC Walker & Son.  This very smart, powerful, black and white daughter of Cromwell Fendt sold for 4000gns and was purchased by Messrs. Cockburn from West Linton, Peeblesshire, for their Kingside Herd. She was out of the homebred Brennand Mandy, herself a Tweeddale Ebony daughter.
From the same stable was the next highest priced heifer, at 3,800gns, Brennand Petal, Lot 37 the last heifer in the ring.  This sweet, predominantly black heifer, was sired by Familier D Hontoir and out of Brennand Flake, a Bluegrass Cyclone daughter.  She found a new home with R Simpson & Son, Blairgowrie, Perthshire.
Two heifers sold for 3,500gns, the first was Pendle Oreo, Lot 33 from the Hartley family.  This Jalon De Martinpre daughter, sold to Mr. Leeson, Malton, North Yorkshire.  Also selling at 3,500 gns was High Moss Oriana, Lot 34 from Messrs. Wallbank.  Oriana was sired by Empire D'Ochain and finds her new home with J & A Moralee, Hexham, Northumberland.
Averages –
23 Bulls £6021.53
5 Heifers £3780.00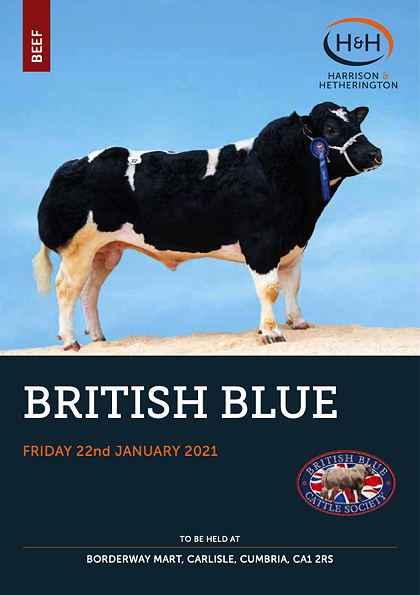 Auctioneers: Harrison & Hetherington