Beeston Blues Top at 4000gns.
On Saturday 2nd March 2019 the sale of British Blue cattle at Beeston held by Wright Marshall on behalf of the British Blue Cattle Society drew an excellent crowd of breeders and show supporters from all over the UK and Ireland.
Local breeder John Okell from Runcorn was the day's judge, and chose as his Champion in the Pedigree classes the sole entry from Herefordshire breeder Graham Morgan.  Almeley Mahela, a July 2017 born bull by Pinnacle Hero, and out of the homebred cow Jinny, who traces back to the great Du Pre Rosine family is a powerful and muscular black bull who attracted interest from several breeders and show cattle producers before the winning bid of 4,000 guineas secured him for Gareth Rowlands, Anglesey.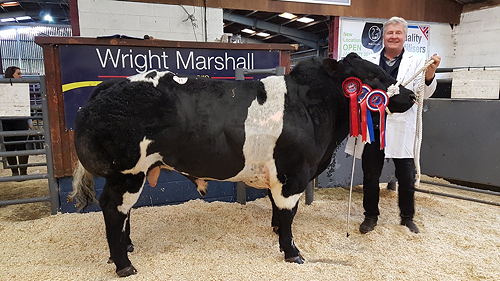 The Phillips family, who run the Drift herd near Reading, Berkshire, saw the best of their two bulls, Drift Major son of Phenomene and out of the Drift Domino sired Issie made 3,400 guineas to Owain Llyr, Ruthin. 
Two bulls stopped the clock at 3,000 guineas; the first bull in the ring, Glewstone Lovejoy, came from another Herefordshire breeder Sam Madeley, from Llangarron. This son of the former Royal Show Champion Three Ways Superstar was the oldest bull in the sale, born November, 2016, and displayed tremendous power.  He went home to Herefordshire with M R Williams Partners.
The second bull at that price, Dewlands Monty, came from Derbyshire based Messrs Hallam and Wright.  Another powerful bull, born in January, 2017, this son of Tenance De La Praule went to Cheshire based suckler producer Tom Ryan.
There was tremendous interest in the pedigree females on offer, and many more could have been sold to a large crowd of breeders anxious to acquire new bloodlines.  Gail and David Ellis, from St Ives, Cornwall, as always bought an excellent load of heifers out of their Trencrom herd and saw bidding peak at 3,600 guineas for Malibu, a daughter of Ballydangan Hectare, out of the New Close Colonel sired Galway Girl.  This very smart blue and white heifer went home to Oswestry, with C W Roberts.  The Female Champion in the pre-sale Show, was Trencrom Minty, a daughter of Coolbanagher Ivor; a powerful white heifer, she made 3,250 guineas to D Halligan, Yorkshire.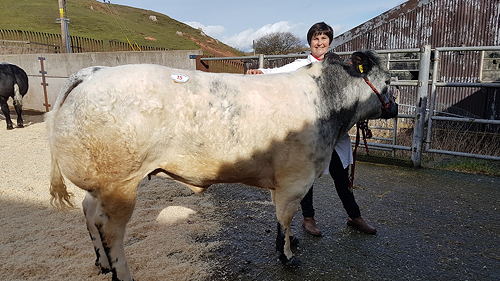 In the commercial, Blue Crossbred, ring, anything with shape and potential found a buyer without any trouble but with the beef trade at its present levels, demand from commercial feeding men was understandably hesitant.
Leading the trade was regular supporter T Roberts, Llanrwst, with a May born heifer. This pretty youngster stood 1st in her class and caught more than a few admiring glances. The hammer fell to K Allen, Castleton at £1500. Another super 9mo heifer from the same stable was next up at £1280 selling to MJ Williams, Llanymynech. The top 10 heifers all changed hands at over £1000.
Champion Crossbred, and top priced steer, was exhibited by Newtown based breeder and long standing supporter of this sale, Brian Griffiths. This very smart June born calf was snapped up by Richard & Keith Whitfield at £1220. Young handler and Auctioneer in the making, Charlie Smith, was up at the same price for a stunning May born heifer from Herefordshire's Nigel Pritchard and Cheshire show team, GM & DE Storer, paid £1200 for a smart calf from Owen Brothers, Colwyn Bay.
A nice run of commercial cows with calves from LH Lomas & Son topped at £1620 to average £1466.
Averages:
Pedigree Bulls £3,069.00
Pedigree Females £2,703.75
Crossbred Steers £985.38
Crossbred Heifers £1,031.76
Crossbred Cows with calves £1,466.67