Blue Bulls Top at 10,000gns and Blue Ladies Reach 5,200gns
The first British Blue sale of the year was held at Carlisle on Friday 26th January 2018 where trade topped at 10,000gns and an average of £6006 was attained for the 15 bulls sold.
It was Pendle Lynx (lot 125) from AM & E Hartley that commanded the 10,000gns top price of the day. Sired by Jalon De Martinpre and out of the Blue Stone Union Jack daughter, Pendle Hocus Pocus, this bull was purchased by Aucheneck Estates, Killearn, Stirlingshire.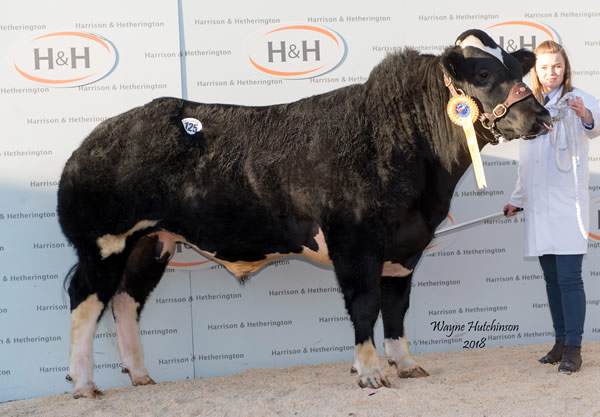 Aucheneck Estates also bought the next best priced bull Stonebyres Laird (lot 113) from A & CS Comrie's herd. This son of Tamhorn Enterprising was also out of another Blue Stone Union Jack daughter, Pendle Dotty and he sold for 9,500gns.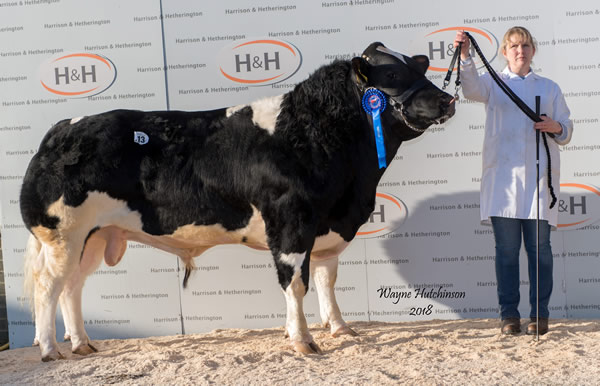 Following closely behind at 9,000gns was another from A & CS Comrie, Stonebyres Levi (lot 108) This bull sired by Kersey Geronimo has been successfully shown and this form continued on Friday when he took 1st prize in his class at the pre-sale show. Flagged up as a Superior Carcase Sire, he was purchased by GH Walton & Sons from Newbrough, Hexham.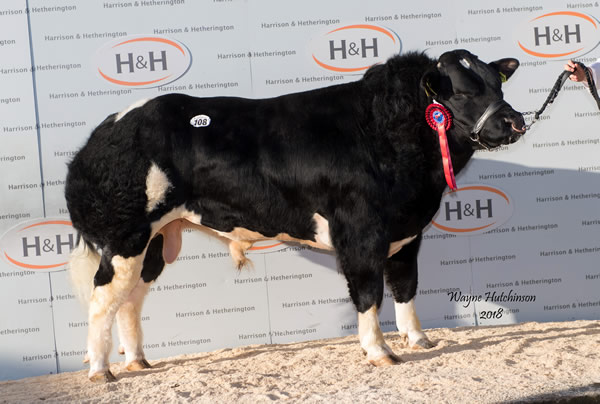 The first bull into the ring sold for a very respectable 6,500gns this was Malcolm Telfer and Helen Claxton's August 2015 born Newton Blues Kojak (lot 101). Sired by Blue Stone Volcano and out of Newton Blues Eternity, Kojak had taken 2nd prize in his class at the pre-sale show and went on to be purchased by Messrs Metcalfe from Edenhall, Penrith.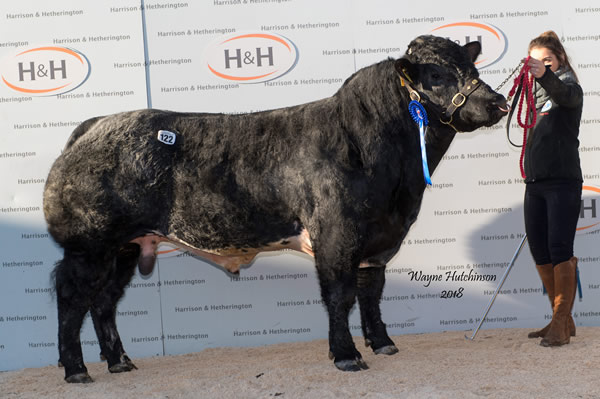 Also at 6,500gns was Ronald and Steph Dick's bull Ronick Leo (lot 122) who was purchased by Keirsbeath Farm Ltd from Crossgates, Fife. Leo was sired by Auchenlay Envoy and out of the herd's foundation female Tamhorn Ebony.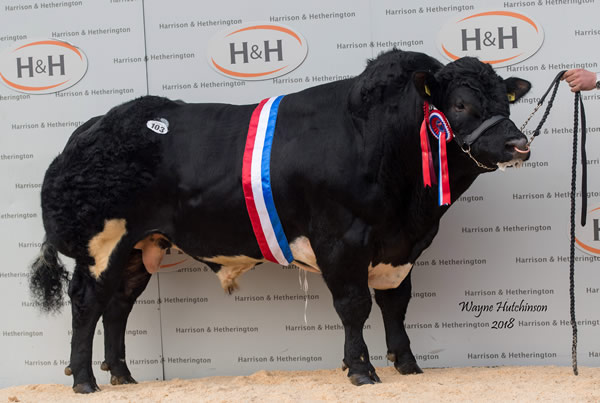 Ross & Elaine Pattinson's Top Side herd was responsible for the Overall Male Champion for the second year in a row, this time it was the Nelson Des Peupliers sired Top Side Kingman who took top honours. Another Superior Carcase Sire, out of Top Side Isla, a maternal sister to last year's sale Champion, Kingman was purchased for 6,000gns by JA Wood & Sons from Shrewsbury.
Also at 6,000gns was J & E Coates' 3rd prize bull Greystone Lotto, (lot 120) Again purchased by Aucheneck Estates this son of Almeley Ginola was out of the Greystone Atomic sired Greystone Fancy.
BLUE LADIES CLASSIC
A top quality line up of females in the 'Blue Ladies Classic' sold to 5,200gns for the Reserve Female Champion Stonebyres Miranda. (Lot 133) This maiden heifer consigned by A & CS Comrie was sired by Boherard Cantona and out of Pendle Dotty – the same dam as the Comrie's 9,500gns bull. Miranda is no stranger to the show ring having won Junior Female and Reserve Junior Overall Champion at Stars of the Future last year. She was purchased on the day by MR Lawson from Richmond, North Yorkshire, to join his Feldom Herd.
Next best of the females was the 1st prize winning cow Owlden Imogen with her bull calf at foot Owlden Money Maker. Imogen herself was sired by Empire D'Ochain and her calf was by Farouk De St Amand, she also sold PD'd back in calf to Astrics JJ. Imogen and her calf were purchased by M Stevenson of Girvan, Ayrshire for 4,200gns.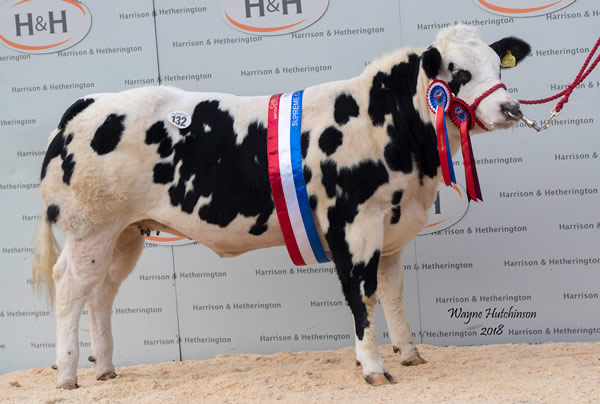 The 'Blue Ladies Classic' Champion sold for 3,300gns to Isaac Ward from Crumlin, Northern Ireland. This was JH Pedley's maiden heifer Oak Tree Lolly (lot 132), sired by Empire D'Ochain and out of Oak Tree Cleo.
Averages – 15 Bulls £6006; 1 Cow with calf at foot £4410; 3 Maiden Heifers £4025; 3 Recipients with ET calves £2730.
Photographs available from Farm Images (Wayne Hutchinson)
Auctioneers: Harrison & Hetherington