Chelford Blues - Saturday 4th March 2017
Flying Females at Chelford Blues Sale
Bulls to 5000gns, Heifers to 3800gns, Blue Crosses to £2000
The 63rd, and last, sale of British Blues at Chelford before the Market's impending closure and move to Beeston, drew a huge crowd from all over the U.K. and Ireland on Saturday 4th March 2017.
Pedigree Bulls met a reasonable trade, with the majority of potential purchasers wanting strong bulls fit to work, It was also noticeable that younger bulls from 1-year bTB testing areas met limited demand.
Pedigree females, however, met a roaring trade, as plenty of stockmen showed their confidence in the Blue by bidding strongly for future breeding stock.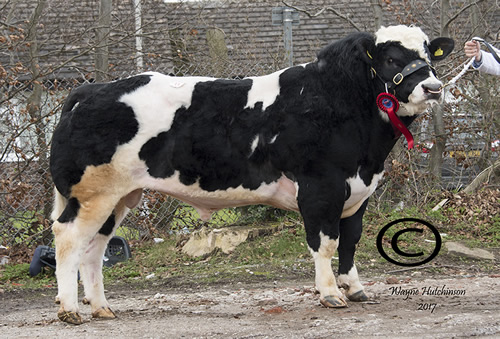 Top-priced Bull, at 5000gns, was Drift Kojak, an ET bred son of the great Drift Domino out of the Empire sired Drift Fliss, from A.S.Phillips and Son, Reading, Berkshire. First prize-winner in his class, he went home with C.A.Howe, Hazelhead, Sheffield.
The pre-sale show of both Pedigree and Blue Crossbred cattle was judged by long-term supporters and sponsors of the Chelford sales, John and Sam Madeley, Herefordshire, who chose as their Supreme Champion Pedigree the May 2015 born Almeley King Kong, from Graham Morgan. Sadly, bidding failed to match expectations and he was withdrawn at sale-time.
Dylan Rees made the long journey from Pembrokeshire with two powerful bulls and was rewarded with prices of 4600gns and 4400gns. The higher price was paid for the Colos Van Daisel-sired Bluestones Jason , the second being the Empire-sired Bluestones Jinx- both going home to Banbury, Oxfordshire with Messrs Tustian.
Young bulls sold to a top of 4000gns, when Ian Cook, Biddulph, took home the September 2015-born Dragon Blues Krug from G.W and K.Williams, Lampeter.
When the first of the Pedigree Females came forward, the atmosphere around the ring lifted noticeably, as the first heifer in, the 2 year-old Norbreck Hunter-sired Dean House Kalmia, from Bradford breeders Driver and Son, made 3600gns to Steven Hough, Pontefract.
The Female Championship was awarded to a sweet October 2015 born heifer from Wyn Jones' Tanat herd, Oswestry. Tanat Kira is by Phenomene De Martinpre, and out of the Bringlee Blackstar sired Boomer Fendt, and, after fierce bidding, was secured by J. Crowther, Sowerby Bridge for 3800gns.
The last Pedigree Blue to be sold through the Chelford ring was an August-born heifer Cromwell Lass, from Aldridge breeder Adam Neachell, and sold at the foot of her Angus-Cross recipient dam. She sold for 3400gns to Andrew Haste, Shebbear, Devon..….whose father, Ted, had purchased the first Blue to be sold at Chelford almost 36 years ago to the day!
A considerable entry of Bull semen saw plenty of demand, selling to 155gns per straw for Affute, with semen from Valdes, Gitan, Tamhorn Sumo and Dafydd to 100gns and 95gns etc. Embryos by Bringlee Carlos out of Justiciere sold for 240gns each.
Blue Crossbreds sold to a top of £2000, as a solid entry of good commercial cattle met a sound enquiry. It has to be said there was a noticeable shortage of true "show cattle", but the 90 head of Blue cross steers and heifers were well received by a packed ringside recording a slight increase in averages and almost 100% clearance.
Judges John & Sam Madeley were in fine form, picking a steer from the pen of Andrew Bishop, Eldersfield, Glos, as Supreme Champion, as this very stylish and shaped black steer drew many admirers from the ringside.
It was actually only three cattle from the end of the sale, and Ed Layton, Leominster, who had waited all day and wasn't going home without the steer, saw off strong competition to secure it for £2000. The Reserve Champion ticket was awarded to a fantastic, powerful heifer from Gail Ellis' Trencom stable, Gail's first outing selling commercials at Chelford and what a start! Demand for quality future cow makers was as strong as ever and the heifer sold to fellow West Country producers, White House Farm Partners, Henley, Somerset at £1850.
Top priced heifer was a very similar model, Yorkshire producers Messrs Crosby selling a superb 14mo powerhouse to local prime cattle feeder and breeder George Proctor, Bignall End, Staffordshire. Baby heifers featured very strongly once again. Dylan Rees made the long journey from Pembrokeshire and sold his very stylish 8mo heifer to the next generation of Derbyshire stockmen, 13 year old Ben Mellor, Hayfield for £1620.
Other leading prices included steers to £1420 for Messrs Morgan, Newmills, Powys, and 10mo steers from Andrew Bishop to the same price. In calf heifers to £1700 and £1620 for Messrs Davies Brothers, Carmarthenshire.
Averages:
23 Pedigree Bulls £3720
9 Pedigree Females £2867
46 Blue Cross Steers £1041
39 Blue Cross Heifers £1137