Outstanding British Blue Trade at Chelford National Sale
Outstanding demand for British Blue cattle at Chelford led to a record average for bulls of £4495, as keen competition from both suckler and dairy producers throughout the UK drove prices way beyond breeder's expectations.
The pre-sale Show was judged by Gavin Boocock, from the Edmonds Herd of British Blues, Driffield, Yorkshire, and he choose as his Champion an October 2013 born Blue Roan bull, Trencrom Inferno, from the St Ives, Cornwall based Trencrom herd of Gail and David Ellis.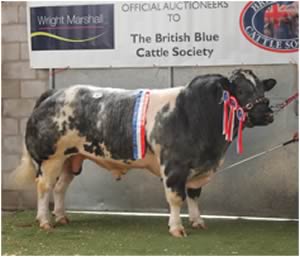 This mobile, powerful bull by Ballygrange Dobbie, and out of the Mountjoy Utopia sired Auchenlay Erin, weighed in pre-sale at just over 1000 kgs and provoked lively bidding from half a dozen or more prospective purchasers, before the final call of 7,400gns came from Pedigree and Commercial suckler producer Brian Griffiths, Penygelly Farm, Newtown, Powys
Another bull from the Trencrom herd, this time Jakarta, by Meadowview Blues Fudge, and out of the Boston Ambassador sired homebred cow Flick Flack, which stood second in the Junior Bull class, made 6,700gns to Belper, Derbyshire based H J Hitchcock.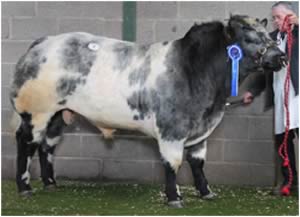 First place in the Junior Bull class went to Dinmore Jetsetter, a Cristal de Somme son out of the Tamhorn Sumo sired Paulern Carol from Herefordshire based breeders P R & H R Dawes. This May 2014 born bull also attracted considerable pre-sale interest, and made 5,500gns to J Hall, Longnor, Derbyshire.
Next in the price ratings was Herefordshire breeder Nigel Pritchard, who saw his April 2014 bull Norton Jingo, out of the Ridge Dean Mahogany sired cow Lone Tree Ellie, make 4,300gns to Messrs Cooke, Abergavenny for their Nantyderi herd.
The Female entry comprised mainly younger maiden heifers, and prices peaked at 2,900gns for the Reserve Female Champion, the March 2015 born Dragon Blues Kirsty from Lampeter, West Wales breeders G W & K Williams. By Tweeddale Ebony and out of the Nether Hall Buster sired homebred cow Gweno, she travelled home to North Yorkshire with John Stephenson, Bordley Green Farm, Skipton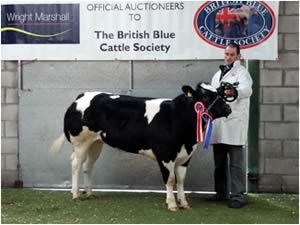 The Herefordshire based Almeley herd of G L Morgan has enjoyed considerable success in recent years, and saw two Drift Domino sired heifers each make 2,800gns. Both heifers were out of cows sired by Drybarrows Cawdale, the first one, Almeley Jenner, out of the homebred cow Goodlooking, went home to Chelmorton, Derbyshire with Paul Swindells; whilst the second, this time out of another homebred cow Goldilocks, travelled home to Chipping Camden, Gloucestershire with Messrs Potter.
Following the sale of Pedigree Cattle, there was a quantity of Pedigree Embryos and Semen for sale. Embryos sold to a top of 200gns for Bluegrass Cyclone, out of Eclatante 2316 de Miecret, with Embryos by Gitan du Pti't Mayeur, out of the same cow, selling for 190gns.
There was considerable interest in the British Blue bull semen on offer particularly that from several noted bulls, peaking at 180gns per straw for Gitan du Pti't Mayeur, followed at 150gns for straws from Tweeddale Ebony.
British Blue Crossbreds
Following on from the lively trade in the pedigree ring, it was fantastic to see the ringside remain at full capacity as the crossbred section got underway.
Earlier in the day, respected showman and Butcher Jonathan Maycock of Robin Maycock Butchers, Holloway, Derbyshire took time off from the family business to judge the crossbred classes, a task he carried out with deft efficiency and competence faced with some very tricky classes.
Champion commercial was awarded to Paul Walker (Crackleybank) with a very stylish black steer born last April, one of the day's final lots. After strong interest from the ringside the eventual winner was Mr William May, Worcester on the telephone at £1950.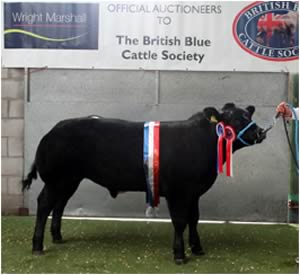 The Reserve Champion ticket was awarded to another steer, this time from T Roberts, Llanrwst, this very shapely youngster looks an exciting prospect for the summer and made £1380 to John Stephenson, Bordley Green Farm, Skipton, North Yorks.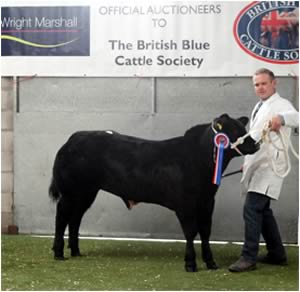 It was another youngster that produced the day's top price of £3000. Bred by a founder member of the Chelford Commercial section and in his opinion, "the best thing he's ever bred", we were delighted to see Nigel Pritchard sell his 10month-old roan heifer to long standing Chelford supporters, the Lancashire based show team, Richard & Keith Whitfield.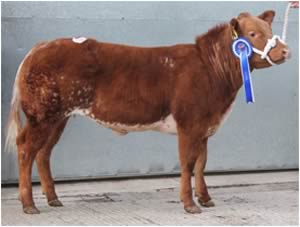 Other notable prices included a very stylish 5mo heifer from Messrs Davies Bros, Carmarthenshire, which was also snapped up by Messrs Whitfield at £1800. First prize unhaltered heifer from DW& LE Morgan, Adfa, Newtown made £1690 to local breeders and finishers Brian Taylor and Son Rob of Scholar Green. The unhaltered steer class was won by TT & EE Williams, Llanidloes selling to Lisa Powdrill, Boothgate Derbys at £1500.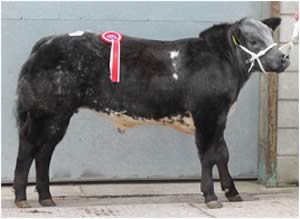 Auctioneer Jon Farrall professed himself "delighted with the day's trade, it's clear that despite the sluggish beef trade at present there is still robust demand for quality commercial store cattle as feeders realise more than ever the importance of in-spec cattle".
Averages:
Pedigree
Bulls: £4495
Heifers: £2559
Crossbreds
Steers: £1119.68
Heifers: £1127.75