Chelford Sale
Friday 7th - Saturday 8th March 2014
Strong Demand at Chelford – Top 7,000gns. with 75% Clearance

It was immediately apparent from the start of the sale at Chelford that customers packing the ringside at the 59th National Show and Sale of British Blue Cattle were looking primarily for strong, well grown and fit bulls ready to work.
Trade was exceptional throughout for all bulls that fitted the bill, but smaller, less mature bulls proved more difficult to sell, with the odd notable exception.
Trade was led by the Reserve Male Champion, the February 2012 born Drift Hero; a son of the Troy sired Drift Domino and out of the Visconti bred Ridge Dean Dibbley. This full brother to the 14,000 gns Drift Holly had been shown very successfully in 2013 and had attracted considerable pre sale interest, which translated to lively bidding at sale time, before the winning bid of 7,000 gns was placed by Huw Evans, for his Hendreseifion Herd, Machynlleth, West Wales. Hero boasts 200-day growth figures in the top 10% of the breed and Carcase Profitability Index figures in the top 25%.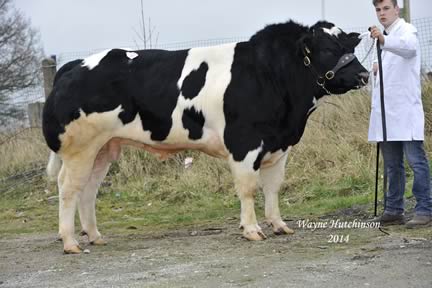 Hero's full brother, Drift Harlequin was next into the ring and made 6,400 gns to H Hitchcock, Belper, Derbyshire.
Well known Buxton based beef and sheep producer Stephen Buckley had the pleasure of judging the Show on the Friday and chose as his Champion Rhymil Hugo Boss, a May 2012 born son of Boothlow Batman, out of the homebred cow Rhymil Beauty, from young breeder Rhys Millichap. Having been shown successfully at several of the Royal Shows last year, Hugo Boss was another bull that attracted considerable pre sale attention before heading home to South Molton, Devon with Geoffrey Brown for 5,900gns. Hugo Boss boasts calving ease figures in the very top of the breed.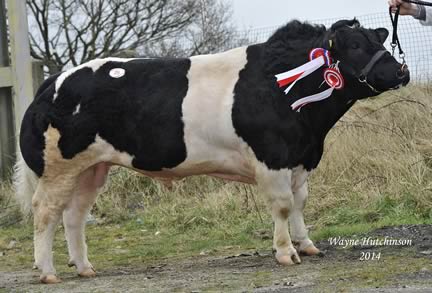 Messrs Coates from Settle, Yorkshire, have established a reputation for breeding sound working bulls. The best of this year's consignment, Greystone Hardy, a son of the homebred Atomic making 5,200 gns to P L Harrison of Newtown, Powys, whilst Danny Wyllie saw his March born Tamhorn Hamish, a son of Ballygrange Alex and out of the Sumo sired Tamhorn Deirdre make 5,000 gns to R J Hancock and Sons, Hope Valley, Derbyshire. Hamish has a Pedigree Breeding Index in the top 15% and Carcase Profitability Index in the top 20% and boasts some of the best fertility figures within the breed.
Another from Messrs Coates, Greystone Generator, by the great show progeny producer Tamhorn Ringmaster, made 4,900 gns, going to the Twyning Ash Herd of Messrs R & J Carter, having calving ease figures in the top 15% of the breed.
Topping the Wilson Family's consignment was New Close Hamlet, a totally black Imperial son, out of the great brood cow New Close Cilla Blak made 4,900 gns to Lowesby Farms, Leicestershire. Hamlet's 200-day growth figures are in the top 10% of the breed.
Veteran breeder Ted Haste made the long journey from West Devon and sold his April 2012 born Stoneleigh Hogan, a son of the homebred Stoneleigh Celebration and out of the homebred Stoneleigh Wonder, for 4,700 gns to B A Wardman, Bakewell, Derbyshire, whilst another long distance traveller, Dylan Rees from Pembrokeshire brought forward Blue Stone Howard, by one of his own bulls, Blue Stone Edward, and out of the Three Ways Superstar sired Blue Stone Awena, to sell for 4,500 gns to R A Jones, Llanfechell, Anglesey. Howard's Calving Ease figures are in the top 25% of the breed.
Younger, immature bulls proved more difficult to sell, with one notable exception. Messrs Green from Colpy Insch, Aberdeen, usually bring something smart down to Chelford, and saw their long journey rewarded when they sold their September 2012 born classy black and white bull Oxcroft Highlander, a son of Netherdale Dram, out of the Twyning Ash Vaughan sired Oxcroft Ebony, for 6,000 gns to Messrs Bentley, Middleton in Teesdale.
Pedigree Females were in short supply, but quality breeding stock with potential was clearly sought after. Topping the trade was one of the youngest heifers forward, the Reserve Female Champion, Bidwell Isla, from Kevin and Dawn Ludgate's herd in Bedfordshire. This all black, May 2013 born daughter of Cromwell Fendt and out of the Bringlee Waldo sired Tweeddale Fidela, made 4,000 gns to Roy Mycock, Buxton.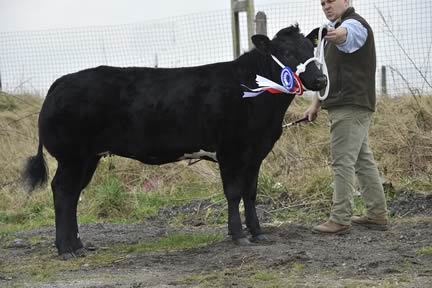 Graham Morgan, from Herefordshire, saw his smart June 2012 born heifer Almeley Happy Girl, by Colos Van Daisel and out of the homebred Dolly make 3,500 gns to Patrick Russell, Pembrokeshire.
Jason Wareham's long journey from Heathfield, East Sussex, was made worthwhile when he sold his homebred Warehams Heather from Boothlow Elvis and out of a homebred heifer Warehams Diamond, for 3,400 gns to Jeff and Lorraine Dunn, for their Highridge Herd in Devon.
The Female Champion, Tanat Heather, from Wyn Jones, Oswestry, an April 2012 born heifer by Imperial and out of the Bringlee Waldo sired show cow Tanat Ebony made 3,200 gns to I Rowe, Chesterfield, Derbyshire.
As Ever – Very Strong Trade for "Blue" Commercials
Following on from a solid trade in the pedigree ring, the crossbred entry received sturdy interest from commercial feeders and breeders alike.
Well known beef, arable and sheep farmer William Timm made the journey from just outside York with the auspicious task of judging the strong entry. He chose his Champion in a very smart March born heifer from Norfolk breeder; Henry and Ben Harvey. At sale time he backed his judgement securing the heifer at £1900 on behalf of T Lyons, Bourne, Lincs.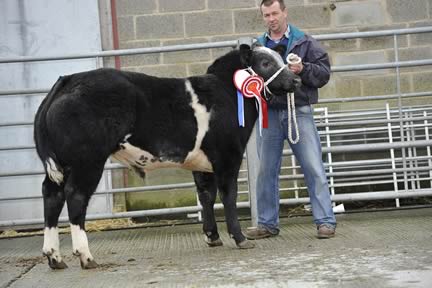 Top priced and Champion steer was bred and exhibited by regular Chelford supporter; Brian Griffiths, Penygelly. Born last May, the steer showed exceptional growth and style and was knocked down to Norwich based show team, Graham and Heather Blythe at £1500.
Tremendous interest from commercial beef breeders ensured a terrific level of trade for future cow-makers. Mark McGahan and son Jack saw their May born heifer make £1680 to William Timm and Brian Griffiths came close at £1650 with a yearling heifer selling to ND Stevens, Wells, Somerset.
Other leading prices included a very smart bulling heifer from Carmarthenshire breeders; Davies Brothers, she made £1620 to H Williams Llangadog. Henry Harvey also sold heifers to £1620, going home with Harvey Ashworth, Milnrow.
Quality commercial feeding cattle met a sound enquiry, Henry Harvey & Son selling steers to £1450, £1400, £1390 and £1380 with over half the entry attracting bids in excess of £1100.
Averages:
19 Senior Bulls £4,349.00
9 Junior Bulls £3,010.00
7 Pedigree Females £3,019.00
35 Crossbred Steers £1173.43
47 Crossbred Heifers £1172.98
1 Crossbred Cow £1970.00
Leading Prices:
Bulls:
Lot 10 – Drift Hero (7,000gns)
Lot 12 – Drift Harlequin (6,400gns)
Lot 45 – Oxcroft Highlander (6,000gns)
Lot 26 – Rhymil Hugo Boss (5,900gns)
Lot 21 – Greystone Hardy (5,200gns)
Females:
Lot 59 – Bidwell Isla (4,000gns)
Lot 56 – Almeley Happy Girl (3,500gns)
Lot 55 – Warehams Heather (3,400gns)
Lot 54 – Tanat Heather (3,200gns)
Show Results:
Commercials:
Class 1: 1st Lot 366 – 2nd Lot 359
Class 2: 1st Lot 356 – 2nd Lot 364
Class 3: 1st Lot 384 – 2nd Lot 374
Class 4: 1st Lot 365 – 2nd Lot 377
Pedigree:
Class 5:
1st Lot 2 – Dragon Blues Gazza
2nd Lot 6 – Greystone Generator
3rd Lot 1- Strawberry Fields G2 Tristar
Class 6:
1st Lot 10 – Drift Hero ET
2nd Lot 14 – Blue Stone Howard
3rd Lot 13 – Tamhorn Hamish ET
Class 7:
1st Lot 26 – Rhymil Hugo Boss
2nd Lot 21 – Greystone Hardy
3rd Lot 27 – Dragon Blues Hitler
Class 8:
1st Lot 31 – Inishfree Hugo
2nd Lot 32 – Birdswood Henry ET
3rd Lot 34 – Lukeroyal Harley ET
Class 9:
1st Lot 41 – Dinmore Hollister ET
2nd Lot 38 – New Close Hawk ET
3rd Lot 40 – Oxcroft Harrison ET
Class 10:
1st Lot 46 – Chalford Manor Iceman
2nd Lot 48 – Warehams Ideal ET
Class 11:
1st Lot 54 – Tanat Heather ET
2nd Lot 53 – Bidwell Henrietta ET
3rd Lot 51 – Cromwell Hanelle ET
Class 12:
1st Lot 59 – Bidwell Isla
2nd Lot 60 – Lukeroyal Ice Pop ET
Champion Male: Lot 26 (Rhymil Hugo Boss)
Reserve Male: Lot 10 (Drift Hero)
Champion Female: Lot 54 (Tanat Heather)
Reserve Female: Lot 59 (Bidwell Isla)
Supreme Champion: Lot 26 (Rhymil Hugo Boss)