Chelford Show & Sale
Saturday 7th September 2013
Leading Ladies In Demand at Chelford Blue Sale
The British Blue Cattle Society held its 58th National Show and Sale at Chelford, Cheshire, when the demand for females showed, once again, that the Centre attracts a wide range of breeders and enthusiasts from throughout the U.K and Ireland.
Trade for Bulls was, as expected mixed, with strong, fit bulls, ready to work, being sought after, but younger bulls, likely to be requiring wintering before use, less so, with a number of breeders preferring to keep their younger bulls through to offer again for sale in the spring. Two bulls sold for 3,000gns. First up at this price was WAREHAMS GO GET ET, from Jason and Sarah Wareham all the way from Suffolk. This bull by Pendle Valley, and out of Ridge Dean Rowena went to Ayrshire breeder Blaze Tomlinson, Loughborough, Leicestershire.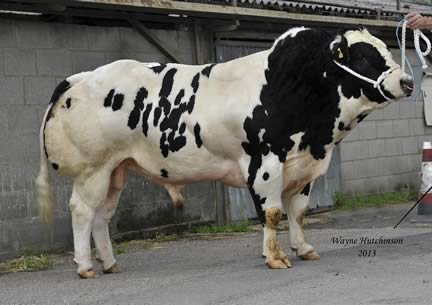 Mark Hambleton regularly sells strong, working bulls at the Chelford sales, and this time CLAYFIELDS GUNNAR, in the top 5% of the breed for 400 day growth EBVs, by Empire D'Ochain, out of the Bringlee Talbot sired Holirow Angeldelight Gunner sold for 3,000gns to P L Morris and Sons, Aylesbury, Buckinghamshire.
Pre sale show judge Linda Morgan, from Ty-Isaf herd of Blues in Powys, chose as her pre show Champion a December 2011 born bull from Preston Farms, Stranraer . This Quadruple sired bull, Glenpark Gladstone,in the top 5% of the breed for growth, carcase EBV's and Carcase Profitability Index, out of the Empire daughter Woodview Dainty, displayed impressive figures, as well as type, with a Carcase Profitability Index of 22 against the breed average of 11. He sold for 2,550gns to J A Hall, Bakewell, Derbyshire.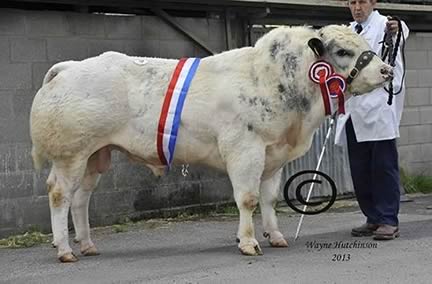 The other bull out of Preston Farms pen Glenpark Gallant, in the top 10% of the Breed for growth, by Gitan out of Mountjoy Vogue, sold for 2,800gns to E S Roberts & Sons, Heywood, Lancashire.
Once the sale moved on to the Female section, the pace increased with a fast and lively trade throughout, resulting in a complete clearance of both breeding females and young heifers with breeding potential.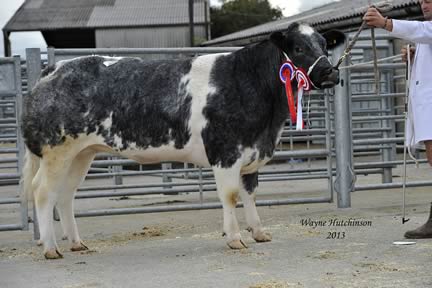 The Female Championship was awarded to ALMELEY GLORIA, in the top 5% of the Breed for Calving Ease Direct, by the highly rated Drybarrows Cawdale, whose male progeny have been selling so well recently. This heifer, out of the Park Thunderbolt sired Hillside Cheyanne had attracted a large amount of pre sale interest, resulting in fierce bidding from a number of breeders before she was knocked down at 3,800gns to Jeff and Lorraine Dunn for their Highridge Herd in Devon.
The long trip from County Antrim, Northern Ireland, proved well worthwhile for Mel and Diane Lucas when their June 2010 born heifer LUKEROYAL FIZZ, with very easy calving figures, due in December, to home bred bull Lukeroyal George, with her selling for 2,850gns, by the Dafydd sired Battle Axe, and out of the Twyning Ash born sired Lukeroyal Calypso, she went to Chesterfield, Derbyshire with I Rowe; their June 2008 born cow, Lukeroyal Dior, with a Carcase Profitability Index in the top 10% of the breed, by Twyning Ash Vaughan and out of the Serum sired Lukeroyal Wonderful, and in calf to the double muscled Limousin bull Gamble for February, made 2,750gns to G H B Farms, Chesterfield.
It was, however, the young heifers that attracted most interest. The New Close herd has been growing in quality in recent years and the best of their young heifers, the June 2012 born New Close Hayley,in the top 20% for 400 day weight EBV' and Carcase Profitability Index, made 2,600gns. By Colos Van Daisel and out of the Blak Du Baty sired Cilla Black, she carried impressive profitability index figures and went to Northamptonshire with Jo Adams who was in again for the October 2012 born Tanat Hopeful, a heifer in the top 10% for growth, from Wynne Jones, Oswestry. This Bringlee Waldo sired heifer, out of Ridge Dean Evelyn made 2,350gns, whilst at the same price Rachel Brindley sold her heifer Blueberry Gaynor to P L Morris & Son.
Auctioneer Gwyn Williams commented that the strength and depth of trade for quality breeding females was encouraging for the breed, and that it was pleasing to see so many breed enthusiasts gathered at Chelford once again.
Following on from a 'respectable' trade in the pedigree ring, the crossbred entry received sturdy interest from commercial feeders and breeders alike.
Finisher and showman Andrew White made the journey from Goole, East Yorkshire to judge the crossbreds and was suitably impressed with the line-up. He eventually awarded the Championship to renowned Northants Showman Frank Page with a very stylish heifer born last October. Mr White later backed his judgment buying the heifer at £1750 and also securing the Reserve Champion, another heifer from the same stable, at £1800.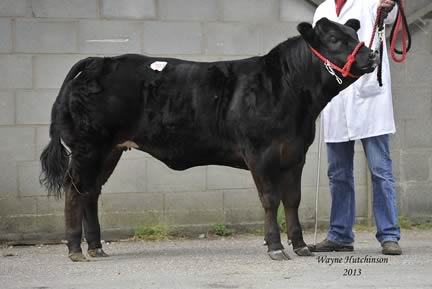 Top priced and Champion steer was another from Frank Page's pen, a proper Christmas Primestock steer, the winning bid of £1700 coming from father and son outfit, John and Sam Madeley, Ross-on-Wye, Herefordshire.
Tremendous interest from commercial beef breeders ensured a terrific level of trade for future cow-makers and the day's leading price was reserved for the penultimate lot of the sale. Pedigree breeders DW & LE Morgan, Ty Isaf, consigned a pair of heifers suitable for the pedigree classes and were rewarded with top calls of £2500 and £2000, the successful purchaser on both occasions was J.O Adams & Son Ltd, Northants.
Other leading prices included a very smart youngster from MJ Wells & Son, Monyash Nr Bakewell which realised £1600 and a heifer at £1500 from regular Chelford supporters John & Denise Davies, Clifton under Dunsmore.
Speaking after the sale; Auctioneer Jonathan Farrall professed himself to be "delighted with the quality of the entry", a statement that is endorsed by the averages of £1700 for steers and £1694.44 for heifers.
Averages:
9 Pedigree Bulls £2,782.50
9 Pedigree Females £2,671
Crossbred Steers £1,700
Crossbred Heifers £1,694
The prize money was generously sponsored by the Farmers Guardian and Weatherbys DNA Laboratory.
Show Results
Pedigree Classes
Class 5 - Pedigree Male born between 24th January 2011 to 26th July 2011
1st Lot 7 Gregmaur General – Mr & Mrs D Gregory
2nd Lot 3 Warehams Go Get Em – James & Sarah Wareham
3rd Lot 4 Lukeroyal George – M J Lucas
4th Lot 6 Glenpark Galant – K Preston ( Preston Farms)
5th Lot 5 Hartley Granite – Mr T H Mountford
Class 6 – Pedigree Male born between 19th September 2011 to 23rd December 2011
1st Lot 14 Glenpark Gladstone - K Preston ( Preston Farms)
2nd Lot 13 Crackley Bank Griffin – Mr Paul Walker
3rd Lot 9 Chatham Guard – Messrs J M Morrison & Son
4th Lot 10 Chatham Gunner - Messrs J M Morrison & Son
Class 7 – Pedigree Male born between 2nd January 2012 to 23rd February 2012
1st Lot 20 Dymond Blue Harvey Moon – Mr & Mrs N Jenkinson
2nd Lot 18 Boomer Hoorah – Pasturefields Livestock
3rd Lot 19 Cromwell Hoff – D H Plested
4th Lot 17 Faughanvale Harrison – Mr Oliver McGuiness
Class 8 – Pedigree Male born between 4th August 2012 to 5th January 2013
1st Lot 22 Chalford Manor Iceman – D H Plested
Class 9 – Pedigree Female on or between 6th June 2008 to 2nd June 2010
1st Lot 23 Lukeroyal Dior – M J Lucas
2nd Lot 24 Lukeroyal Fizz – M J Lucas
Class 10 – Pedigree Female born between 19th March 2011 to 22nd November 2011
1st Lot 28 Almeley Gloria – Mr G I Morgan
2nd Lot 25 Blueberry Gaynor – Miss Rachel Brindley
3rd Lot 30 Cowden Gold – A & K M Barnes
Class 11 - Pedigree Female born on or between 4th January 2012 to 25th May 2012
1st Lot 32 Chalford Manor Hilda – D H Plested
2nd Lot 38 New Close Hetty – I E Wilson
Class 12 – Pedigree Female born on or between 30th June 2012 to 3rd October 2012
1st Lot 39 New Close Hayley – I E Wilson
2nd Lot 42 Tanat Hopeful – W R & W W Jones
3rd Lot 40 Crackley Bank Holly Deva – Mr Paul Walker
Supreme & Male Champion
Lot 14 Glenpark Gladstone - K Preston ( Preston Farms)
Reserve Male Champion
Lot 20 Dymond Blue Harvey Moon – Mr & Mrs N Jenkinson
Reserve Supreme & Female Champion
Lot 28 Almeley Gloria – Mr G I Morgan
Reserve Female Champion
Lot 32 Chalford Manor Hilda – D H Plested
Commercial Classes
Class 1 – Halter led steer of Show Potential
1st Lot 204 F Page
Class 2 - Halter led heifer of Show Potential
1st Lot 203 F Page
2nd Lot 202 F Page
3rd Lot 210 M J Wells & Son
4th Lot 207 J L & D A Davies
5th Lot 206 J L & D A Davies
Class 3 – Haltered steer, judged in pen
No entries
Class 4 – Haltered heifer, judged in pen
1st Lot 208 J L & D A Davies
2nd Lot 209 J L & D A Davies
Champion Crossbred & Best Crossbred Heifer
Lot 203 F Page
Reserve Champion Crossbred
Lot 202 F Page
Best Crossbred Steer
1st Lot 204 F Page