Chelford Show & Sale
Friday 1st & Saturday 2nd March 2013
Quality Beef British Blues to the fore at Chelford

Confidence in the quality of product produced by British Farmers is, quite rightly, sky high following the recent revelations about the production of cheap food by major processors and retailers and this confidence in the future was displayed quite clearly at Chelford when the British Blue Cattle Society held its 57th National Show and Sale at the Centre.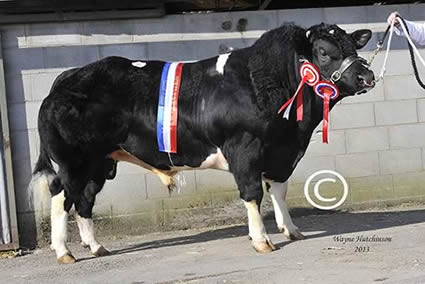 Several top quality bulls were put forward by breeders from throughout the UK with Friday's show being judged by noted suckler producer Brian Griffiths, from Kerry, Powys. His Champion was Pendle Golioth, an April 2011 born son of Greystone Bonzer, out of the homebred Pendle Blueberry, from the Hartley family, near Nelson, Lancashire. This powerful black and white bull stood first in a very strong class, and was picked by the judge to be his Champion, an opinion he supported in the strongest possible way by being the successful bidder at 6,700gns, taking him home for use on his Penygelly herd.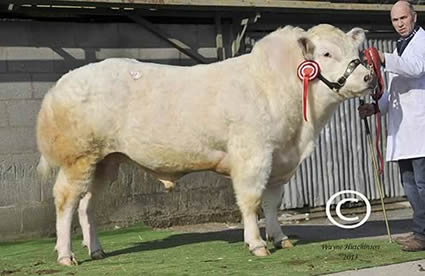 The top price however, was paid for a younger bull, Dinmore Giorgio, a June 2011 born bull from Paul Dawes' up-and-coming herd at Dinmore, Herefordshire. This extremely powerful white bull, who weighed in at some 315 kg above the Society's weight criteria for age, attracted many admirers both at the show and pre sale. By Immense ET 0738 De Beauraing, and out of the Dafydd D'Ochain sired Lukeroyal Christabel, he made 7,000gns to Steve Buckley, Buxton, Derbyshire.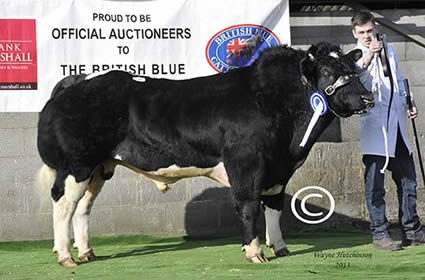 The long journey from Reading, Berkshire paid off for the Phillips family, when they saw their Drift Graham, a March 2011 born black and white son of Bluegrass Cylcone, and out of the Raciste sired Gregmaur Benita, make 6,600gns to G & A Orrells, Newton, Powys, whilst the Belfield family from Sheen, near Buxton saw the best of another excellent pen of bulls, Boothlow General, a huge Tamhorn Sumo son and out of the Dafydd sired Boothlow Coco, make 6,450gns to C I Thomas, Montgomery, Powys. General boasts figures in the very top of the breed for growth and carcass yield index.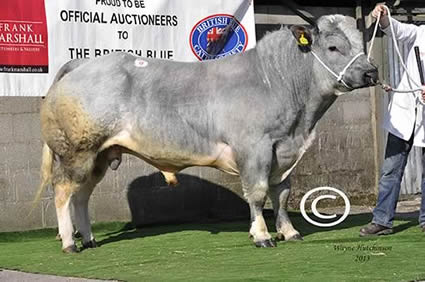 A full brother to Dinmore Giorgio, again by Immense and out of Lukeroyal Christabel, Dinmore Ghost, led the Junior Bull Class, and also attracted considerable interest. This August 2011 born bull, again from Paul Dawes, made 4,700gns to S & A Taylor, Huddersfield. The Reserve Champion Male another much fancied bull from the New Close Herd of Messrs Wilson, this time New Close Grafter, a Blak du Baty son out of Chancellors Utmost, made 4,350gns, having 200 and 600-day growth figures in the top 20% of the breed, he finds a new home with Messrs. Thomas, Montgomery, Powys.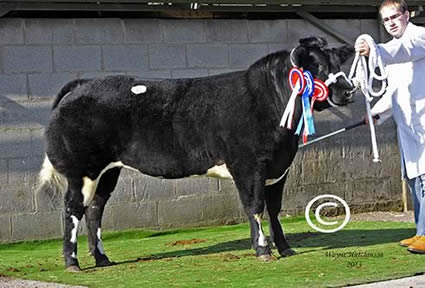 Chelford has long been established as the premier venue for the sale of British Blue females, but the entry this year was the smallest seen for many years. Demand however was considerable right throughout, being led by the Female Champion Graymar Glamorous, an October 2011 born heifer bred by Matthew Jones, Shrewsbury, showing a good birth weight EBV in the top 30% of the breed, this very attractive daughter of Graphite de Dessous La Ville, out of the Colibri sired Bringlee Beth, a terrific show and brood cow, was much fancied by many breeders, but it was Messrs Wright from Ashbourne, Derbyshire who beat off all other suitors to take home this pretty heifer at 5,300gns.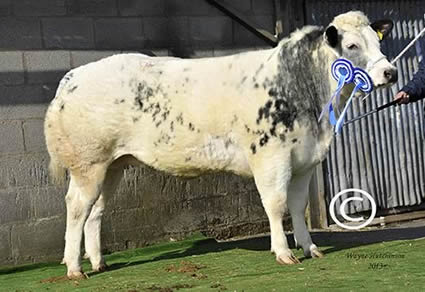 The Reserve Female Champion came from the Tanat Herd of Wyn Jones, near Oswestry. Tanat Georgeous, a May 2011 born daughter of Bringlee Blackstar, out of the Immense sired Whiterock Diamond made 4,000gns to Sam Madeley, buying for his Glewstone Blues Herd near Ross on Wye. Best of the served heifers came from Pasturefields Livestock, when Boomer Enticement, a January 2009 born daughter of Dafydd D'Ochain, out of the terrific show cow Cerise 2120 Neuve Cour, and sold 6 months in calf to Imperial de L'Ecluse, made 3,100gns to Messrs Madders & Johnson, Stafford. Enticement carries Carcass Yield Index figures in the top 25% of the breed.
Marshalls Partner and Auctioneer, Gwyn Williams was encouraged by the signs of confidence around the ringside. "There is no doubt that the recent revelations have illustrated clearly just how high the standards are in British Beef Farming. It is a shame the processing and retail sectors of our industry have not risen to the challenge of producing quality, traceable, meat with quite the same vigour that our farmers have shown, but it is to be hoped that the dedication shown by our producers will now be rewarded with decent prices for their stock, and that they will in future be able to produce a quality product for a fair reward. Today's trade illustrated clearly the strong confidence within the Beef Sector, particularly in the capacity of British Blue Cattle to produce the high quality beef that is required by the modern market place."
Local Feeding men and a few distant travellers ensured a reasonable level of trade for the Commercial entry.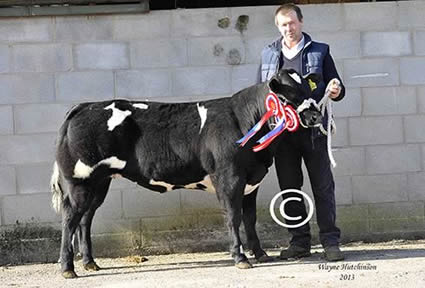 Show Champion, a pure Blue heifer bred and exhibited by Brian Griffiths, Penygelly, was picked out of a strong line-up of quality heifers by respected cattle judge and stockman John Madeley, Ross on Wye. This very stylish heifer was picked out by Messrs Coulson, Market Rasen and sold for £1540.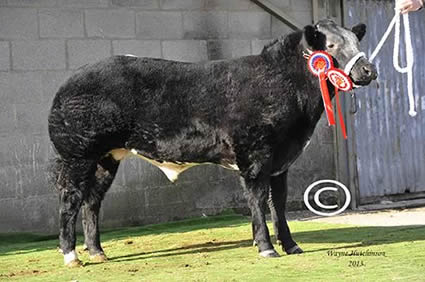 The Reserve Champion ticket was awarded to a Bluegrass Cyclone sired steer bred and shown by Andrew Price of the Bedgebury herd, Maidstone, Kent. The hammer dropped at £1580 to regular supporter S J Cross, Quarley, Hampshire. Leading the trade for steers was a striking red bullock from JM & AM Lewis, Llanwrda, Carms., towards the end of the catalogue but clear that many had waited, selling for £1690 to Mr L Poldrill of Henge, Derby.

Selling for £1540 was a steer from regular Chelford supporters John & Denise Davies, Rugby. This shapely red steer was snapped up by Victoria Bowring, Mansfield, Notts.
The best of Nigel Pritichard's pen, a pure heifer born in September 2011 sold for £1360 to local supporter Brian Taylor, Scholar Green.
Brian Griffiths made the top 10 again with a very smart steer picked out by Claire Crowther, Greenfield, on her first visit to Chelford's Blue sale! Under the 'expert' guidance of father Chris, she secured the steer at £1500.
Auctioneer Jonathan Farrall commented after the sale "Although we haven't seen a record trade today, decent returns fuelled by the strong beef trade and a general shortage of quality cattle were evident. The top 10 steers were all over £1260 and the top 10 heifers over £1080 with the averages levelling at £1184 and £1050 respectively".
Leading Prices
Bulls
Lot 37 – 7,000gns
Lot 25 – 6,700gns
Lot 16 – 6,600gns
Lot 13 – 6,450gns
Lot 26 – 4,900gns
Lot 40 – 4,700gns
Lot 21 – 4,350gns
Lot 7 – 4,100gns
Female
Lot 57 – 5300gns
Lot 52 – 4,000gns
Lot 58 – 3,600gns
Lot 45 – 3,100gns
Averages
43 Pedigree Bulls £3883.70
11 Pedigree Females £3780.00
32 Crossbred Steers £1184.00
31 Crossbred Heifers £1150.00