British Blue Quality Genetics in demand at Paulern Dispersal
The Costwold sun shone on prospective buyers of cattle from all over the UK and Ireland, who descended upon the Nailsworth, Gloucestershire home of the Paulern Herd of British Blue Cattle following the decision of their owner and breeder, local business man and farmer Ernie Hemmings, to disperse his Blue herd after 20 years of breeding, in order to concentrate on family and business interests.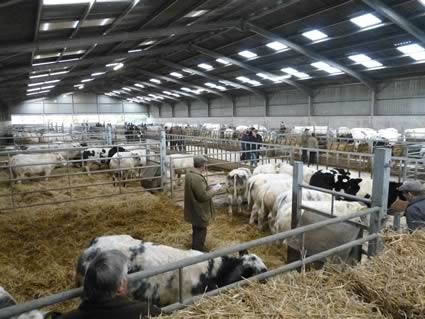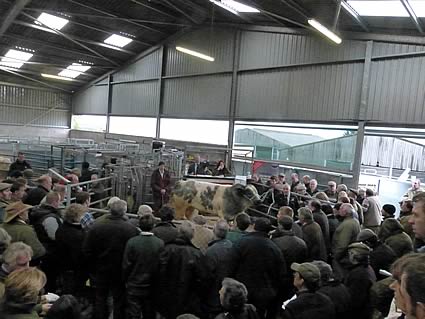 The Herd has always been well known for producing sound breeding bulls and females, and blue breeders and commercial beef farmers are aware of the commercially managed nature of the herd, with none of the cattle having been fed or pushed into showing condition. The opportunity to buy outstanding blue genetics, together with powerful well- bred cattle that have great potential for improving under a more intensive management system, proved irresistible and a large crowd awaited the commencement of the sale last Saturday, conducted by Cheshire based Auctioneers Frank Marshall & Co, Official Auctioneers to the British Blue Cattle Society for over 30 years.
Frank Marshalls Partner and Auctioneer Gwyn Williams conducted the sale and commented "whilst it is very sad to see such a committed, enthusiastic and innovative breeder calling it a day, the sale offered all Blue enthusiasts and cattle breeders a wonderful opportunity to buy well-bred stock, with great depth and pedigree well suited to living on a variety of terrain. Demand from the off was exceptional, and in particular for the foundation cows and young bulls, many of whom showed great potential for future use".
In addition nearly 500 straws of semen from a variety of outstanding British Blue bulls was also offered for sale, peaking at a top of 160gns for Affute; 140gns for Baron; 120gns for Empire; 150gns for Cristal de Somme; 100gns for As Du Trefle, breaking all breed records.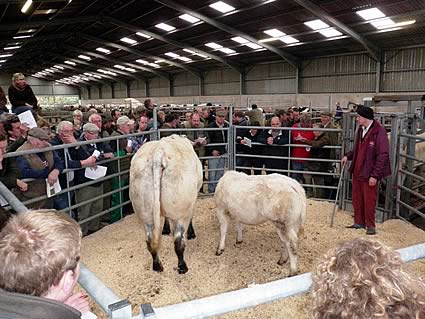 The sale topped with a 4,450gns bid for Paulern Carol, a 2007 born Tamhorn Sumo daughter out of the Belgian bred cow Zwarte II, sold 4 months in calf to the homebred Blue bull Declan, by the great Belgian bull Cristal de Somme. Carol carries figures in the top 10% of the breed for Carcass Yield Index, with first class carcass and weight EBV's. The leading bid was placed by Mary Cormack, buying on behalf of Paul Dawes, Dinmore Manor, Herefordshire. Next in line was Paulern Elizabeth, a August 2009 born Affute daughter, who sold with her heifer calf at foot, Paulern Holly, at 2950gns. She travels to Cornwall, to join the Trencrom Herd of David & Gail Ellis. One of the senior cows in the herd, Paulern Audrey, a Baron du Bois daughter and out of the Lawns Dominic sired Paulern Unity, also attracted a lot of interest from breeders looking for foundation cows. Sold nearly 8 months in-calf to Declan, she made 2,650gns to South Wales breeder Rhys Millichap, from Tonyrefail. Audrey is in the top 20% of the breed for carcass traits.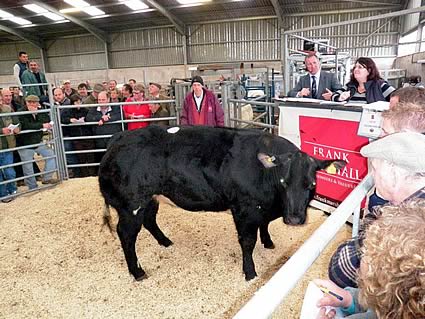 Young females from excellent breeding families, were keenly sought throughout the sale, to a top of 4,000gns for the best of the bulling heifers, the October 2010 Paulern Fanella. By the homebred bull Aquita, and out of Affute sired Paulern Blue Violet, she went home to Belper, Derbyshire, with Jamie Taylor for 4,000gns. Best of the in-calf heifers, Paulern Fiona, a Serum daughter out of a Baron Du Bois sired Bestofall, springing to Declan, made 4,250gns to R W Biss, Wells, Somerset.
It was another Aquita daughter that topped this year's heifer calves when Paulern Honey, out of the Cajoleur sired Bethany made 1,380gns to S H Butler, Thatcham, Berkshire.
There was a huge selection of stock both stock bulls and young bulls, under 12 months of age, on offer. It was the powerful black and white bull Paulern Gloucester, by Aquita and out of the Cristal de Somme sired Diamond, who led the trade at 4,200gns, in the top 10% of the breed for Calving Ease and the very top of the breed for scrotal size EBV. He sold to Freeland Farms, Cheltenham, who were volume buyers to a number of exciting young bulls with excellent potential. Bainbridge brothers from Richmond, North Yorkshire, had made the long journey in search of new breeding lines, and picked out another black and white bull, Paulern Edwin, who is in the top 20% of the breed for Growth, Scrotal Size, Carcass Traits and Carcass Yield Index EBV's. By Serum, and out of the Tamhorn Sumo sired Claire, they beat off all other bidders to take him home at 4,000gns.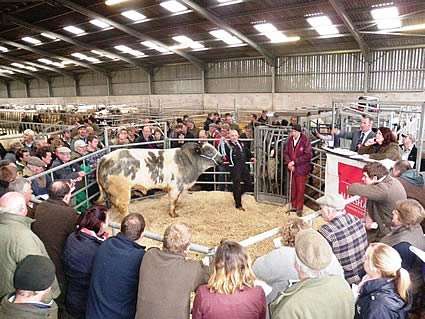 The December 2010 born Paulern Fantastic, is an animal with first class figures being at the very top of the breed for Growth and Carcass Trait EBV's. Sired by Declan and out of Cajoleur sired Delmira, had been shown successfully this year at both the Great Yorkshire and Royal Welsh shows (the first shows the herd had attended for over 5 years) and attracted considerable interest before heading to Hemel Hempstead with Richard Ivory for 3,900gns. The dark blue roan bull Paulern Gregory, of very easy calving genetics, again by Aquita and out of the Newfield Oasis sired Paulern Vera, was another purchase by Freeman Farms, this time 3,400gns, and they seemed determined to invest heavily in exciting young bulls with excellent genetics, taking home the January born bull calf Harold, again by Aquita and out of the Cajoleur sired Denise for 2,600gns, and the Declan sired Horfield, born in March, for 2,500gns.
Indeed, all the young bulls on offer sold to very strong demand, with breeders obviously recognising the potential available within this herd.
Following the sale of pedigree cattle, a bunch of Simmental x cows due from January to the Blue were offered for sale, peaking at a top of £1,320, with Blue cross steers, all under 16 months of age peaking at £1,100, and heifers up to £880.
Sale averages:
Pedigrees:
6 Cows with Calves £2164
38 In-calf Cows £1958
7 Served Heifers £2045
8 Bulling Heifers £1798
21 maiden Heifers and Calves £914
13 Stock Bulls £2805
22 Young Bulls, under 12 months £1567
476 Semen Straws £62.75
Crossbreds:
9 In-calf Cows £1218
2 Cows with Calves £1355
4 Steers £925
4 Heifers £790
Top 10 Females:
Paulern Carol 4450gns P R Dawes
Paulern Fanella 4000gns Brook Farm
Paulern Elizabeth 2950gns EA & DA Ellis
Paulern Audrey 2650gns R Millichap
Paulern Fiona 2450gns R W Biss
Paulern Ballard 2400gns P R Dawes
Paulern Deidre 2400gns EA & DA Ellis
Paulern Evelyn 2350gns S A May
Paulern Denise 2250gns K Belfield
Paulern Fancy 2250gns P R Dawes
Paulern Dawn 2200gns EA & DA Ellis
Top 10 Bulls:
Paulern Gloucester 4200gns Freeland Farms
Paulern Edwin 4000gns Bainbridge Bros
Paulern Fantastic 3900gns Mr Ivory
Paulern Gregory 3400gns Freeland Farms
Paulern Frosty 3150gns Freeland Farms
Paulern George 3150gns Freeland Farms
Paulern Ernst 3000gns A T Williams & Son
Paulern Declan 2900gns Mr Alexander
Paulern Golaith 2900gns Freelands Farm
Paulern Gareth 2700gns Mr Davies
Auctioneers: Frank Marshall