Demand for Blues exceeds supply
Chelford - Saturday 7th July 2012
The shortest entry of Blues seen for many years at a Chelford sale on behalf of the British Blue Cattle Society was an indication of how successful breeders have been in selling stock this year, with many reporting strong demand for on-farm sales.
Those breeders who entered stock for Chelford met with a trade which reflected this demand, with, despite the short entry, large numbers of potential purchasers and breed enthusiasts descending on the Centre, providing lively bidding throughout.
The day's top price of 3,600 gns was paid for the Reserve Male Champion, the February 2011 born bull Cromwell Gladiator from Midlands based breeder Adam Neachell. By Bringlee Carlos, and out of the Royal Show Female Champion Tamhorn Up Town Girl, he shows terrific promise, and was taken home to Shebbear, Devon, with former breed Society President, Ted Haste.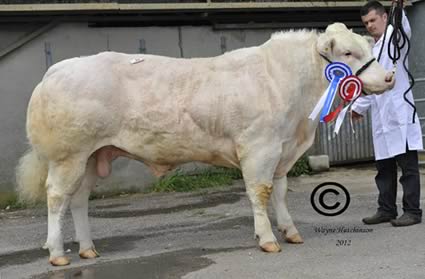 Strong bulls, ready to work, were once again most in demand, illustrated by the 3100 gns paid for the May 2010 born Kilworth Forman, from Andrew Fyfe. By Gamin des 3 Frontieres, and out of the extremely well bred Bringlee Tandy, he returns to Creswell, Stoke-on-Trent with G A Hargreaves.
Messrs Redhead and Watson again made the long trip from their base in Berwick-upon-Tweed, in Northumberland, and were well rewarded when their November 2010 born bull Tweeddale Fonzie, sired by New Close Colonel out of the imported female Justesse de Fooz, carrying a British Blue Carcass Yield Index of +14. She made 3000 gns to D G Foulkes, Denbigh, Clwyd.
The pre-sale Show judged by Kevin Watret from the Solway View Herd, Dumfries, saw the Male Championship awarded to the September 2010 born bull Betws Flash, exhibited by Gill & Rhys Bellis. By Flash D'Izier and out of a cow sired by the impressive Tamhorn Sumo, Betws Crème, he returns to supplement the growing Cromwell Herd of Messrs Neachell, West Midlands.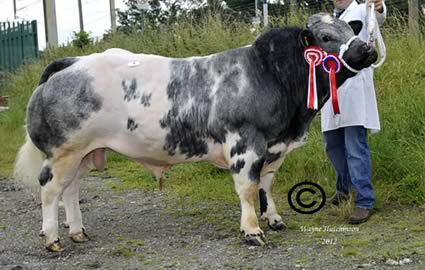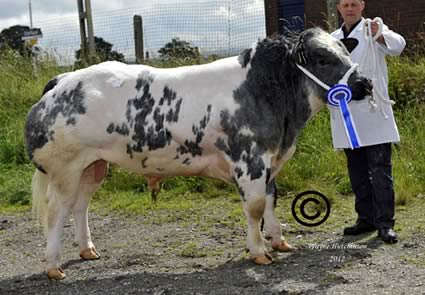 The Female Championship was awarded to the September 2011 born young Heifer Chardaney Gabrielle from Messrs Mycock, Buxton. By Piraat Van Prokes, and out of the Affute sired Boothlow Amber, she attracted quite a lot of pre-sale interest but was withdrawn by her vendors at 2550 gns and will be shown for the next year or two.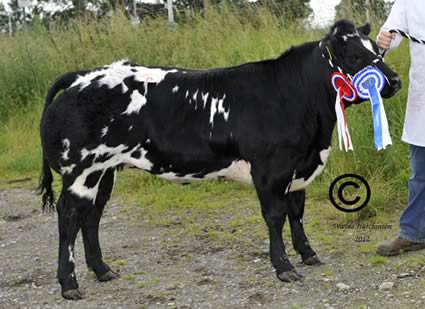 The Reserve Female Champion came from Messrs Hartley, Nelson, Lancashire with Pendle Gemini. Sired by Newtown Blues Chico, she went on to realise 2300gns to S W Mills, Sheffield.
Leading the served heifers was Chardaney Ella, the Dafydd D'OChain sired heifer from Messrs Mycock, sold as scanned 3 months in calf to Piraat Van Prokes, and she made 1900 gns to the Cromwell Herd of Adam Neachell.
As with the Pedigree section of the sale, it was certainly a case of quality not quantity. A small number forward, but what a cracking quality entry! Trade reflected the quality, with the Show Championship, judged by Stephen Hough from Pontefract, being awarded to a super heifer from regular exhibitors J L & D A Davies, Warwickshire. At sale time, several bidders chased her, but the heart of well known Buxton butcher Roy Mycock was set upon acquiring her for his farming and show team, and he eventually did at 2320gns.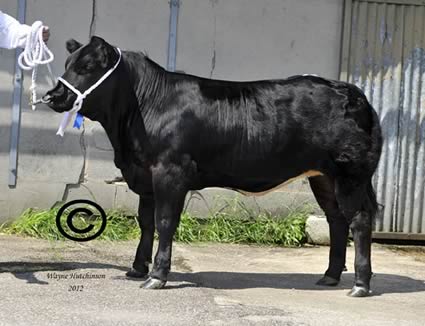 The Reserve Champion, and second behind the Champion in her Class was a September born heifer calf from Brian Griffiths, Newton, Powys, another regular exhibitor at the Chelford sales. She made 2080 gns to Staffordshire based showman and exporter Lee Machin.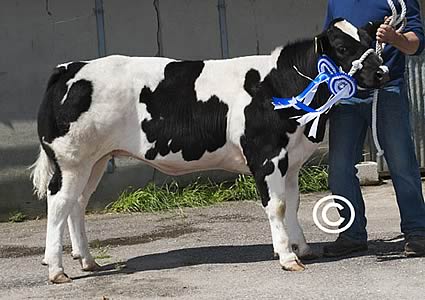 Another regular Chelford exhibitor Frank Page from Elkington, Northampton, saw his steer, which stood second in the Steer Championship; lead the prices at 1550gns. This October born steer calf went home to Skipton, North Yorkshire, with J S Stephenson, whilst the Steer Champion, from J L & D A Davies, born only in December last year, made 1260gns to P Sellars, Ambergate, Belper.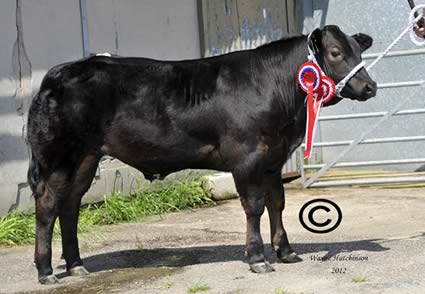 Demand for crossbreds was outstanding throughout, as evidenced by the averages, which show heifers in excess of £1800 and steers over £1300.
Averages:
11 Pedigree Bulls £2793.00
6 Pedigree Females £1995.00
5 Crossbred Steers £1302.00
12 Crossbred Heifers £1801.82
A consignment of Blue semen, kindly donated by Mr Doug Hazel of Bedfordshire, was offered for sale, with the proceeds being donated to Cancer Research UK. Straws of Hazelwood King sold up to 25gns, with straws of Hazelwood Jake selling to 13 gns. Making an approximate total of £1139.25 to donate to this well deserving charity.