College Valley Dispersal
College Valley attracts top bid of 4,500gns
Borders breeder Ted Fox dispersed his renowned College Valley British Blue Herd at Borderway Mart, Carlisle on Friday 25th May. The day saw a top price of 4,500gns and solid averages for both maiden and served heifers.
Both notable breeders and commercial show calf producers were assembled as the herd's renowned cow families and a wealth of imported bloodlines went under the hammer.
Leading the sale at 4,500gns was the first lot in the ring, Jouranliste de Fooz, an imported daughter of Diademe De Fooz. This five-year-old offering sold AI'd to Tweeddale Ebony and went to JC Innes, Huntly, Aberdeenshire for his Strathbogie herd.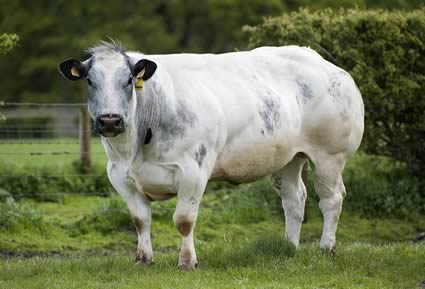 Following at 4,200gns was another in calf entry, College Valley Emilie, purchased by SA Nelson, Rosgill, Penrith. Combining the bloodlines of prolific sires Dafydd D'Ochain and Bringlee Volkawagon, she had been running prior to the sale with Mountjoy Utopia.
AE Neachell & Son of Aldrige, were quick to snap up two of the further leading prices; taking the 3,500gn Berenice De Bierwa and the 3,400gn College Valley Delilah back to the West Midlands to join their noted Cromwell herd. The fully-Belgian bred Berenice De Bierwa sold AI'd to Tweeddale Discovery and College Valley Delilah, a Tamhorn Sumo daughter out of Ridge Dean Whisper, sold having ran with Mountjoy Utopia.
At 3,200gns was the 2009 born College Valley Emerald. A Serum d'Anloy daughter out of an Affute Du Ry Ossogne dam, and having also ran with Mountjoy Utopia, she was bought by J Allinson & Sons of Richmond, North Yorkshire.
Following at the same money was the day's final offering, a maiden heifer College Valley Gemma, a Bringlee Carlos daughter from Ridge Dean Whisper, who sold to show calf exhibitor Mr B Duffton, Huntly, Aberdeenshire.
Averages – 17 Served Heifers £3106.76, 18 Maiden Heifers £2415.00