Chelford Show & Sale
Saturday 3rd March 2012
"Quality" was the name of the game when the British Blue bulls went through the ring on Saturday 3rd March 2012 at the Society's 55th National Show and Sale at Chelford Agricultural Centre. Strong fit bulls, but not carrying too much flesh and showing good growth rates for their age, were most keenly sought.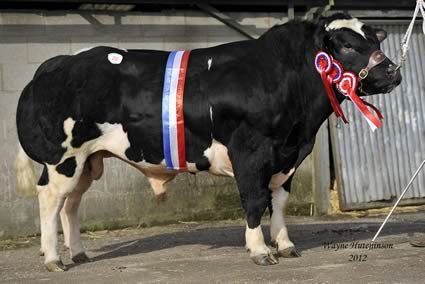 The pedigree judge, long-time breeder, Graham Brindley, of the Bringlee Herd, Market Drayton, Shropshire, chose as his Supreme Champion, Solway View Fandango from Kevin Watret, Annan. This February 2010 born bull was sired by Dartagnan Du Castillo and out of Kevin's great foundation cow, Broomfield Vivien, who herself was a former Supreme Champion at the Royal Highland Show. Fandango finds a new home with renowned crossbred show cattle producer, Andrew Davies.
Graham Morgan from Hereford was delighted with trade achieved for the best of his pen, Almeley Fabregas. Born in May 2010, and out of the Park U Panda sired Almeley Bella, who made 4700 gns to Messrs Wardman, Redcar, Cleveland.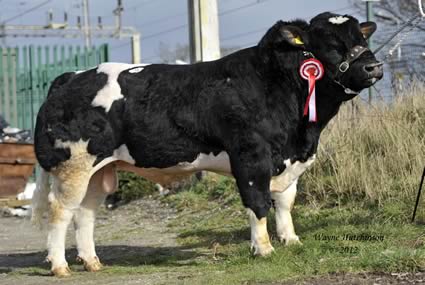 Croftends Eros - 4450gns
The Croftends Herd of Messrs Bellas and son, Appleby saw their bull Croftends Eros, realise 4250gns to Peter Gore, Shrewsbury. A son of the famous Hazelwood Freshman, out of their homebred cow Croftends Bliss, Eros boasts excellent EBV and Carcass Yield figures in the top 5% of the breed.
Demand for Females was outstanding, with breeders from all over the UK bidding keenly for the best, female genetics on offer.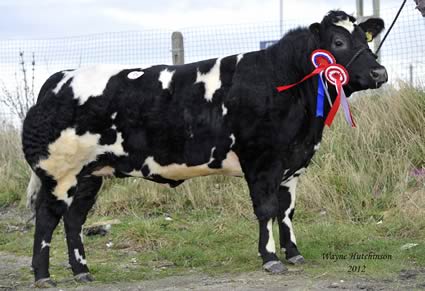 The Female Championship was awarded to Bedgebury Futie a March 2010 born heifer from Andrew Price, Maidstone, Kent. This Bluegrass Cyclone daughter, out of Ridge Dean Auntie, made 4300 gns to Ian McInnes, bidding on the telephone from Isle of Tiree.
The Reserve Female Champion and leading Junior Heifer was Drift Fizz from Messrs Phillips & Sons, Reading, Berkshire. This October 2010 born heifer by Bringlee Blackstar out of Cowden Blackberry made 3500 gns to J Middleton, Skipton, North Yorkshire.
Graham Morgan was in the mix once again with his heifers, when the best of his pen, Almeley Flamingo an Empire D'OChain daughter out of the Gregmaur Unique sired Hillside Binky, who weighed in at nearly 1100 kilos, made 3400 gns to R M Millichap, Port Talbot.
Local breeder Jackie Smith saw her heifer Three Ways Freya, by Balto de Steinbach out of Astbury Showgirl, born in May 2010, make 3100 gns to G A Davies, Llandysul, Ceredigion whilst the January 2011 born Oak Tree Goodness Gracious from Richard Pedley, Carnforth, Lancashire, a very smart young heifer by Colos Van Daisel and out of Oak Tree White Star, made 3,000 gns to S & L Evans, Gower, Swansea.
Averages:
52 Pedigree Bulls £3285
22 Pedigree Females £2580
Leading Bull prices:
Lot 20 7750 gns K Watret
Lot 43 4700 gns G L Morgan
Lot 12 4250 gns J E Bellas & Son
Lot 1 4000 gns K Belfield
Lot 30 4000 gns M & E Hartley
Lot 47 3900 gns J Barber
Lot 11 3800 gns B & J Noden
Lot 36 3700 gns J & E Coates
Lot 26 3600 gns M Hambleton
Lot 6 3600 gns J I Innes
Lot 46 3600 gns R Millichap
Leading Female Prices:
Lot 75 4300 gns A D Price
Lot 83 3500 gns A & P Phillips
Lot 80 3400 gns G L Morgan
Lot 77 3100 gns J Smith
Lot 76 3000 gns G L Morgan
Lot 89 3000 gns J H Pedley
Lot 81 2700 gns G L Morgan
Lot 85 2500 gns K Watret
Lot 91 2250 gns J & S Wareham
Lot 82 2200 gns K Watret
Quite a number of Embryos were offered for sale at the end of the Pedigree section, selling to a top of 520 gns for an embryo by Gitan Du Pti't Mayeur, out of the great show cow Broomfield Vivien, bought by Geoff and Lorraine Dunn, for their Highbridge Herd in Devon.
CROSSBRED BLUES SELL TO £3600
A very classy entry of Crossbred Cattle, were presented to the discerning eye of Judge Judy Fountaine. After deliberating over two very strong classes she eventually chose her Champion in the form of a stylish April born heifer bred and exhibited by Northants showman Frank Page. She generated a good deal of interest with telephone bidders from North Wales losing out to the Judge Mrs Fountaine at £3600.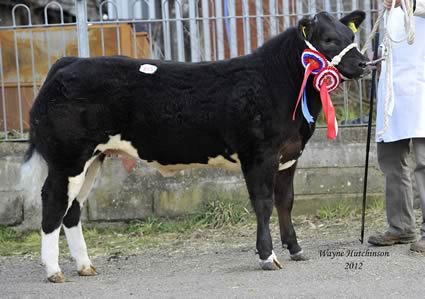 Reserve Champion was another heifer, this time from Chelford regulars John and Denise Davies, Rugby. Their very showy black heifer drew plenty of admiring glances, once again the telephone lines were fully booked but the ringside triumphed and she made £1830 and joins the Norfolk based show team of Graham and Heather Blythe.
Messrs Davies also took the top priced steer with a solid Black bullock which made £1850 to a South West showman.
Interest for sound breeding heifers was fantastic throughout Davies Bros made the long journey from South Wales and saw their powerful pure Blue sell to £2090 with plenty of decent heifers over and around £1400 returning an overall average of £1408.46.
"A pleasing days trading" commented Auctioneer Jonathan Farrall, illustrated by the figures:
Top 10 Steers averaged £1448 (£1280.37 overall)
Top 10 Heifers averaged £1917 (£1408.46 overall)