Strong Trade for Blues at Carlisle
The ringside was packed and buzzing with enthusiasm, as judge, Ernie Hemmings, Nailsworth, Gloustershire, stepped into the ring, at the British Blue Cattle Society's January Show & Sale, at Borderway Mart, Carlisle on Friday 20th January 2012, by kind courtesy of Harrison & Hetherington.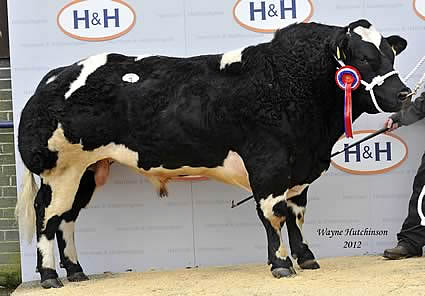 The quality before him that morning, made his job all the more difficult but, after due consideration, he put up Malcolm Telfer & Helen Claxton's Seaclan Duke ET, as his Male Champion. Bred in the South of Ireland by S O'Neil, out of Bringlee Baroness and sired by Empire D'Ochain, this animal subsequently found a new home with Messrs. Milburn, Greenhead, Carlisle being knocked down at 6,200gns.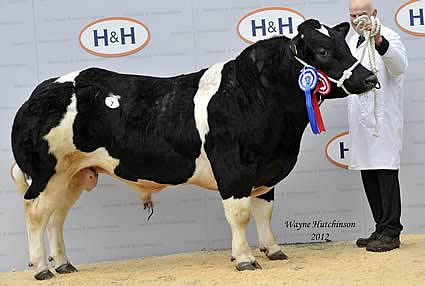 Springfield Freddy
The Reserve Champion being Allan & Deirdre Wilkinson's Springfield Freddy, out of Springfield Astra, by Blak Du Baty D'Eprave, finding a new home @ 6,000gns with DH Lawson & Son, Leyburn.
The Overall Champion and Champion Female, being awarded to Malcolm Telfer & Helen Claxton, with Rathlyon Dinah ET, a sweet heifer out of Bringlee Baroness, by Heros Du Peroy, bred by Kathleen McDermott, Republic of Ireland. Dinah was snapped up by R & RA Pattinson, Wigton, Cumbria.
The Reserve Champion Female was Andys Fawn ET, out of Annanwater Coral by the infamous Gitan Du P'Tit Mayeur.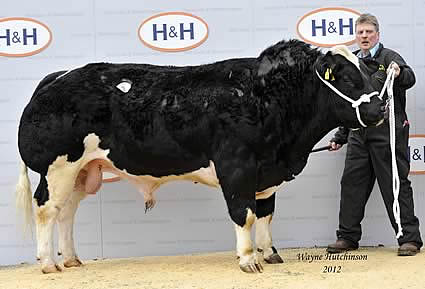 A packed ring prompted keen and fierce bidding, with first in the ring was, Rathlyon Dave ET from the Telfer & Claxton stable, being knocked down for 6,800gns, to Owain Llyr of Ruthin. This September '09 bull was out of Rathlyon U-Beauty, by Empire D'Ochain and stood third in his class.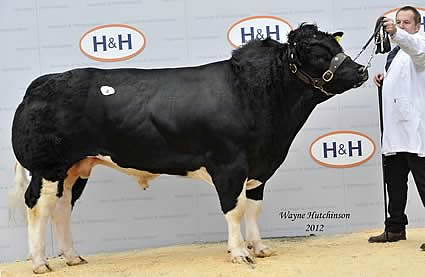 Bulls topped at 7,700gns, with Strathbogie Elliot ET, a very stylish bull from Jim Innes, Aberdeenshire, out of Strathbogie Britney, by Nether Hall Buster ET. "Elliot" stood second in his class and finds a new home with GH Walton & Sons, Greyside Farm, Hexham, Northumberland.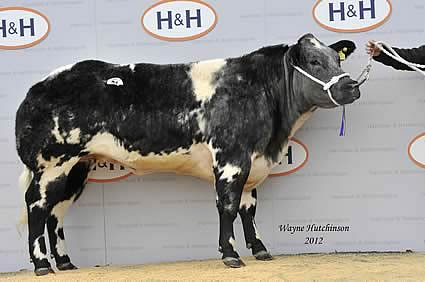 The small entry of females were highly sought after, with the Supreme Champion,Rathlyon Dinah topping the trade at 3,500gns, closely followed by Telfer & Claxton's 2nd prize class winner, Seaclan Essy, bred by S O'Neill, at 2,600gns, who finds a new home with R Carr, Homilton, Capheaton, Newcastle.
This was a very positive start to 2012, for the British Blues with the bull average being £587 up on last year, with the heifers £375 up, with an over 80% clearance.
Leading prices:
Bulls
7,700gns Strathbogie Elliott to GH Walton & Sons, Hexham.
6,800gns Rathlyon Dave to O Llyr, Ruthin.
6,200gns Seaclan Duke to TR & EA Milburn, Carlisle.
6,000gns Springfield Freddy to DH Lawson & Son, Leyburn.
Females
3,500gns Rathlyon Dinah to R & PA Pattinson, Wigton.
2,600gns Seaclan Essey to R Carr, Newcastle.
2,100gns Edenfauld Ellen to EA & DA Ellis, St.Ives.
Averages:
14 bulls averaged £4672.50
4 heifers averaged £2677.50