Chelford Summer Sale
Saturday 2nd July 2011
STRONG TRADE FOR "BLUES" WITH 90% CLEARANCE
The long awaited arrival of hay making weather caused concern amongst British Blue breeders that trade would be adversely affected at their 54th National Show and Sale at Chelford. Despite another excellent sunny day, however, trade was extremely buoyant throughout, particularly for Bulls ready to work, and top quality breeding Heifers. Breeders from all over the UK put forward another excellent selection of stock, which attracted buyers from far and wide, once again, establishing the importance of the "Blue" in the UK Beef Industry.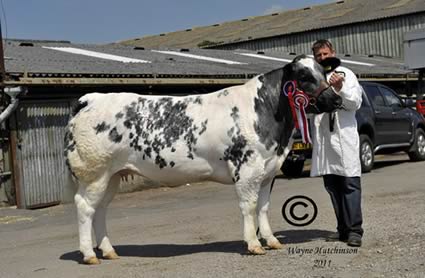 The day's top price of 5000gns was paid for the Female Champion at Friday's show, judged this year by nationally known pedigree and commercial livestock breeder John Hall, of Dalston, Carlisle. Chalford Manor Elite, an outstanding January 2009 born Heifer from David Plested was by the powerful sire Tamhorn Sumo and out of Lukeroyal Wee Beauty. She was sold in-calf to the Limousin and went home with G E Davies & Son, Newtown, Powys.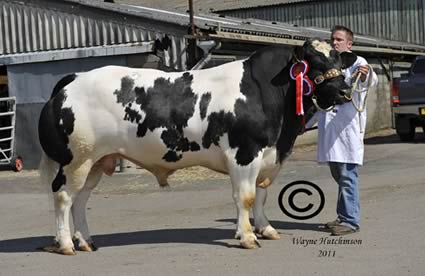 Supreme Champion at Friday's show was the top priced bull, Ashledge Emale, from A G Kirton & Sons. This powerful July '09, Bringlee Volkawagon son, was out of their home bred cow Ashledge Angleina and realised 4000gns to Messrs. Baldwin of Wigan, Greater Manchester.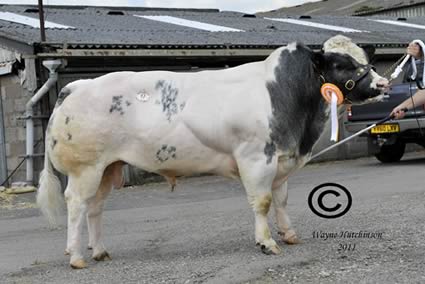 Matthew Jones, from Hadnall, Shrewsbury saw his bull Graymar Europe, realise 3800gns. This November 2009 son of Sjaka Zoeloe Van Zwaanhof, and out of the Blak Du Baty sired Royal Deeside Abigail make 3800gns to J S Stevenson, Skipton.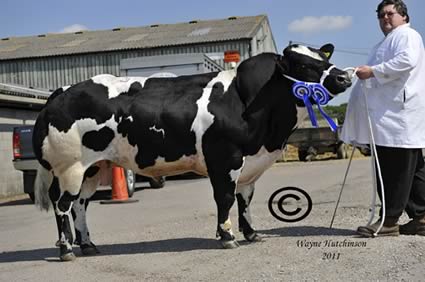 Next in line was another powerful Bull, the Reserve Male Champion, Inishfree Erazmus from Nottinghamshire based Alan Bromyard. Erazmus was a Gitan Du P'Tit Mayeur son, out of Inishfree Willow and made 3500 gns to commercial producers Messrs. Mycock and Bright.
Also making 3500 gns was the first bull in the ring, the May 2007 born Newton Blues Chico from Messrs. AM & E Hartley, Lancashire who went home to Oswestry with S Hudson.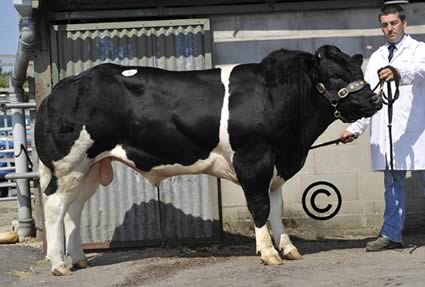 Another young Bull to attract attention came from regular Chelford supporters, Messrs. Wilson. New Close Express Star, a Bringlee Blackstar son made, 3300 gns to J H Pridgeon, Louth, Lincolnshire.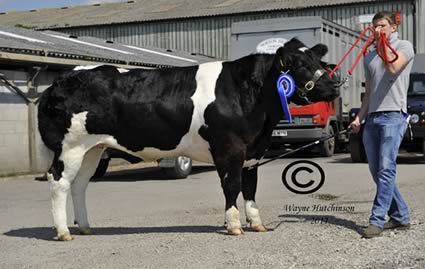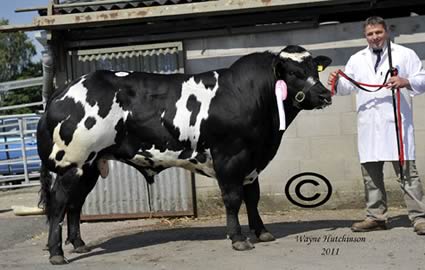 Returning to the Females, demand was again exceptionally strong. The Reserve Female Champion came from Shropshire based Drew Coppinger, fresh from completing the 3 Peaks challenge for charity the previous day. The August 2009 born Lukeroyal Ellen, made 3300 gns also returning to Skipton with Mr.Stevenson. Another strong Heifer from David Plested, Chalford Manor Echo, by Gitan and out of the Vigoureux sired Court Ursula made 2900 gns to Messrs. Greenwood, Hebden Bridge, Yorkshire.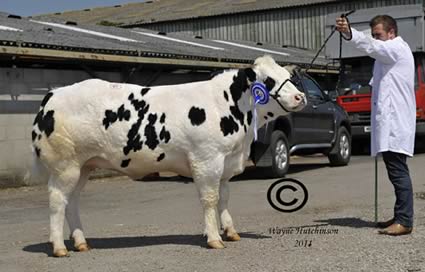 Messrs Redhead and Watson, quietly building up their excellent Tweeddale herd near Berwick upon Tweed, Northumberland, made their first appearance selling stock at Chelford and were rewarded with an excellent trade for a pen of top quality young Heifers. The September 2010 born Tweeddale Fantasia stood first in the junior Heifer class and, along with the rest of the pen attracted a lot of interest pre-sale. Fantasia, a lovely Empire D'Ochain daughter, out of Jobarde De Fooz made 2800 gns to Messrs. Stevenson, Boardley Green, with strong competition from a number of established breeders.
SCORCHING TRADE FOR COMMERCIALS
What the Commercial entry lacked in numbers was compensated for by quality, the resulting trade being nothing less than 'scorching'.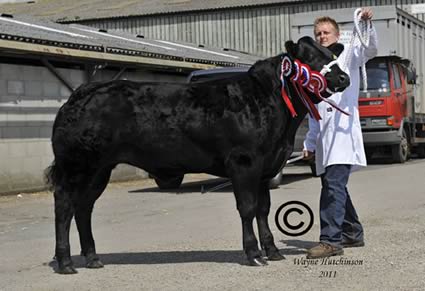 Top call of £1900 was paid for Nigel Pritchard's very sweet 6 month old heifer, which had stood first in her class and Reserve Champion Crossbred. The heifer was, without doubt, a very exciting prospect for the future and was snapped up by Kevin Watret of Annan, Dumfriesshire.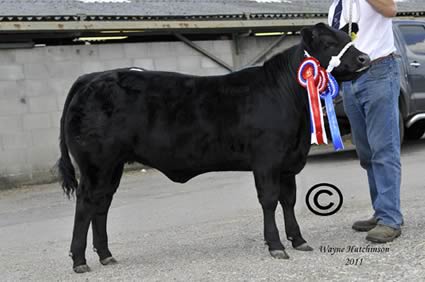 Commercial Judge Neil Lloyd had the difficult task of choosing a Champion, eventually he picked a powerful 10 month steer from Messrs. TM & EE Williams, Llandidloes. The hammer fell at £1700 to R J Clayton, Bradford.
Newtown breeders and regular Chelford supporters Messrs. Morgan put forward a stunning pure heifer from their Ty Isaf herd. She sold for £1650 to H Evans, Ruthin. Trade for heifers to breed remained strong throughout. Rob Jones of Kerry saw his 9 month heifer make £1420 and Boomer Birch put forward a very stylish commercial heifer to make £1380 to local suckler man, Brian Taylor, Scholar Green.
Averages:
Pedigree Bulls £2915
Pedigree Females £2222
Crossbred Steers £1073
Crossbred Heifers £1252
Leading Prices:
Bulls
Lot 9 4000gns
Lot 17 3800gns
Lot 8 3500gns
Lot 1 3500gns
Lot 16 3300gns
Lot 18 3100gns
Females
Lot 52 5000gns
Lot 55 3300gns
Lot 53 2900gns
Lot 83 2800gns
Lot 59 2400gns
Lot 60 2350gns
Show class results
Pedigree Classes
Class 5 - Pedigree Male born 29th May 2007 and 2nd December 2008
1st Lot 1 Newton Blues Chico – A M & E Hartley
2nd Lot 2 Penfro Domino – Messrs G G Jenkins & Sons
3rd Lot 3 Penfro Defender - Messrs G G Jenkins & Sons
Class 6 – Pedigree Male born between 22nd February 2009 and 16th August 2009
1st Lot 9 Asledge Emale – A G Kirton & Sons
2nd Lot 8 Inishfree Erazmus - Mr Alan Bromyard
3rd Lot 5 Penfro Edward - Messrs G G Jenkins & Sons
4th Lot 13 Pendle Elvis - A M & E Hartley
Class 7 – Pedigree Male born between 1st October 2009 and 7th December 2009
1st Lot 14 Graymar Eccles – Mr Matthew Jones
2nd Lot 20 Tweeddale Expert – Redhead & Watson
3rd Lot 17 Graymar Europe - Mr Matthew Jones
4th Lot 15 Llanymynach Energiser – Mr & Mrs Tim Bodily
5th Lot 18 Cwm Eryr – Arwel Wyn Jones
Class 8 – Pedigree Male born between 5th January 2010 and 16th July 2010
1st Lot 23 Clayfields Fabio – Mr M Hambleton
2nd Lot 27 Clayfields Fernando – Mr M Hambleton
3rd Lot 26 Hawthorne Fabio – Mr John Mawer
4th Lot 29 Every Freddie – Mr Geoffrey Mellin
Class 9 – Pedigree Female born between 20th February 2005 and 5th December 2009
1st Lot 52 Chalford Manor Elite – D H Plested
2nd Lot 55 Lukeroyal Ellen – A J Coppinger
3rd Lot 53 Chalford Manor Echo – D H Plested
4th Lot 56 Norbreck Estelle – Norbreck Genetics Ltd
Class 10 – Pedigree Female born between 24th January 2010 and 21st March 2010
1st Lot 58 Norton Fleur – Mr Nigel Pritchard
2nd Lot 67 Boomer FCUK – Pasturefields Livestock
3rd Lot 64 Brookley Blue Fantasia – Mr J Taylor
4th Lot 60 Hartley Fantasia – Mr T H Mountford
5th Lot 59 Chalford Manor Foxy Lady – D H Plested
Class 11 – Pedigree Female born between 22nd April 2010 and 1st June 2010
1st Lot 70 Norbreck Fantasia - Norbreck Genetics Ltd
2nd Lot 72 Oxcroft Floria – Messrs J & J Green
3rd Lot 71 Oxcroft Florin - Messrs J & J Green
4th Lot 74 Oxcroft Forever Nymph - Messrs J & J Green
Class 12 – Pedigree Female born between 20th July 2010 and 18th December 2010
1st Lot 83 Tweeddale Fantasia - Redhead & Watson
2nd Lot 82 Tweeddale Fraya - Redhead & Watson
3rd Lot 77 Oxcroft Frosty Nymph - Messrs J & J Green
4th Lot 78 Tweeddale Fidela - Redhead & Watson
Supreme & Male Champion
Lot 9 Asledge Emale – A G Kirton & Sons
Reserve Supreme & Reserve Male Champion
Lot 8 Inishfree Erazmus - Mr Alan Bromyard
Female Champion
Lot 52 Chalford Manor Elite – D H Plested
Reserve Female Champion
Lot 55 Lukeroyal Ellen – A J Coppinger
Commercial Classes
Class 1 – Halter led steer of Show Potential
1st Lot 203 T M & E E Williams
2nd Lot 211 G E Davies & Sons
3rd Lot 210 G E Davies & Sons
4th Lot 215 J & J Green
5th Lot 217 J & D Davies
Class 2 - Halter led heifer of Show Potential
1st Lot 221 N Pritchard
2nd Lot 225 N Pritchard
3rd Lot 204 B L & J E Griffiths
4th Lot 209 G E Davies & Sons
5th Lot 228 R M Birch
Class 3 – Haltered steer, judged in pen
1st Lot 207 W R B & P Jones
2nd Lot 212 G E Davies & Sons
3rd Lot 205 B L & J E Griffiths
Class 4 – Haltered heifer, judged in pen
1st Lot 208 W R B & P Jones
2nd Lot 223 N Pritchard
3rd Lot 224 N Pritchard
Supreme Champion Crossbred & Champion Steer
Lot 203 T M & E E Williams
Reserve Champion Crossbred & Champion Heifer
Lot 221 N Pritchard
Reserve Champion Crossbred Steer
Lot 211 G E Davies & Sons
Reserve Champion Crossbred Heifer
Lot 225 N Pritchard