Strong Competition for Quality Bulls
Saturday 2nd April 2011
Top quality bulls were much in demand at the 'Northern Ireland Blue Cattle Club Sale' held at the Moira Pedigree Sales Arena on Saturday 2nd April, where buyers again showed that they would compete vigorously and pay for top quality animals, with there being a very respectable 84% bull clearance.
Following feverish and at times electric bidding, Kenneth Veitch's 'Annaghone Elijah', Reserve Male and Reserve Supreme Champion, was the sale topper at 6750gns. An August 2009 son of 'Gitan', out of 'Annaghone Wilma', a 'Tintin' daughter; finding a new home with Ms McAllister and Chestnutt, from Co. Antrim.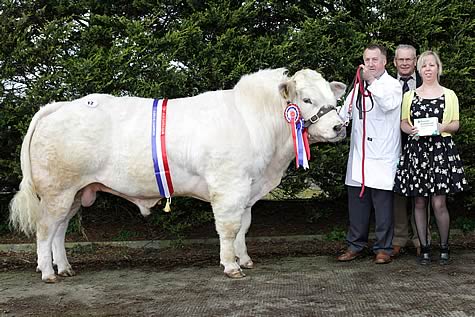 Kilkeel judge, Jim Sloan's Supreme Champion and Champion Male was Adrian Richardson's 'Hill View Elton', a son of 'Sjaka' out of 'Baronagh Blues Abi' being knocked down to C Johnston from Enniskillen at 4850 gns. Martin Bros being hard on his heals with 'Springhill Ever Ready' selling for 4000gns, a Tamhorn Sumo son out of 'Springhill Rainbow', going to john McCullough in Newry.
The Reserve Male and Reserve Supreme Champion was Meadowview Blues Elvis from William Hetherington. 'Elvis' was a Hazelwood April son, by Gitan Du P'Tit Mayeur.
The female trade was very selective, with a high number of very young animals forward. The Female Championship being awarded to Kenny Veich's, 'Drumlone Foxtrot', a March 2010 daughter of 'Blak du Baty' out of 'Springhill Country Gir', with the Reserve Female going to Alan Cleland's 'Ballee Ethel', a June 2009 daughter of 'Ballee Charmer' out of 'Ballee Classie', finding a new home with N Matchett from, down the road at, Portadown for 2900gns.
Averages:
Bulls: £2761 (£2,657 +£110) for 26 Bulls.( 84% Clearance)
Females £1872 (£ 2070 - £198) for 6 Females. (38% Clearance)
Embryos £210 for 2
There was a £500 price advantage for recorded animals over those that were not recorded.
Approaching 50% of all animals sold were exported to the Republic of Ireland.
Leading Prices
Bulls
Lot 32 Annaghone Elijah 6750gns
Lot 12 Hill View Elton 4850gns
Lot 9 Springhill Ever Ready 4000gns
Lot 15 Shorefront Eamon 3700gns
Lot 30 Burnquarter Executive 3500gns
Females
Lot 45 Ballee Ethel 2900gns
Price range
Bulls:- 6750gns – 1500gns
Females 2900gns – 1250gns