Chelford Show & Sale
Saturday 5th March 2011
It was a "feast or famine", day for bull vendors, but exhilaration throughout for vendors of Pedigree females, at the 53rd National Show and Sale, on behalf of the British Blue Cattle Society, held by Frank Marshall & Co at Chelford Agricultural Centre.
Well grown bulls, and those displaying superior growth rates for age, provoked lively competition from a large number of enthusiastic prospective purchasers and once the sale moved onto the Pedigree female section, demand really took off, with all selling to prices well ahead of their breeders' expectations.
Atmosphere was excellent once again at the Centre, both during Fridays Show, and the Sale on Saturday, which attracted a huge crowd from all over the UK and Ireland.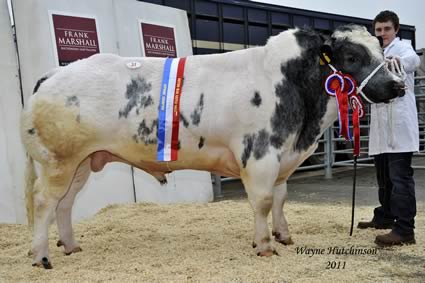 At the Show on Friday evening, the Judge, Steve Pattinson of the Kelowna Herd, Carlisle, Cumbria, chose as his Champion the April 2009 born Boothlow Elvis, from Keith and Janet Belfield and sons Tom & Jack. He was sired by Boothlow Batman, who sold for 9,200 gns three years ago and was out of the prolific cow, Four Oaks Olivia. Elvis was knocked down at 6,100gns and went home to Sussex with Jason and Sarah Wareham, for their Wareham's herd.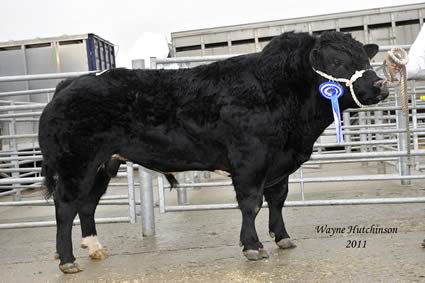 Top price of the day, however, went to the Reserve Champion Male who stood second behind the Champion in his Class. Penygelly Elite was consigned by Brian Griffiths from Newtown, Powys. This all black '09 born bull was sired by Annanwater Vince, who himself was an 'Affute' son and was bought for the day's top price of 7,600 gns for noted suckled calf breeders' Messrs Richardson, Ghyll House, Penrith, Cumbria.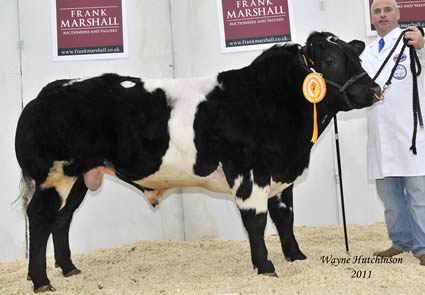 Northern Ireland breeders Mel and Diane Lucas always bring some well bred, well grown animals to Chelford and they saw their August 2009 born Lukeroyal Enoch make 6,100 gns to P Tindale, Shadforth, Durham. Enoch was out of their homebred cow, Lukeroyal Winnifred and by the popular sire Empire D'Ochain.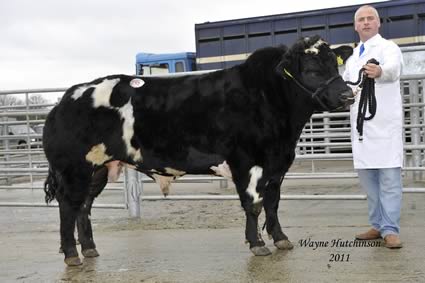 Another from their consignment Lukeroyal Earl, out of the Hazelwood Freshman sired, Lukeroyal Belle, sold at 5,800gns to Messrs Williams, Llanidloes, Powys, again, noted suckled calf breeders.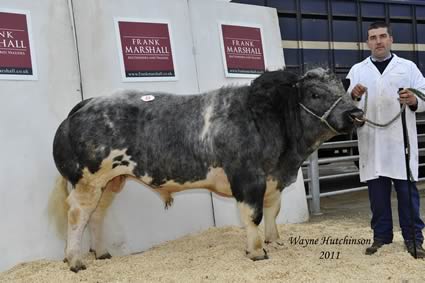 At 5,000 gns, Messrs I & E Wilson from Uttoxeter, Staffordshire saw the best of their consignment, the February 2009 born New Close Emperor, make 5,000 gns to Messrs Woolhouse, Rotherham. Emperor was sired by Bringlee Blackstar and out of Hazelwood Tinkerbell.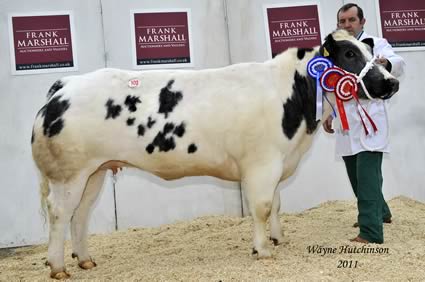 Leading the Pedigree Females was Huw Roberts, a first time exhibitor from Wrexham. His homebred heifer Denby Daisy, by Eternel out of the Ridge Dean Mahogany sired Ridge Dean Unmistakeable, is due in June to Bringlee Blackstar. She was picked by Steve Pattinson as Female Champion and Reserve Supreme at Friday's Show, and having attracted a lot of pre-sale interest, sold for 4,800 gns to R Williams, Fishguard.
Another first time exhibitor at Chelford, J T Wainwright & Sons from Fife, Scotland, put forward the much admired young heifer Todhall Eve, born in November 2009. She stood first at the inaugural "Stars of the Future Show" at Forfar and was placed first in her Class at Friday's Show. This outstanding Blak du Baty D'Eprave daughter, out of the imported cow Addition 2158 Pachis Mott, also met fierce competition in the ring but the successful bidder at 3,200gns was Nigel Jenkinson, Shebbear, Devon, to join his Dymond Blue Herd.
Selling at 2,800gns, was Solway View Emerald from Kevin Watret. Again sired by Bringlee Blackstar and out of Annanwater Venice, she found a new home with A Wood, Weights Farm, Redditch, to join his recently formed Segar Herd. Also at 2,800gns, was Besthorpe F101 Voodoo, sold suckling her recipient dam, from Mike Scott, Newark. She was out of Betws Dwyn and sired by Wacko Van Het Beekhof.
Graham Morgan from Herefordshire, put forward an excellent pen of maiden heifers from his Almeley herd, and saw a top price of 2,650 gns for the July 2009 born Almeley Elaine. By the Park U Panda sired Almeley Wellington, she also stood first in Friday's Show, and sold to Mr. Haigh, Glenluce, Newton Stewart.
RECORD COMMERCIAL AVERAGES
The Crossbred Blue Gold Show Potential Sale which followed the Pedigrees saw Record Commercial Averages at Chelford, as a splendid entry of commercial 'Blues' from across England and Wales met a strong enquiry from a packed ringside.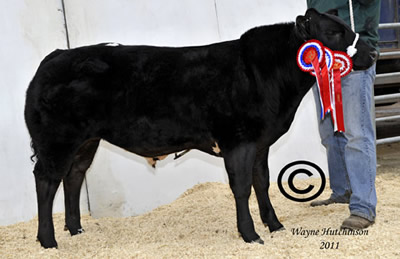 Commercial stock person and finisher Louise Todd did the honours at the Show, faced with the daunting task of picking a Champion from the 100 plus entry. The red ticket eventually went to a fantastic black steer from Nigel Pritchard, Norton Canon, Herefordshire. Born in May 2010 and by the homebred Norton Canon, the steer sold to Judy and Richard Fountaine for £2,000.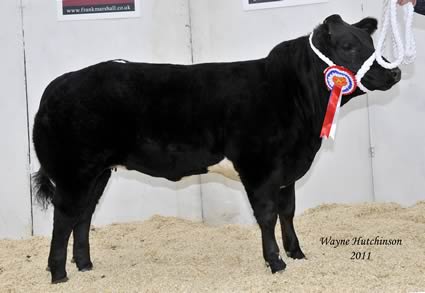 Reserve Champion was awarded to Andrew Price of Bedgebury Blues with a stunning April born heifer, sired by Bluegrass Cyclone. She had more than a few admirers, pre-sale but it was Christine Williams and Paul Tippetts who beat off strong competition to secure the heifer at £2850.
Phil and Sharon Sellers put forward a superb heifer which had stood Reserve Champion in the YFC Classes at the Welsh Winter Fair. The last lot in the ring, but still managing to draw a winning bid of £2200 courtesy of a phone call from Dean Anderson, Maine, Scotland
Other notable success stories included a 2nd prize heifer from Brian Griffiths, Penygelly selling for £1630 to South West Showman Richie Cobbledick, Cornwall. Regular supporters John and Denise Davies of Rugby sold a cracking steer which stood 2nd to the Champion. The winning call coming from Hannah Slowen, Howden at £1550, and Eastern Counties producers Henry Harvey & Son made the long journey from Norfolk and were rewarded with the best of their team to £1,600 purchased by Victoria Bowring.
Commenting after the sale Auctioneer Jonathan Farrall was "delighted with the averages", top 10 steers averaged £1280 and the top 10 heifers an outstanding £1337.
Leading Pedigree prices: -

Bulls:
Lot 34 – £7980
Lot 37 – £6405
Lot 66 – £6405
Lot 52 – £6090
Lot 23 – £5250
Lot 45 – £4935

Females:
Lot 102 – £5040
Lot 117 – £3360
Lot 101 – £3150
Lot 105 – £2940
Lot 130 – £2940
Lot 109 – £2782

Averages:

Pedigree:
Bulls £3377
Females with calves £2310
Female Heifers £3262.50
Recipients with Pedigree Embryos £1404

Crossbreds:
Steers £952.78
Heifers £1016.33