Ballymena Spring Sale
Friday 12th April 2013
Blues Top 3,700gns - Despite Fodder Shortage Dampening Trade

Judge, John Killen from Crossgar, Downpatrick, had a small but select show of "Blues" at the inaugural British Blue Cattle Society Show & Sale, held at Ballymena Livestock Mart, on Friday 12th April 2013, the main sponsor of the event being Provita.
He put up as his Champion, Knockagh Freddie ET, out of Knockagh Vapour ET by Hazelwood King, breed average for Carcass Yield Index but in the top 10% of the breed for calving ease. He was knocked down at 3,700gns, to JAS Hughes, Newtownards.
The Reserve Champion going to Annaghone Goliath, out of Annaghone Candy by Blak Du Baty D'Eprave, a bull in the top 25% of the breed for 600-day weight. He made 2,400gns and finds a new home with Matthew Workman, Larne.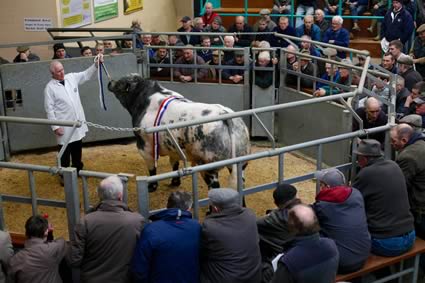 Selling the Champion
The gross shortage of fodder in the Province, put a major dampener on trade, with 4 bulls being sold, averaging £2,664.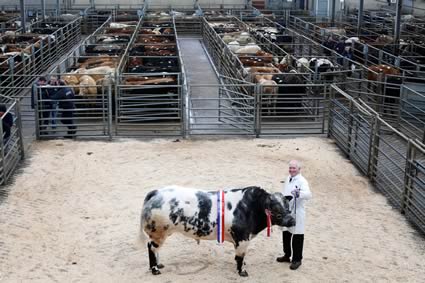 A lonesome Bull!
4 Embryos, out of Springbank Christmas by Visconti, realised 230gns each
Leading Prices
Knockagh Freddie (Lot 30) – 3,700gns
Annaghone Goliath (Lot 41) – 2,400gns
Magheradroll Gabriel (Lot 39) – 2,100gns
Scad Hill Glen (Lot 42) – 1,950gns
Show Results
Class 1:
1st – Knockagh Freddie (Lot 30)
2nd – Lakeview Golden Star (Lot 31)
3rd – Ballydonaghy Gold (Lot 33)
Class 2:
1st – Lukeroyal Guru ET (Lot 37)
2nd – Magheradroll Gabriel (Lot 39)
3rd – Lukeroyal Gino (Lot 38)
Class 3:
1st – Annaghone Goliath (Lot 41)
2nd – Scad Hill Glen (Lot 42)
3rd – Ballyhossett Glyn (Lot 40)
auctioneers: J A McClelland & Sons
photographs: Fotacol: fotacol@newry.info