Northern Ireland British Blue Cattle Club
CHATHAM HERD BEST OF THE BLUES
Graham Brindley, British Blue Cattle Society chairman, was the much respected judge of the NI Club Herd Competition sponsored by Mason's Animal Feeds.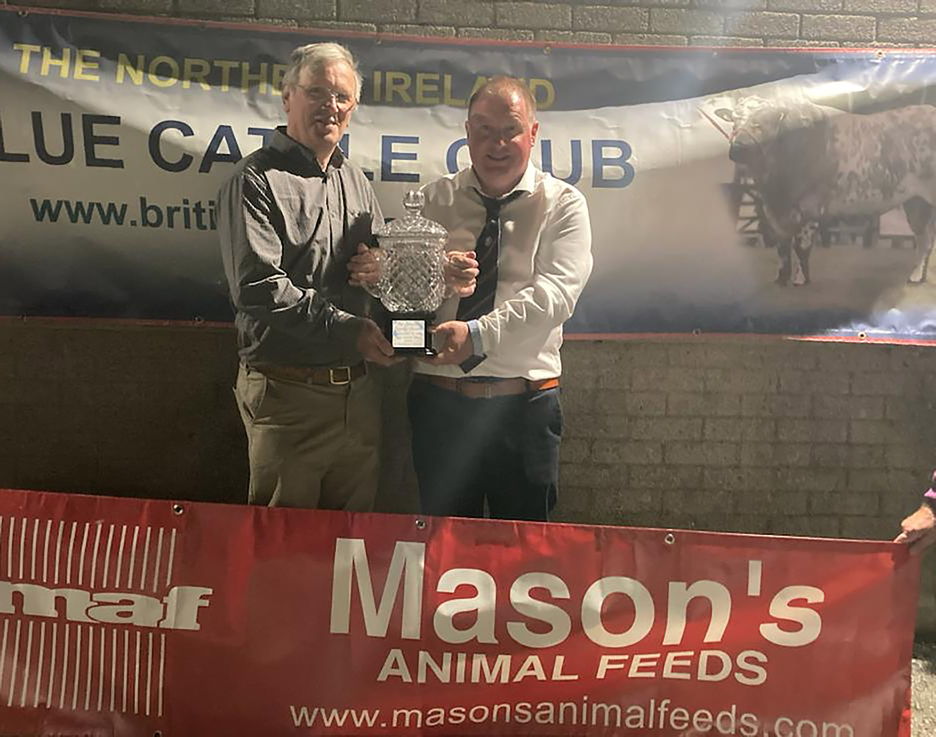 At the Club annual BBQ and Charity Auction the Chatham Herd of Jack and Anne Morrison, Armoy was revealed as Champion Herd in a competition attracting a strong field of entries, some with a UK wide reputation.
The Morrison family were equally delighted to gain the best bull award with their eye catching Auchenlay Orion. Founded back in 1987 the Chatham Herd is one of the best known in the British Isles and was previously NI Herd of the Year in 2017.
The Reserve Champion Herd prize went to the Breezehill Herd of Isaac Ward, Crumlin, Co Antrim. A previous winner at numerous shows and competitions.
The overall results in the Mason's Animal Feeds sponsored event were;
CALF
Halfway Ronaldo (BALLYGRANGE ALEX)(UK940146933), Mitchell Family, Banbridge, Co Down.
Robert and John Arrell, Artlone Star (BEDGEBURY KENT) (UK260220501912), Antrim, Co Antrim
Sam Robinson, Killinchy Woods Rocco (NORBRECK NIGHT RIDER) (UK182220603497), Killinchy, Co Down
HEIFER
Ivan and Corrina Gordon, Springback Roxy (CUBITUS DU PRE ROSINE) (60347657), Kilkeel, Co Down
James and Sam Martin, Springhill Razze Dazzle (GITAN DU PTI'T MAYEUR), Newtownards, Co Down
The Ervine Family, Knockagh Pinky (EMPIRE D'OCHAIN), Knockagh, Newtownabbey, Co Antrim
COW
James and Sam Martin, Springhill Natural (IMPERIAL DE L'ECLUSE), Newtownards
Jim, Laura and Stephen Ervine, Knockagh Heidi (SPRINGBANK BLACKSTAR) Newtownabbey
Thomas, Jane and Heather Martin, Saltwater OO-LA-LA (HAZARD VD PANNEMEERS), Newtownards.
BULL
Jack and Anne Morrison, Auchenlay Orion (SANDYVALE JAGERBOMB), Armoy
Paul Elwood, Bethel Pablo (SPRINGHILL MIGHTY MATE), Crossgar, Co Down.
Jim Sloan, Ballygrange Ronnie (BALLYGRANGE DUDLEY), Kilkeel.
Following the announcement of the Mason's Herd Competition results it was confirmed that profits from this successful Club BBQ and charity auction in Ballynahinch go to the Friends of the Cancer Centre in Belfast City Hospital.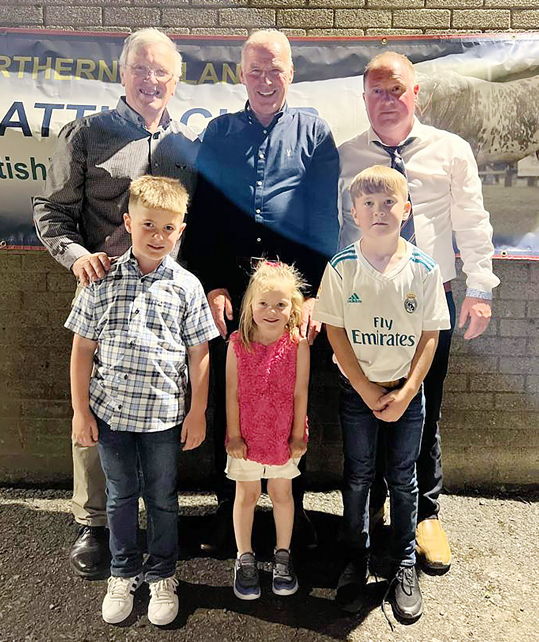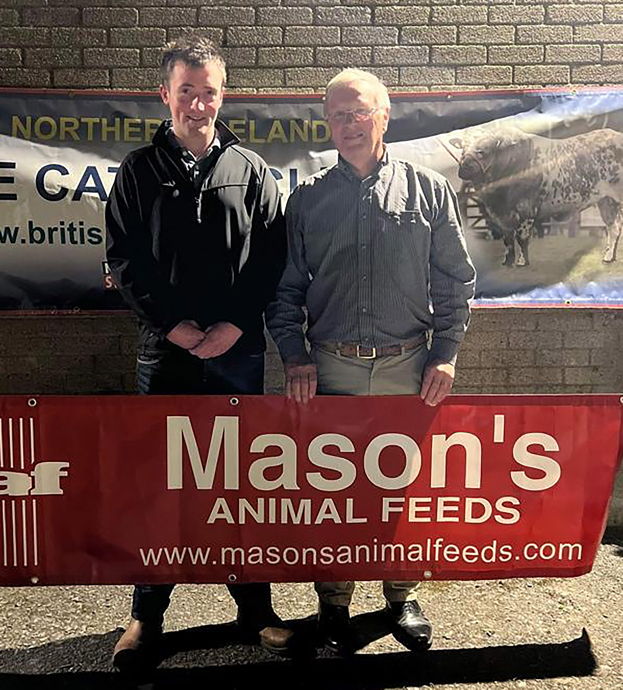 The next British Blue Cattle event in NI is the show and sale on Friday, Oct 21 in Dungannon Farmers' Mart. Followed on Saturday, November 26 by the Annual Calf Show at the same central venue.