Borderway Agri Expo 2023
Friday, 27th October
Border British Blue Club Open Calf Show
A yearling heifer went on to claim the Female and Supreme Championship on her debut show outing for her breeder, Chal Parsons, at the Border British Blue Club's Open Calf Show held at the Borderway Agri Expo on Friday, 27 October.
The Club extends its very grateful thanks to sponsors, Davidson Animal Feeds.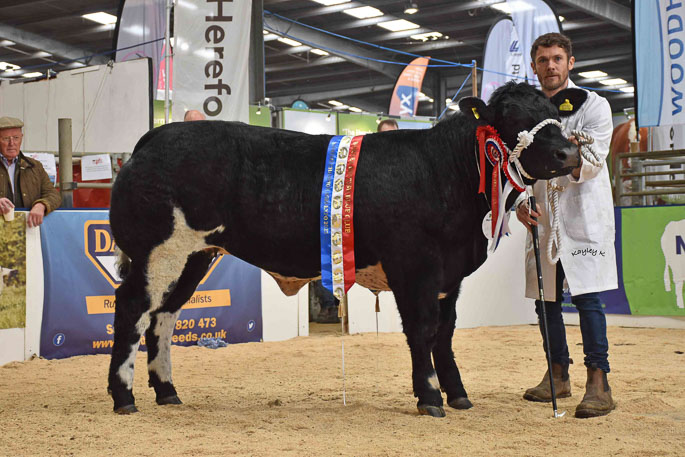 That was Trent Valley Sassy Lassy, a September-born embryo calf whose breeding features Gib Van Het Negenbond on to the private purchase, Inishfree Imogen White of Morn. First tapped out as Female Champion by Barney Morgan, of the Almeley Herd, before going on to stand Supreme, she will next head to the Stars of the Future Show.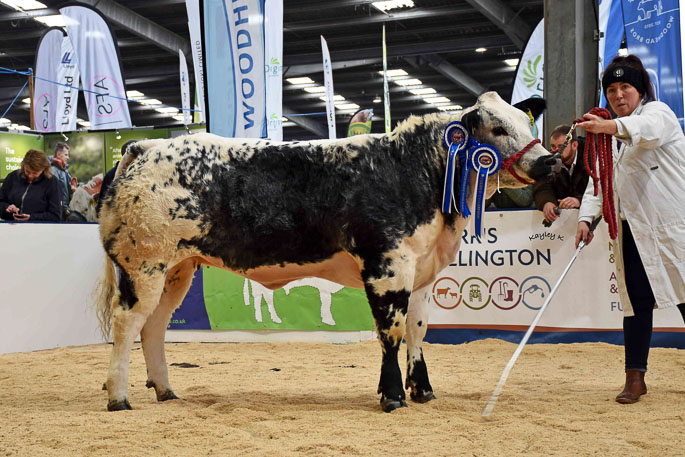 The second prize heifer from the same class followed her all the way through to take the Reserve Female and Reserve Supreme honours. Top Side Snowy from Ross and Elaine Pattinson is out of their noted brood and former show cow, Top Side Isla, while her sire is Blanc Dos Du Bois-Brule. She previously stood Reserve at Cockermouth Show.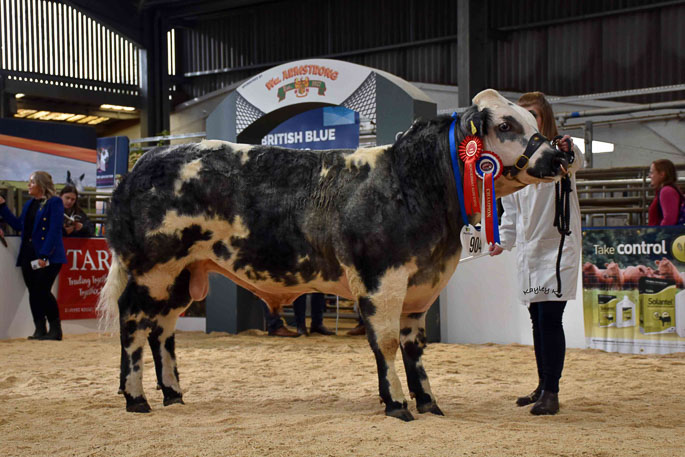 Among the males it was the Hartley Family's winner of the senior class, the similarly aged Pendle Special Edition, that went on to take the Male Championship. Bred by Mark and Elaine and gifted to daughter, Issy, for her 21st birthday, and destined for Carlisle next year, he is by the herd's stock bull, Almeley Gino, while his dam is Pendle Heather.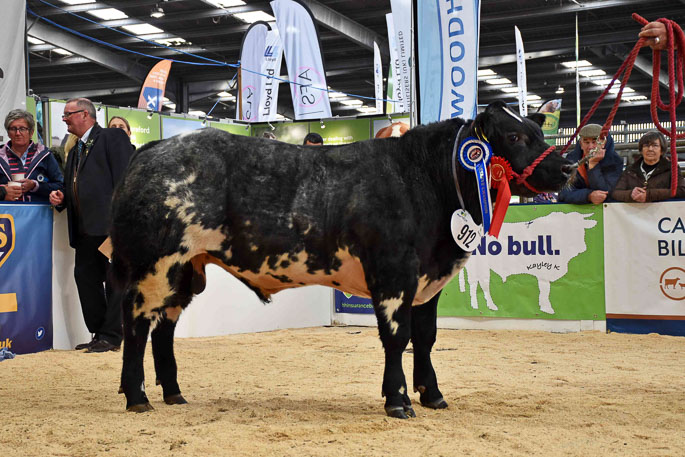 The Pattinsons had more to celebrate when their January-born Top Side Too Lucky stood Reserve Male. Out of one of the herd's foundation females, Rathlyon Dinah, he is by Gitan Du Pti't Mayeur.
Leading Awards:
Bull born between 1 July and 30 September, 2022
1, Pendle Special Edition, AM & E Hartley
2, Solway View Supreme, K Watret
3, Top Side Sancho, R & E Pattinson
Bull born between 1 October and 31 December, 2022
1, Warehams Someboy, J & S Wareham
2, Newlands Supersonic, J Crowther
Bull born between 1 January and 31 March, 2023
1, Top Side Too Lucky, R & E Pattinson
2, Blackstane Triumph, K Blackwood & D Davidson
3, Abington Turbo, I McGarva
Bull born between 1 April and 30 September, 2023
1, Solway View Tate, K Watret
2, Coul Blue Thunderflash, Coul Estate
3, Tyne Valley Tank, J & B Moralee
Male Champion - Pendle Special Edition, AM & E Hartley
Reserve Male - Top Side Too Lucky, R & E Pattinson
Heifer born between 1 July and 30 September, 2022
1, Trent Valley Sassy Lassy, C Parsons
2, Top Side Snowy, R & E Pattinson
3, Red River So Nice Ice Baby, C Hunter
Heifer born between 1 October and 31 December, 2022
1, Solway View Sunlight, K Watret
2, Top Side Shirley, R & E Pattinson
3, Clifftown Sassy, D Townend
Heifer born between 1 January and 31 March, 2023
1, Brookley Blue Taylor Swift, J Taylor
2, Solway View Tesha, K Watret
3, Ellglen Touch of Class, E Elliot
4, Making Place Tequila Rose, J Crowther
5, Brookley Blue Thumbelina, J Taylor
6, Moorsley Tina, P & K Brannen
Heifer born between 1 April and 30 September, 2023
1, Coul Blue Tiffany, Coul Estate
2, Solway View Tamsin, K Watret
3, Rivervalley Temptation, A Bennett
Female Champion - Trent Valley Sassy Lassy, C Parsons
Reserve Female - Top Side Snowy, R & E Pattinson
Supreme Champion - Trent Valley Sassy Lassy, C Parsons
Reserve Supreme - Top Side Snowy, R & E Pattinson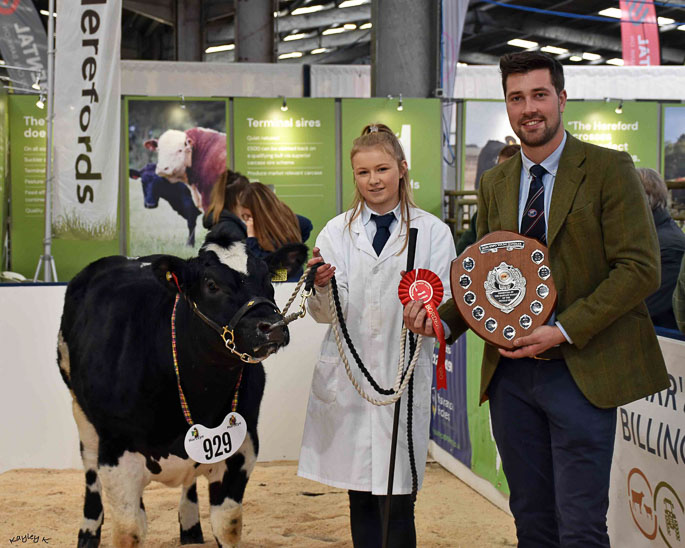 Young Handler
1, Katie Aiken
2, Harriet Townend
3, Lexi Pattinson
4, Michael Brannen
5, Thomas Goldie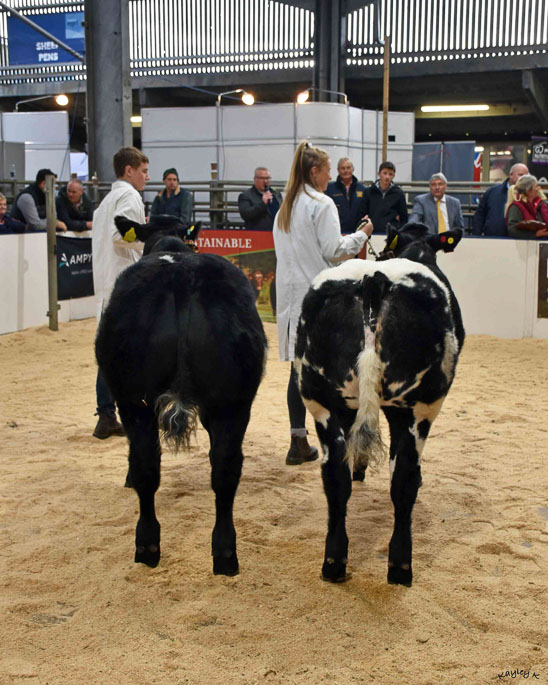 Progeny Group
1, K Watret
2, Coul Estate
3, P & K Brannen