Border British Blue Club Primestock Show & Sale
At Borderway Mart, Carlisle on Monday 21st March 2022, The Border British Blue Club held their annual show and sale of primestock in conjunction with Harrison and Hetherington's weekly primestock sale, which had an entry of 25 head of cattle forward.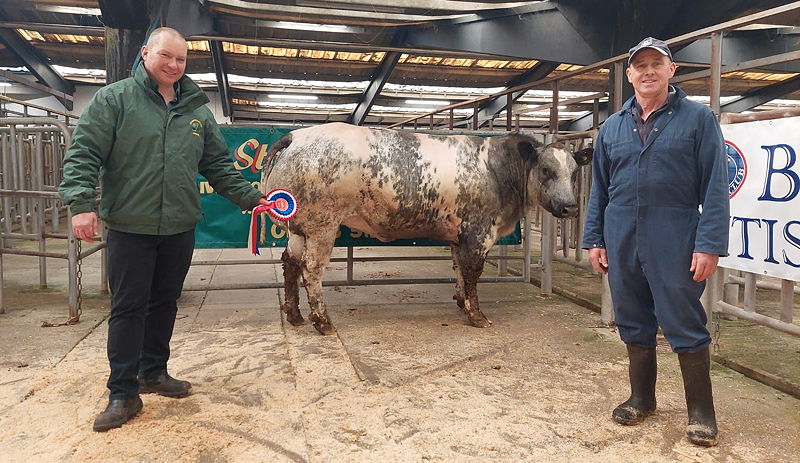 The pre-sale show was kindly sponsored by RI Stamper Haulage Ltd and the Border Blue Club. Judging was carried out with skill and panache by Mr Morgan Helliwell, who awarded the first prize British Blue heifer consigned by Messrs Twentyman, Osborne Farm the Overall Champion pipping the Limousin heifer to the post. She was by Osborne Harvey and out of a British Blue cross Limosuin dam. She later sold for 762kg, 280ppk or £2133 to the Judge.
The first prize bullock was a Black bullock from Messrs Bowe, Bothel Parks, which weighed 744kgs and sold to 253.5ppk or £1886 to Pioneer Foods, Carlisle.
Taking the top spot in the cow class was Messrs Comrie, Stonebyres herd with a fantastic Blue Roan cow scaling 934kgs and sold to 249.5ppk or £2330 to Mr Charles Kirkpatrick.
Finally in a strong class of bulls the Top Side herd belonging to Ross & Elaine Pattinson, Temon Farm claimed the first prize with a Black and White bull selling for a centre record price of £3235, 301.5ppk for £1073kg to Mr Kirkpatrick. Messrs I McGarva, Nether Abbington Farm sold the 3rd prize bull for 947kg, 299.5ppk or £2836.
           
Prize list:
CLASS 1 – BRITISH BLUE CROSS – STEER
1st – GN & DM Bowe, Bothel Parks, Bothel, Wigton, Cumbria – 744kg, 253.5ppk, £1886
CLASS 2 – BRITISH BLUE CROSS – HEIFER
1st – Messrs Twentyman, Osborne Farm, Wigton, Cumbria – 762kg, 280ppk, £2133
2nd – JJ Crichton, Loughrigg Farm, Egremont, Cumbria – 607kg, 284.5ppk, £1726
3rd – JJ Crichton, Loughrigg Farm, Egremont, Cumbria – 558kg, 281.5ppk, £1570
CLASS 3– BRITISH BLUE CROSS – CAST COW
1st – A & CS Comrie, Stonebyres Mains, Stonebyres, Lanark, Lanarkshire – 934kg, 249.5ppk, £2330
2nd – KD Harryman, Keskadale Farm, Newlands, Keswick, Cumbria – 807kg, 239.5ppk, £1932
3rd – A & CS Comrie, Stonebyres Mains, Stonebyres, Lanark, Lanarkshire – 917kg, 239.5ppk, £2196
CLASS 4 – BRITISH BLUE CROSS YOUNG BULL
1st – R & E Pattinson, Temon Farm, Low Row, Brampton, Cumbria – 1073kg, 301.5ppk, £3235
2nd – Garry Whalley, Bunthill Moor Farm, Newton in Bowland, Lancashire – 660kg, 267.5ppk, £1765
3rd – I McGarva, Nether Abington Farm, Abington, Biggar, Lanarkshire – 947kg, 299.5ppk, £2836