Border British Blue Club Primestock Show & Sale
At Borderway Mart, Carlisle on Monday 16th March 2020, The Border British Blue Club held their annual show and sale of primestock in conjunction with Harrison and Hetherington's weekly primestock sale.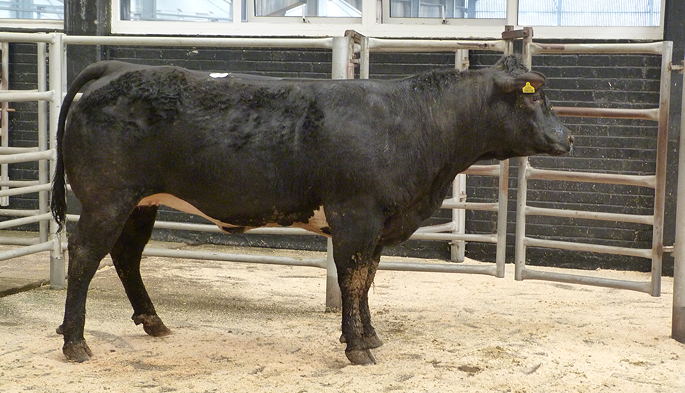 The pre-sale show judging was carried out with skill and panache by father and son duo Mr Michael and Morgan Helliwell. They awarded the Overall Champion to the first prize British Blue heifer from Messrs RE Miller, West Farm, Aspatria, which later sold to 692kg, 229.5ppk or £1588 to Mr Steven Wilson, Corby Hill Butchers.
Taking the Reserve Champion was the first prize steer, shown by Messrs N Dixon, Low Whinnow Farm, Thursby, selling to 695kg, 211.5ppk or £1469 to Ralph Pearson Wholesale Butchers.
The 1st prize young bull consigned by Messrs JA Hewson, Burgh Head Farm, was sired by Vallum Joe, and achieved the top price pence per kilo of 227.5ppk to the judging pair Michael & Morgan Helliwell.
In a strong class of cows, Sharplaw Farms, Kelso took the top spot with an excellent pedigree bred cow sired by Tweedale Ebony.  She weighed 852kg and sold for 213.5ppk or £1823 and was purchased by Mr Charles Kirkpatrick.                  
           
Prize list:
CLASS 1 – BRITISH BLUE CROSS – STEER
1st – N Dixon, Low Whinnow Farm, Whinnow, Thursby, Carlisle, Cumbria – 695kg, 211.5ppk, £1469
2nd – N Dixon, Low Whinnow Farm, Whinnow, Thursby, Carlisle, Cumbria – 750kg, 206.5ppk, £1548
3rd – A & JN Story, Newbiggin Farm, Kirklinton, Carlisle, Cumbria – 683kg, 205.5ppk, £1403
CLASS 2 – BRITISH BLUE CROSS – HEIFER
1st – RE Miller, West Farm, Aspatria, Wigton, Cumbria – 692kg, 229.5ppk, £1588
CLASS 3 – BRITISH BLUE CROSS YOUNG BULL
1st – JA Hewson, Burgh Head Farm, Burgh By Sands, Carlisle, Cumbria – 796kg, 227.5ppk, £1810
CLASS 4– BRITISH BLUE CROSS – CAST COW
1st – Sharplaw Farms, Sharplaw Farm, Kelso, Roxburghshire – 854kg, 213.5ppk, £1823
2nd – R & E Pattinson, Temon Farm, Low Row, Brampton, Cumbria – 865kg, 216.5ppk, £1872
3rd – R & E Pattinson, Temon Farm, Low Row, Brampton, Cumbria – 772kg, 207.5ppk, £1601
CLASS 5 – BRITISH BLUE – PEDIGREE BULL
1st – A & CS Comrie, Stonebyres Mains, Stonebyres, Lanark, Lanarkshire – 1352kg, 135.5ppk, £1831.96
2nd – Skirwith Hall Farms, Skirwith Hall, Skirwith, Penrith, Cumbria – 910kg, 149.5ppk, £1360
OVERALL CHAMPION – RE Miller, West Farm, Aspatria, Wigton, Cumbria (Heifer)
RESERVE OVERALL CHAMPION – N Dixon, Low Whinnow Farm, Whinnow, Thursby, Carlisle, Cumbria (Steer)