Sparks Fly at Carlisle as Almeley Lightning Leads the Sale at 20,000gns
British Blue breeders enjoyed a highly successful day's trading at the Border British Blue Club's Twenty-ninth Annual Spring Show & Sale at Carlisle on Saturday 18th May 2019. There was strong trade as pedigree breeders and commercial producers competed for their choice of bulls, with an 85% clearance.
The show and sale was kindly sponsored by Show Winners & David Allen.
 
The pre-sale show was split into female and male judging due to a crash on the M6 which held our judge up, so Andrew Price (Bedgebury Herd) stepped in and judged the females until judge Trefor Jones, Tegfon, Dinas, Llanwnda, Caenarfon, Gwynedd got there to continue with the bull judging.  The placings were reflected in the top priced bulls and females.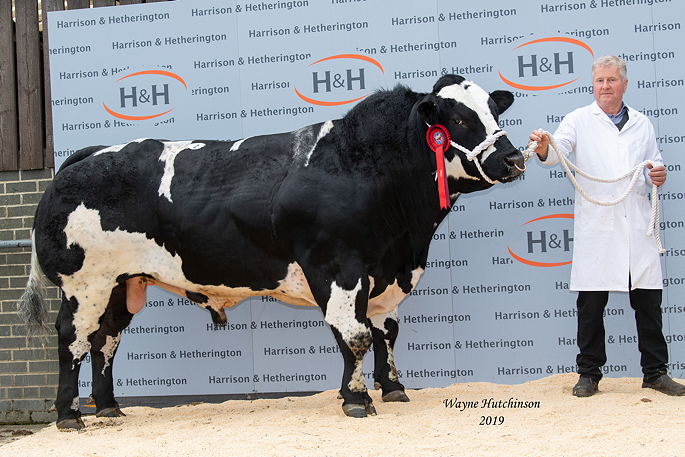 Leading the sale on 20,000gns was the second bull through the ring Almeley Lightning ET (lot 2) from Graham Morgan who had a strong run of bulls to average £7,082.72.  Lightning stood 1st in a strong class of senior bulls.  The August 2016 born, very smart eye catching bull with tremendous power and size caught the eye of several bidders.  He is from the Drybarrows Cawdale and Rosemount Faith flush.  After much bidding he was finally knocked down to Oak Grange Estate, Ireland.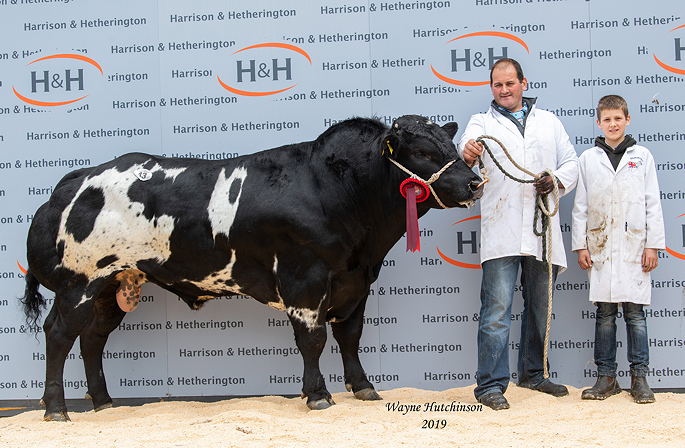 The Dragon Blues herd followed close behind on 16,000gns for the junior male champion, reserve overall male champion & reserve supreme champion Dragon Blues Mike (lot 43).  The June 2017 junior bull is by Phenomene de Martinpre and out of Dragon Blues Hazel. The flashy mainly black and white bull was knocked down to DJ Lloyd & Co, Cefnbarrach, Trefeglwys, Caerslis after being keenly sought after.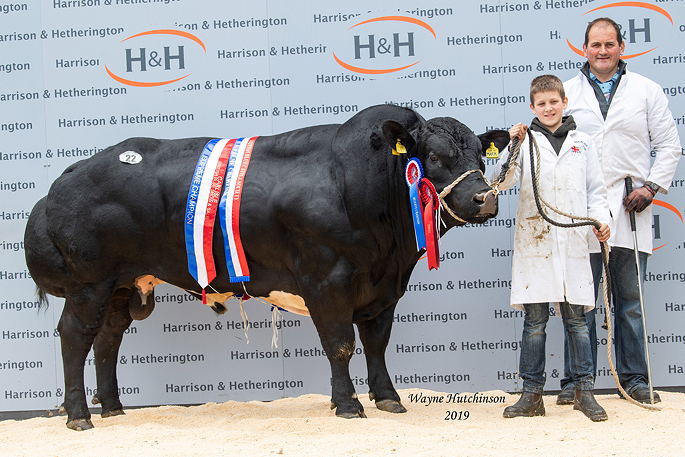 Next from the same stable on 15,000gns was Dragon Blues Mark ET (lot 22).  Mark was senior male champion, overall male champion and took the supreme championship.  Mark a black May 2017 born bull from the Joujou De Petit Brin and Dragon Blues Kelly flush was sold to L & E Fowlie, Guise, Alford.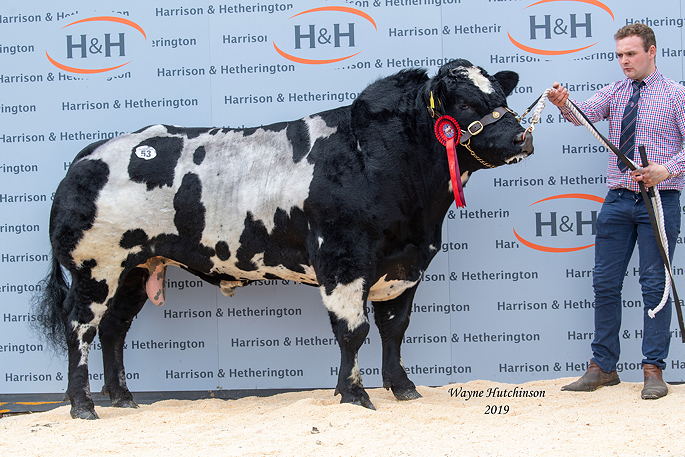 Next in the price ratings on 12,000gns was the 1st prize winning bull Springhill Mighty Mate (lot 53) from James & Sam Martin.  The August 2017 born son of Ballygrange Dudley and out of Springhill Fizz joins the pedigree herd of Adam & Jess Neachell (Cromwell Herd)  Shrubbery Farm, Walsall.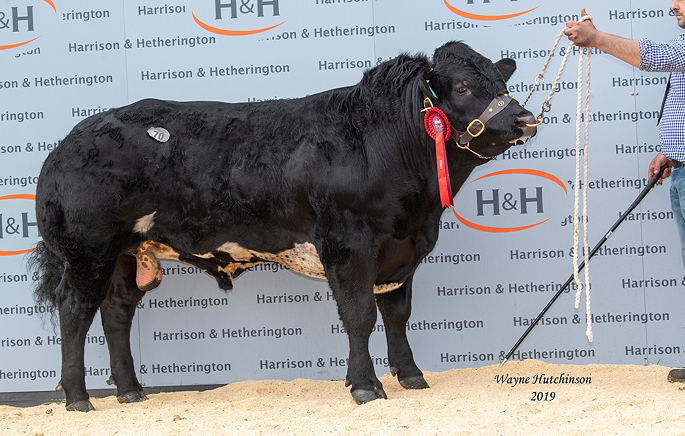 Also on 12,000gns from Border blue enthusiast Kevin Watret was his 1st prize winning bull Solway View Monty ET (lot 70).  The November 2017 mainly black bull from the Tweeddale Ironman and Solway View Katie flush.  Monty was snapped up by David McKerrow, Nochnary Farm, Cupar.  Kevin also wins the 'Brian Wheatley Memorial Trophy' for the highest priced animal owned by a member of the Border British Blue Club.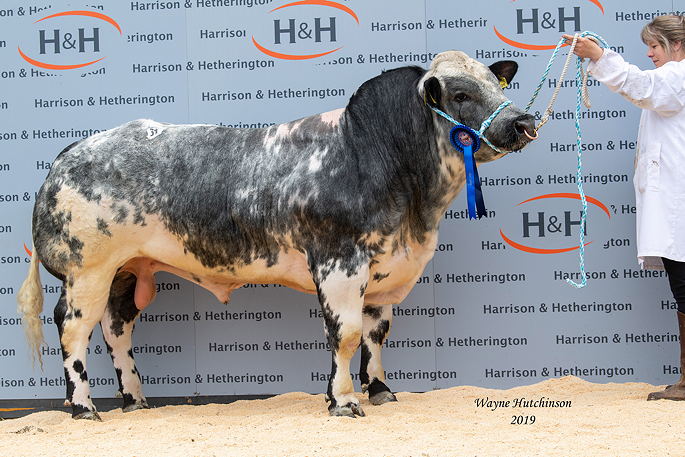 JA Wood & Sons, Kinnerton Hall Farm, Shrewsbury snapped up 2 Irish, 2nd prize winning bulls for 11,000gns a piece.  First through the ring from Richard J Mowbray was Droit Max ET (lot 61). Max is a September 2017 born blue and white bull from the Mountjoy Utopia and Droit Enid ET flush.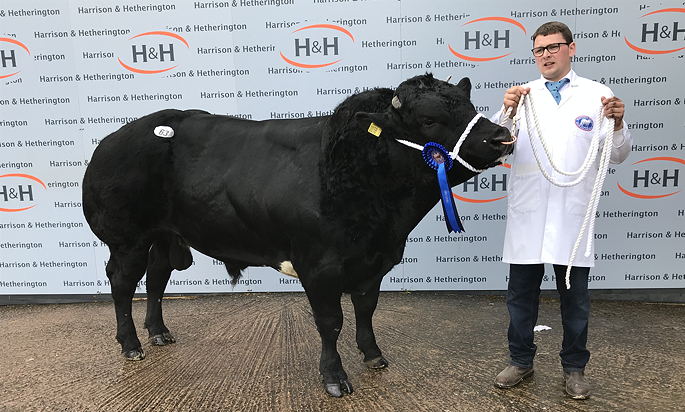 Two lots later SH Gordon sold Knockchree Max (lot 63).  The September 2017 all black bull by Blackford Big Ben who is out of the noted Bringlee Sandy.  Max's dam is Knockchree Hetty whose pedigree goes back to Ballygrange Alex.
The 1st prize winning bull from Stewart Gill was the first of two bulls to hit 9,000gns.  Hallfield Mojo (lot 10), an April 2017 born son of Drift Domino and Hallfield Grace was knocked down to M Read, Brook House, Hemingby.
The second bull to sell for 9,000gns was Almeley Marhez (lot 47) from the same home as the top priced bull GL & KS Morgan.  Marhez is a July 2017 born bull by stock bull Pinnacle Hero ET and out of Almeley Izzy ET.  He caught the eye of Border Club breeder Dean Saunders, Tarn Flatt, Ulverston, to join his Maidenlands Herd.
SOLWAY VIEW NANCY LEADS THE FEMALES AT 8,000GNS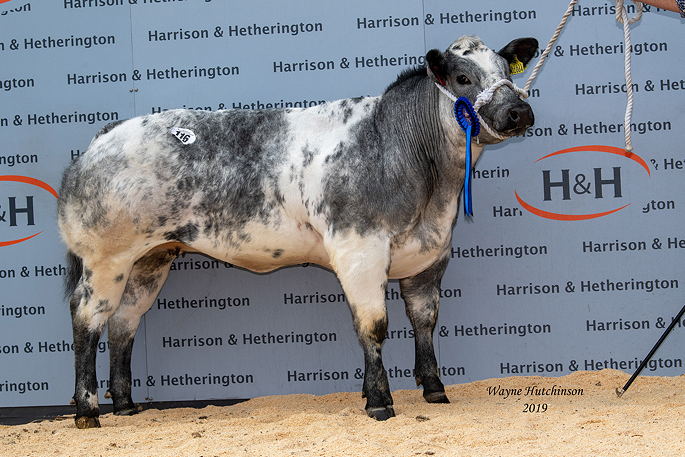 Kevin Watret sold 2 of the top priced females.  Solway View Nancy ET (lot 116) who stood 2nd in her class, lead on 8,000gns.  The light blue roan, April 2018 born heifer from the Attribut Du Fond De Bois and Solway View Kesha flush.  Nancy travels to Somerset to join the herd of J & YJ Hopkins, Splotts Farm, Highbridge.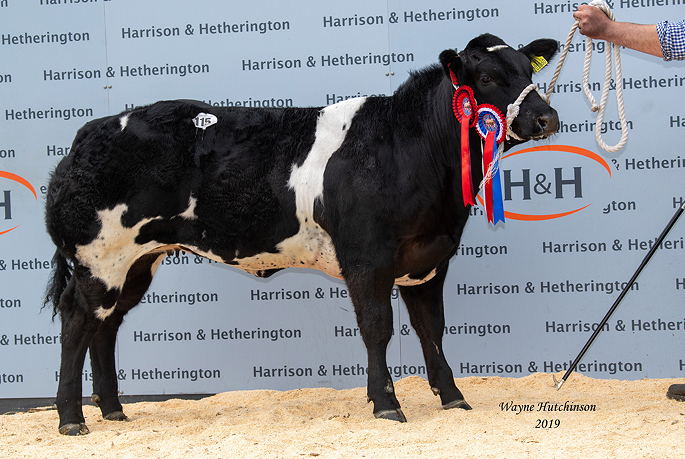 Selling for 6,000gns, the lot previously was Solway View Nesha ET (lot 115).  Nesha took 1st prize in her class, female champion and winner of the Challenge Trophy for the best animal opposite sex to the champion.  A June 2018 born heifer by the same flush as the top priced female Nancy.  Nesha will join the Drift herd of Mr & Mrs AS Phillips & Sons, Shooting Lodge, Reading, Berks and is entered for the Royal Highland Show.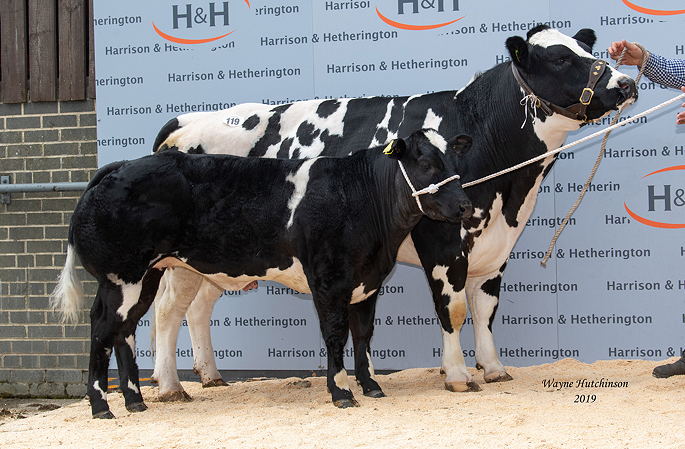 Ben Haigh sold a cow and calf to Norbreck Genetics Ltd for 5,100gns.  Stowbeck Judith (lot 119) by Drift Domino and out of Stowbeck Freda was bred by Skirwith Hall Farms Ltd.  She sold with her heifer calf at foot Luce Water Nicole by Tweeddale Ironman.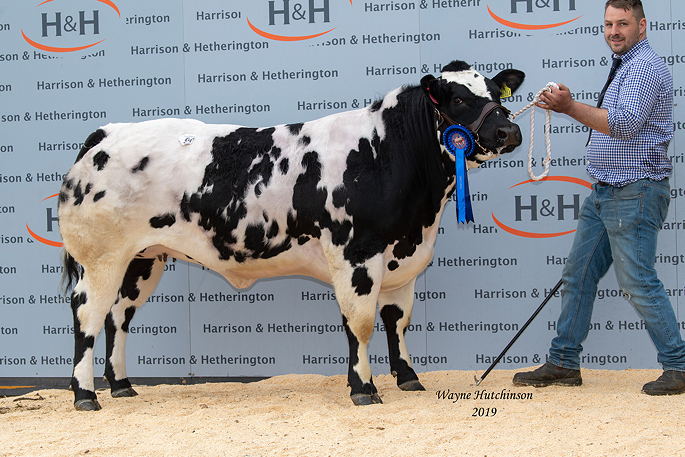 Next from the Solway View Stable was Solway View Moonlight ET (lot 90).  The November 2017 born heifer from the Empire D'Ochain and Solway View Elegance ET flush.  Moonlight was knocked down for 5,000gns to Brendon O'Hare, Newry, Co. Down.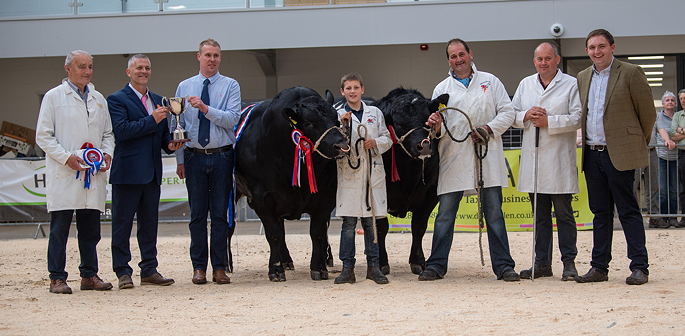 AVERAGES
26 Senior Bulls      £5682.11
26 Junior Bulls       £6195.00
52 Bulls Overall    £5938.56
27 served/maiden heifers  £2854.44
1 cow with calf at foot £5355.00
3 embryo calves £3080.00
Photos – Farm Images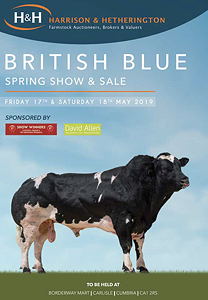 download catalogue
Auctioneers: Harrison & Hetherington