British Blues sell to a top price of 5,200gns at Carlisle
British Blues sold to a top of 5,200gns at the Border British Blue Clubs' 29th Annual Autumn Show & Sale at Borderway Mart, Carlisle on Friday 5th October 2018.
Top call came for the reserve male champion, Droit Luke ET, (lot 19) a black and white, 2 year old son of the Dafydd D'Ochain IS SR and Droit Frisky ET flush. He was shown by Richard J Mowbray, from Newtownstewart, Northern Ireland and was knocked down for 5200gns to Messrs Baillie, Kirkcowan, Newton Stewart.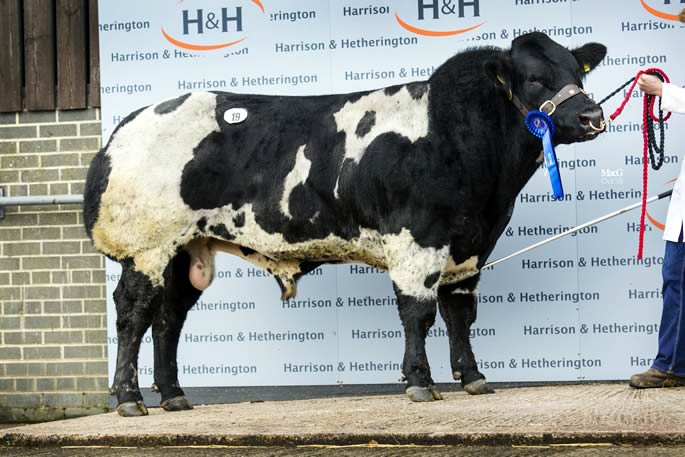 The Male & Supreme Champion Stonebyres Murphy (lot 24) was next in the price ratings at 4,000gns. Murphy a 20 month old bull was bred and exhibited by Border Club enthusiasts Blair & Shona Comrie from Stonebyres, Lanarkshire. Murphy is by Boherard Cantona ET and out of their homebred cow Gem ET and has calving ease figures in the top 10% of the breed and a Carcass Profitability Index of +17. Signing the cheque was Messrs Coates from Canonbie, Dumfriesshire. Blair & Shona also win the Border British Blue Club Trophy for the highest price animal owned by a member of the Border Club.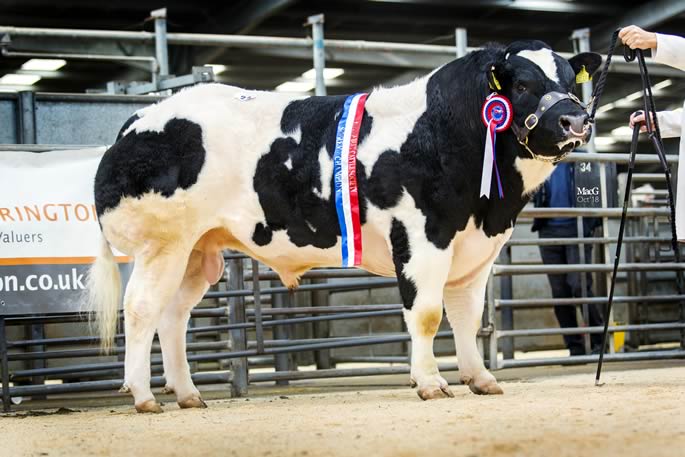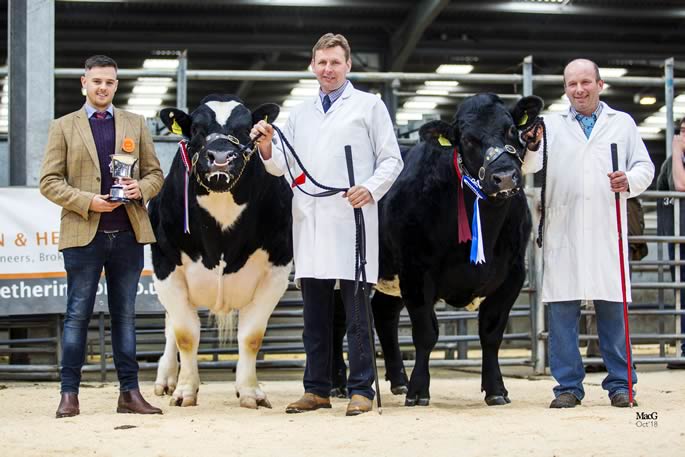 Also hitting the high spots was the 4th prize winning bull also from Blair & Shona Comrie. Stonebyres Maverick, (lot 23) a 20 month old bull by Manchester Du Bois Remont and out of Tamhorn Goodtimegirl ET. With a Carcass Profitability Index of +20 and Eye Muscle area in the top 1% of the breed, Maverick found his new home with Messrs Noble, West Linton, Peebles at 3,600gns
Judge for the day, Dean Saunders (Maidenlands Herd) put up as his Female Champion & winner of the Wilodge Perpetual Shield for the Best Animal Opposite Sex to the Champion, Tanat Midnight ET, (lot 26) a January 2017 daughter of the Tenace De La Praule SR and Boomer Jadore ET flush. She was bred and exhibited by Wyn Jones, from Oswestry. Midnight was knocked down for 3,000gns to Messrs Falkingham, Goole, East Yorkshire.
Also on 3,000gns was Homilton Mona ET, (lot 29) out of a Colos Van Daisel IS and Cromwell Fuchsia ET flush, she was bred and exhibited by Roly Carr, Capheaton. She was knocked down to Messrs Dodd, Lockerbie, Dumfriesshire.
AVERAGES
5 Bulls £3822.00
2 Females £3150.00
1 Recipient with Embryo Calf £2730.00
Leading Prices
BULLS
Richard J Mowbray's Lot 19 Droit Luke ET 5200gns to Messrs Baillie, Kirkcowan, Newton Stewart, Wigtownshire. 2nd prize bull & reserve male champion
Blair & Shona Comrie's Lot 24 Stonebyres Murphy 4000gns to Messrs Coates, Canonbie, Dumfriesshire. 1st prize bull, male & supreme champion
Blair & Shona Comrie's Lot 23 Stonebyres Maverick 3600gns to Messrs Noble, West Linton, Peeblesshire. 4th prize bull
Mrs JE Twentyman's Lot 18 Osborne Leonardo 3200gns to Messrs Clayton, Wetherby, West Yorkshire 3rd prize bull
FEMALES
Wyn Jones' Lot 26 Tanat Midnight ET 3000gns to Messrs Falkingham, Goole, East Yorkshire. 1st prize female, female champion & reserve supreme champion
Roly Carr's Lot 29 Homilton Mona ET 3000gns to Messrs Dodds, Lockerbie, Dumfriesshire
RECIPIENT with EMBRYO CALF AT FOOT
WR & WW Jones Lot 31 2600gns to Messrs Brown, Pickering, North Yorkshire