Borderway Agri-Expo Open British Blue Calf Show
Friday 1st November 2013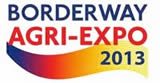 The Border British Blue Club staged their sixth annual open calf show on Friday 1st November 2013 at the Borderway Agri-Expo 2013 at Borderway Mart, Carlisle when there was a catalogued entry of 61 calves. This was made up of 25 males and 36 females all UK born pedigree registered calves born on or after 1st October 2012.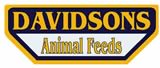 The club would like to thank the sponsors of this event, Davidson's Animal Feeds who supplied the prize money and the club provided the rosettes and coffee on the stand.
Trophies - David Dickinson Memorial Trophy for the overall champion calf; BK Ryder Memorial Trophy for the reserve overall champion calf; Bellas Perpetual Trophy for the best animal opposite sex to the champion, Norbreck Genetics Perpetual Trophy for the breeder with the most points and the Pendle plaque for the winner of the young handler class presented by the Hartley family.

Chairman Steve Pattinson would like to thank all those who supplied cattle for the British Blue stand at the Agri-Expo they certainly generated a lot of interest and were a great spectacle for the breed. He would also like to say a big thank you to all those who helped on the Blue stand. It was very much appreciated.

The Judge, Stephen Brough, (Carrock Herd) who is well respected in the breed, did an outstanding job judging 11 classes of some of the best and brightest prospects the breed has yet seen. Stephen then went further and gave his reasons on each and every prize-winning group, delivering a masterclass on judging and ring etiquette.
Exhibitors travelled the length and breadth of the country to support this event which has grown to be the winter show of choice.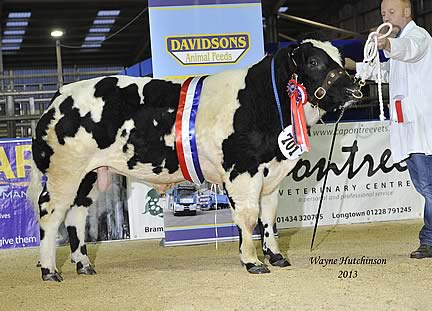 The male & overall championship was awarded to Kevin Watret with Solway View Horny a 12 month old bull calf who is one of the first calves from the 2011 Royal Highland Show champion Solway View Firecracker (SR) ET. He is out of a female bought by Kevin as a foundation cow, Balzer Dancing Queen, a Henlli Wishmaster daughter. Standing as reserve male champion at the Great Yorkshire show this year, Kevin plans to sell this bull at the Carlisle May sale this year. Alan Dickinson brother of the late David Dickinson (official society auctioneer to the British Blue Cattle Society 1989-2007) presented the David Dickinson memorial trophy to Kevin Watret.
Judge, Stephen Brough had no hesitation in his choice; "A fantastic bull, he carried fantastic length and style. He handles himself extremely well and has a tremendous future ahead of him."
Kevin Watret went on to take the reserve overall championship with his female champion Solway View Hotspot ET. A November born heifer sired by Gib Van Het Negenbond IS and out of Maidenlands Crystal, a Gitan Du Pti't Mayeur daughter bought by Kevin at Carlisle in 2008. The BK Memorial Trophy for the reserve overall champion animal was presented to Kevin Watret. They were also presented with the Bellas trophy for the best animal opposite sex to the champion.
The young handler class was a very strong class with 9 competitors competing for the trophy. It was won by Thomas Hartley leading Pendle Impretza. Elaine & Mark Hartley awarded Thomas with the Pendle plaque. He was closely followed by last year's winner Josh Bellas leading Croftends Izzy ET, with his little sister Holly Bellas a close 3rd leading Croftends Honey ET.
Kevin Watret also won the Progeny group with two Solway View Dynamite ET calves. Solway View Inferno (male) (1st in his class) out of Bridgemuir Dolly ET and Solway View Haribo ET (heifer) out of Solway View Elegance ET.
The reserve progeny group went to two Bringlee Volkawagon ET bred bull calves shown by Blair & Shona Comrie, Stonebyres Harris ET (4th in his class), and Stonebyres Hamish ET (5th in his class).
The Norbreck Genetics perpetual trophy for the breeder with the most points was awarded to Kevin Watret (Solway View Herd).

Class prize winners were as follows: -

Class 1) Male born between 01.10.12 and 30.11.12:
1st Male Champion & Overall Champion Solway View Horny (Kevin Watret)
2nd Moorsley Hawk ET (Paul Brannen)
3rd Maidenlands Harvey (Dean Saunders)
4th Stonebyres Harris ET (A & CS Comrie)
5th Stonebyres Hamish ET (A & CS Comrie)
Class 2) Male born between 01.12.12 and 27.02.13:
1st Solway View Inferno (Kevin Watret)
2nd Maidenlands Hercules ET (Dean Saunders)
3rd Tanat Impact ET (WR & WW Jones)
4th Top Side Ike ET (Ross & Elaine Pattinson)
5th Bank Lane Icon ET (JB Bowness)
Class 3) Male born between 01.03.13 and 31.03.13:
1st Abington Irn Blue (Ian McGarva)
2nd Tweeddale Intrest (Redhead & Watson)
3rd Abington Ivan ET (Ian McGarva)
4thQuarry Bank Icarus (ID & HJ Rawlinson)
Class 4) male born between 01.04.13 and 30.06.13:
1st & Reserve Male Champion - Pendle Impretza (AM & E Hartley)
2nd Tweeddale Ironman(Redhead & Watson)
3rd Tanat Ideal ET (WR & WW Jones)
4th Ingestre Intellect (M & J Madders & S Johnson)
Class 5) Female born between 01.10.12 and 10.11.12:
1st Female Champion, Reserve Overall Champion & Best Animal Opposite Sex to the Champion Solway View Hotspot ET (Kevin Watret)
2nd Top Side Lexis Hottie (Ross & Elaine Pattinson)
3rd Croftends Honey ET (JE Bellas & Son)
4th Tweeddale Herlapa ET (Redhead & Watson)
5th Stonebyres Hot Spot ET (A & CS Comrie)
Class 6) Female born between 11.11.12 and 31.12.12:
1st Newroddige Hester ET (Mallaber & Wyllie)
2nd Graymar Highclass ET (Matthew Jones)
3rd Newroddige Hyacinth ET (Mallaber & Wyllie)
4th Maidenlands Holly ET (Dean Saunders)
5th Littlebank Henrietta ET (HR & WJ Maudsley)
Class 7) Female born between 01.01.13 and 31.01.13:
1st Solway View Impuls (Kevin Watret)
2nd Pendle Itsy Bitsy ET (AM & E Hartley)
3rd Ryden Izzy (A Ryder)
4th Ryden Isla (A Ryder)
5th Moorsley Izzy ET (Paul Brannen)
Class 8) Female born between 01.02.13 and 27.02.13:
1st & Reserve Female Champion – Tanat Image ET (WR & WW Jones)
2nd Bank Lane Izzy ET (JB Bowness)
3rd Croftends Izzy ET (JE Bellas & Son)
4th Ingestre Imperial Lady ET (M & J Madders & S Johnson)
Class 9) Female born between 01.03.13 and 30.09.13:
1st Tweeddale Intention (Redhead & Watson)
2nd Tanat Inspire ET (WR & WW Jones)
3rd Abington Islay ET (Ian McGarva)
4th Boomer Issey Miyake ET (M & J Madders & S Johnson)
5th Bank Lane Indigo (JB Bowness)
Class 10 Young Handler (aged 16 and under):
1st Thomas Harley leading Pendle Impretza;
2nd Josh Bellas leading Croftends Izzy ET;
3rd Holly Bellas leading Croftends Honey ET;
4th Robert Rawlinson leading Quarry Bank Icarus;
5th Tom Ryder leading Top Side Lexis Hottie;
6th Richard Rawlinson Solway View Impuls;
7th Ross Comrie leading Stonebyres Harris ET;
8th Sarah Comrie leading Stonebyres Hamish ET;
9th Joe Pattinson leading Ingestre Intellect
Class 11 Progeny (2 animals by the same sire but out of different dams):
1st Kevin Watret – Solway View Inferno & Solway View Haribo ET (sired by Solway View Dynamite ET)
2nd A & CS Comrie – Stonebyres Harris ET & Stonebyres Hamish ET (sired by Bringlee Volkawagon ET)
3rd M&J Madders & S Johnson – Ingestre Intellect & Boomer Issey Miyake ET (sired by Imperial De L'Ecluse (IS)