Carlisle Autumn Show & Sale 2012
Quality and EBV's In High Demand at Carlisle
The Border British Blue Club staged their Twenty-third Annual Autumn Show & Sale at Carlisle, when auctioneers Harrison & Hetherington Ltd, Borderway Mart, Rosehill offered for sale a strong show of British Blue Cattle, with buyers being very quality selective when bidding for their purchases. With a lead call of 10,000gns and a further 8 bids of 5,000gns and above, the overall average for bulls was £4,643.33 which was up £1,037.41 on the year.
The show and sale was kindly sponsored by Agri-Lloyd and Davidsons Animal Feeds.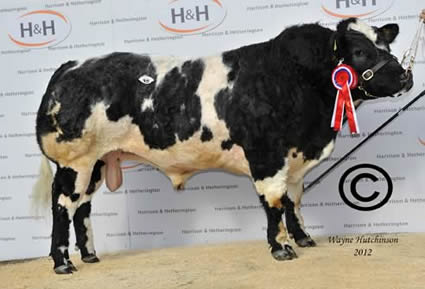 The judge, Nigel Pritchard, (Norton Herd), Hyatt Sarnesfield, North Canon, Herefordshire had the difficult task of judging the show. The Male & Supreme Championship was awarded to Danny & Jane Wyllie, Pessall Farm, Edingale, Nr Tamworth, Staffs with their March 2011 blue roan son of Ballygrange Alex and out of a Tamhorn Sumo (SR) ET bred daughter Tamhorn Buttercup ET. Tamhorn Goliath ET was keenly bid to 8,200gns and was knocked down to JL Hartley, Holdgate Hall, Much Wenlock, Shropshire.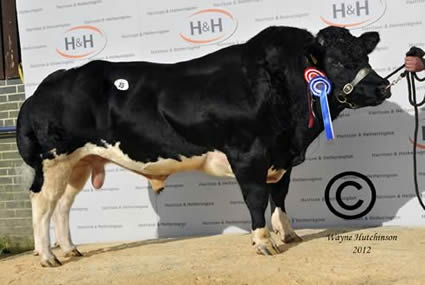 Top price of the day however, 10,000gns went to Border Club enthusiasts Messrs CR Raine Son, Stanhope Gate, Middleton In Teesdale, Barnard Castle with their 23 month old, well muscled black bull Bluegrass Famous ET by the Heros Du Peroy (IS) and Bluegrass Centrefold ET flush. Famous, a bull at the very top of the breed for 400 day wt. EBV, won his class and went on to take reserve male and reserve supreme championship. He was keenly bid for but it was Messrs Fleming, Moss Tower, Kelso, Roxburghshire who takes Famous home. Messrs Raine also wins the "Macmin Cup" for the highest priced animal owned and exhibited by a member of the Border Club.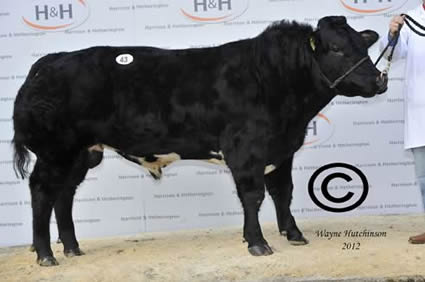 Also hitting the high spots on 8,000gns was one of the youngest bulls in the market Lukeroyal Gladiator ET, a bull with EBV's in the top 20% of the breed, from the Lukeroyal Battle Axe ET and Lukeroyal Clarabelle ET flush. Bred and exhibited by Mel & Diane Lucas, 154 Sevenmile Straight, Antrim, N Ireland. This 16 month old stylish black bull was purchased by KA Brown & Sons, Great Asby, Appleby, Cumbria.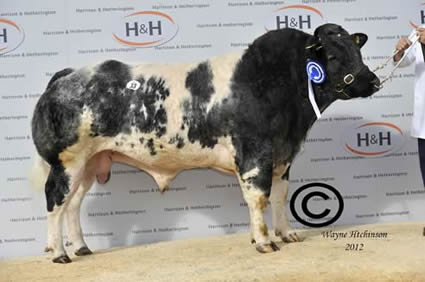 Jane & Danny Wyllie sold their second bull for 7,000gns, Tamhorn Gibson ET who stood 2nd in his class next to the supreme champion, bearing most of his EBV's in the top 10% of the breed. He is from the Tamhorn Sumo (SR) ET and Gregmaur Brandy flush. This March 2011 bull was successfully purchased by BR Fawcett, New House Farm, Bishopdale, Leyburn, N Yorkshire.
Next in the price ratings was the 5th prize winning bull Drews Goliath ET from Andrew Coppinger, The Moorhead, Edstaston, Wem, Shropshire. The May 2011 son from the Empire D'Ochain (IS) (SR) and Bringlee Beth ET flush was bid to 6,500gns and knocked down to JD Yeats, Woodhouse Farm, Coanwood, Haltwhistle, Northumberland. Drews Goliath ET having a 400 day wt EBV in the top 5% of the breed.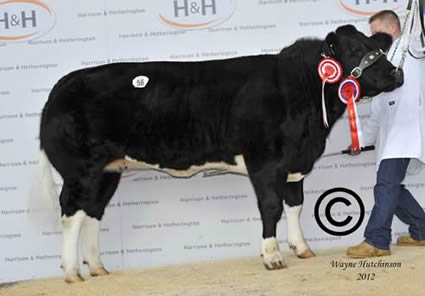 Three ladies sold for 5,000gns – The female champion and winner of the 'Wilodge Perpetual Shield' for the Best Animal Opposite Sex to the Champion from Adrian Williams, Nantygeifr Farm, Glynbrochan, Llandloes, Powys with Willnant Gina ET, a 16 month old daughter of Mountjoy Utopia (SR) and Lukeroyal Bimbo flush. This stylish mainly black heifer was sold to James Alexander, Randalstown, N Ireland.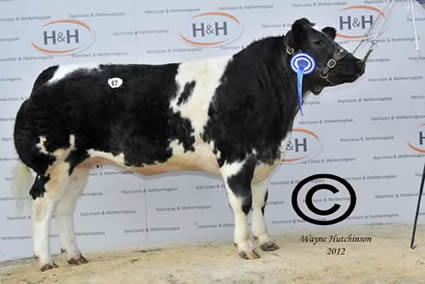 Also selling for 5,000gns was the 2nd prize winning maiden heifer Solway View Foxy Lady ET, in the top 10% of the breed for growth and carcase EBv's from Maulcastle Farming Company, Annan. This stylish show heifer already has an impeccable show record winning the junior and reserve female champion, reserve overall champion and reserve junior interbreed champion at the Great Yorkshire Show 2012. Foxy Lady is from the Colos Van Daisel (IS) and Springfield Carissa flush and was purchased by R Young, Over Auchintiber Farm, Stewarton, East Ayrshire.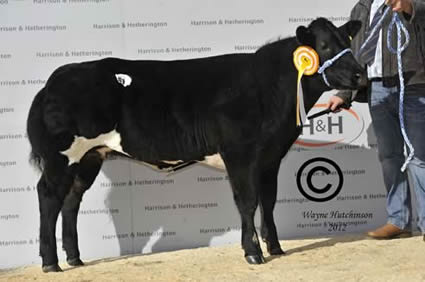 IE Wilson, New Close Farm, Hollington, Nr Tean, Staffordshire also sold their 3rd prize winning heifer for 5,000gns. New Close Hope ET from the Colos Van Daisel (IS) and New Close Cilla Blak flush was knocked down to MSH Benson, Horrace Farm, Pennington, Ulverston, Cumbria.
Leading prices: -
Bulls
CR Raine & Son's "Bluegrass Famous ET" 10,000gns to Messrs Fleming, Moss Tower, Kelso, Roxburghshire. 1st in class 2, Reserve Male and Reserve Supreme Champion & winner of the "Macmin Cup" for the top price animal owned by a member of the Border club.
Danny & Jane Wyllie's "Tamhorn Goliath ET" 8,200gns to JL Hartley, Holdgate Hall, Much Wenlock, Shropshire. 1st in class 4, Male and Supreme Champion
Mel & Diane Lucas' "Lukeroyal Gladiator ET" 8,000gns to KA Brown & Sons, 4 Asby Hall Mews, Great Asby, Appleby, Cumbria
D & J Wyllie's "Tamhorn Gibson ET" 7,000gns to B R Fawcett, New House Farm, Bishopdale, Leyburn, N Yorks. 2nd in class 4
Andrew Coppinger's "Drews Goliath ET" 6,500gns to JD Yeats, Woodhouse Farm, Coanwood, Haltwhistle, Northumberland. 5th in class 4
Maulcastle Farming Company's "Solway View Fancy Mover ET" 5,200gns to James Cullens, Dollarbank, Dollar, Clackmannanshire. 2nd in class 1
James A McGarva's "Abington Frosy" 4,000gns to Claytons Partnership, Larkton Hall Farm, Hampton, Malpas, Cheshire. 3rd in class 1
A & CS Comrie's "Stonebyres Forfar" 4,000gns to Clark Ltd, Kinnahaird Farm, Contin, Strathpeffer, Inverness
Females
Maulcastle Farming Company's "Solway View Foxy Lady ET" 5,000gns to R Young, Over Auchintiber Farm, Stewarton, East Ayrshire. 2nd in class 5
Adrian Williams' "Willnant Gina ET" 5,000gns to James Alexander, 88a Gloverstown Road, Randalstown, N Ireland. 1st in class 6 and Female Champion
IE Wilson's "New Close Hope ET" 5,000gns to MSH Benson, Horrace Farm, Pennington, Ulverston, Cumbria. 3rd in class 6
Averages
18 Bulls £4643.33 (+£1037.41)
8 Maiden Heifers £3077.81 (+£1012.81)