Carlisle Annual Spring Show & Sale 2012
85% Clearance for Blues at Carlisle
With Supreme Champion Securing Top Price of 15,000gns
British Blue Breeders showcased one of the best ever line-ups of British Blue cattle ever seen in the UK so far. The quality and power on offer was inspiring at the Border British Blue Clubs Twenty-second Annual Spring Show & Sale at Carlisle on Saturday 19 May when we witnessed the top call of 15,000gns and a further three bulls broke the five figure barrier.
There was exceptionally strong demand for the intermediate bulls which was reflected in the average of £4,805.43, with a strong commercial trade throughout the day and buyers keenly bidding on bulls with exceptional power and good mobility. The females sold to a top price of 6,800gns with maiden heifers averaging £2,678.26. The auctioneers worked tirelessly to maintain the trade throughout the day's proceedings.
The show and sale was kindly sponsored by Galloway & MacLeod, Cogent and Norbrook Pharmaceuticals (Prize Money), British Blue Cattle Society and Border Club (Advertising).
The judge, Phil Halhead, Norbreck Farm, Cockerham, Lancs had the unenviable task of judging the 22 classes and championships the day prior to the sale. Phil commented that judging gave him the opportunity to choose the type of Blue we need for the future. His focus was therefore on big, powerful animals that were HIGHLY MOBILE and had good testicle size. These traits are key to moving the British Blue breed forward. Mobility is of course key, and being in the centre of the ring gives you a very good perspective.
Phil also commented that in every class - both male and female, the quality of the top 3 - 4 animals was excellent. The animals were fit to travel to their new homes and do a good job.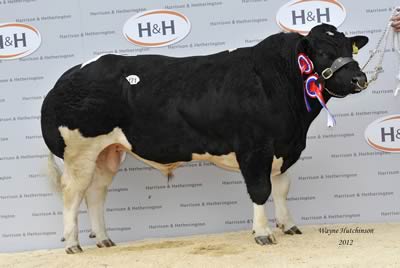 Top price of the day 15,000gns went to the Intermediate Male Champion, Overall Male Champion and Supreme Champion. Bedgebury Flat Out ET, a 21 month old black & white son of the noted, Ballygrange Alex and bred from the Wilodge Cover Girl flush. Flat Out, a bull with exceptional growth and power was knocked down to a half share purchase, namely, N Barclay, South Road, Insch, Aberdeenshire & JC Innes & Sons, Dunscroft, Huntly, Aberdeenshire. It was Andrew Price of Maidstone, Kent who not only topped the bull section but also had the top price Female at 6,800gns. This 2nd prize winning heifer caught the eye of RJ & K Tiplady, Powis House, Appleby Cumbria. Bedgebury Glamourous an 11 month old daughter of Bringlee Carlos (SR) ET and out of an imported black cow Justiciere Du P'Tit Mayeur sells entered for this year's Royal Welsh Show.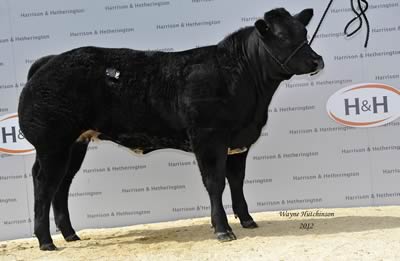 Richard Mowbray, Newtonstewart, Co. Tyrone took his second prize winning bull into the ring and was bid to 14,000gns for Droit Franco ET a 19 month old black & white son from the Mountjoy Utopia (SR)/Droit Alana ET flush. Franco was purchased by JC & J White, Rigg Farm, Middleton-In-Teesdale, Co. Durham.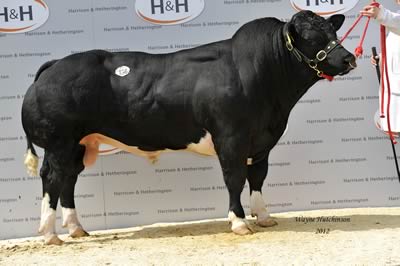 A senior entry from Paul Walker of the Crackley Bank herd based in the West Midlands took the next leading price at 12,000gns. Crackley Bank Fanfare, a son from their homebred bull Crackley Bank Cannon ET and out of a Tamhorn Sumo bred daughter Crackley Bank Candy Girl ET. Fanfare was sold to R Neill & Ptnrs, Upper Nisbet Farm, Jedburgh, Roxburghshire.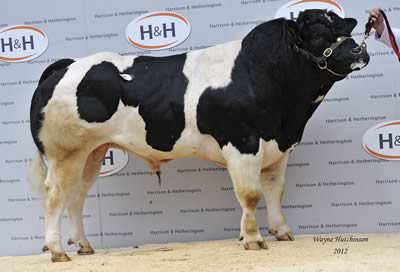 Also hitting the high spots at 10,000gns was a Colos Van Daisel (IS) bred son and first prize winning bull, Cromwell Fantastic ET, shown by Adam Neachell, Shrubbery Farm, Aldridge, Staffordshire. This eye-catching 23 month old, black & white bull bred from Ridge Dean Rita ET, sold to JM Townsend, Barnside Hall, Farm, Colne, Lancs.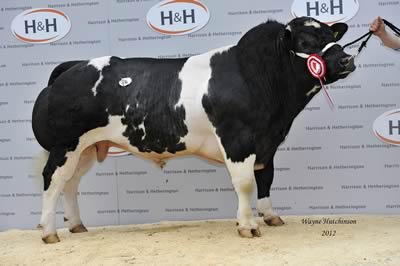 A junior entry from the Dragon Blues prefix of Messrs G & K Williams, Lampeter took the next leading price at 9,200gns. Dragon Blues Firefly ET, another Colos Van Daisel (IS) bred bull is from the Colos and Hazelwood Petal ET flush. Petal is consistently breeding good priced bulls – Dragon Blues David 11,000gns Carlisle May 2010 & Dragon Blues Dorian 12,000gns Carlisle May 2011. This black bull stood second in his class and sold to JM & AM Lewis, Pentwyn, Cwrtycadno, Llanwrda, Carmarthenshire.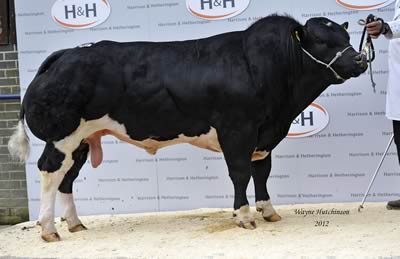 Selling for 9,000gns were two intermediate entries. The first entry came from Redhead & Watson, Bowsden Moor, Berwick upon Tweed with their fourth prize winning bull Tweeddale Freddy ET, a July 2010 born bull, from the Colos Van Daisel (IS) and Clarebrand Bertha flush. He was knocked down to Garrowby Estate Farms, Bugthorpe, York. Redhead & Watson also win the Border Club Special trophy for the highest priced animal owned by a member of the Club.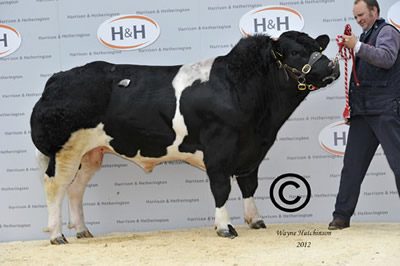 The other 9,000gns price tag went to Irish breeder John Killen, Downpatrick, Co Down with his single entry Rockview Fanaldo. This 22 month old entry won his class and went on to take Reserve Intermediate Championship. He is by a Hazelwood Freshman ET son Rockview Dan Ross and is out of a Dafydd bred cow Tullynacree Carmel ET. Fanaldo was sold to DR Owen & Sons, Sandilands Farm, Tywyn, Gwynedd.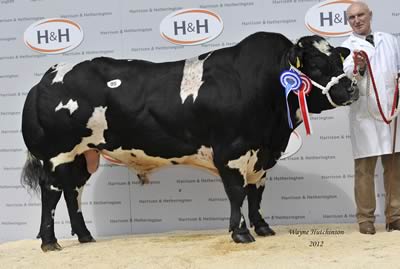 HR & WJ Maudsley, Rathmell, Settle took Reserve Senior Male championship with Littlebank Fredie ET from the Empire D'Ochain (IS) and Littlebank Carly flush. This 26 month old dark coloured bull was knocked down for 8,300gns to RW Owen, Geirn, Llanerchymedd, Anglesey.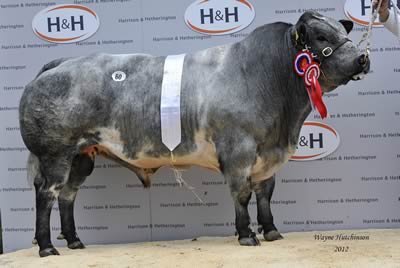 The Senior Male Championship went to Tamhorn Fernando from Danny & Jane Wyllie from the Tamhorn herd based in Staffordshire. This May 2010 blue roan son of the noted show winning sire Ballygrange Alex and out of a Dafydd bred daughter Tamhorn Abbey ET caught the eye of Wainwright Partnership, Todd Hall, Copper, Fife who bought him for 8,000gns.
Matching that 8,000gns price was another Colos Van Daisel (IS) son, this time from Malcolm Telfer & Helen Claxton, Newton High House, Stocksfield, Northumberland. Newton Blues Freddy ET, a June 2010 son of Colos and Glenrock Venitia ET flush. Freddy stood second in a strong class and was bought by KD & DE Millar & Partners, Crookholme Farm, Canonbie, Dumfriesshire.
The Female Champion from Andrew Craig, Coleraine, Co. Londonderry - Woodview Cari ET out of the Dafydd and Woodview Witchy flush left the sale ring unsold.
Kenneth Veitch, Drumlone, Lisbellaw, Co Fermanagh sold two ET full sisters to average 5,550gns. The first through the ring was Drumlone Fanfare ET who stood second in her class and sold for 4,500gns to A Bainbridge, Owlands Farm, Richmond, North Yorkshire. Then came the 3rd prize winning maiden heifer Drumlone Fancypants ET who was successfully purchased by JS Younson, Westerton, Cullerie, Echt, Aberdeenshire. These April 2010 sisters are from the Empire D O'Chain (IS) and Tyddyn Ciara ET Flush. They are the first daughters to be offered for sale from Tyddyn Ciara ET who was purchased for 9,400gns Carlisle May 2009.
JC Innes & Sons who bought a half share in the top price bull earlier in the day sold a senior maiden heifer who was fourth in a very strong class for 5,000gns – Strathbogie Edith ET from the Nether Hall Buster ET/Oxcroft Baby Gloria ET flush goes to DR Owen & Son, Sandilands Farm.
The judge, Phil Halhead purchased the first prize winning heifer Balzer Forget Me Not ET for 5,000gns. Forget Me Not ET a black & white January 2010 born heifer is from the Gitan Du P'Tit Mayeur (IS)/Balzer Waterlily flush and was exhibited by Andrew & Jade Phillips, Llandysul, Ceredigion.
Sally & Neil Lloyd, Stoneycroft Farm, Leominster, Herefordshire sold their Reserve Female Champion for 4,500gns. Their single entry Black N Blue FC UK Two is a stylish June 2010 born heifer from the Empire D'Ochain (IS) (SR)/Black N Blue UK.com flush. FC UK Two caught the eye of several breeders but after much bidding was finally secured by HW Jerman, Rhinbrongelly, Llanidloes, Powys to join his Rhiwbron herd.
Averages:
40 Senior Bulls £4289.25 (plus £147.00)
47 Intermediate Bulls £4805.43 (plus £102.00)
38 Junior Bulls £4553.68 (plus £414.00)
125 Bulls £4563.72 (plus £184.55)

5 Served Heifers £2650.00 (plus £280.00)
46 Maiden Heifers £2678.26 (minus £17.00)
5 Cows served and/or suckling £2900.00
7 Recipients suckling FOT calf £2557.14
10 Recipients carrying embryos £1520.00

Leading prices: -
Bulls
Andrew Price's 'Bedgebury Flat Out ET' 15,000gns to Half Share: N Barclay, South Road, Insch, Aberdeenshire & J C Innes & Sons, Dunscroft, Huntly, Aberdeenshire. 1st in class 10 and Intermediate Male, Overall Male and Supreme Champion

Richard J Mowbray's 'Droit Franco ET' 14,000gns to JC & J White, Rigg Farm, Lunedale, Middleton-in-Teesdale, County Durham. 2nd in class 12

Paul Walker's 'Crackley Bank Fanfare' 12,000gns to R Neill & Partners, Upper Nisbet Farm, Jedburgh, Roxburghshire

AE Neachell & Son's 'Cromwell Fantastic ET' 10,000gns to JM Townsend, Barnside Hall Farm, Laneshawbridge, Colne, Lancashire. 1st in class 6

GW & K Williams' 'Dragon Blue Firefly ET' 9,200gns to JM & AM Lewis, Pentwyn, Cwrtycadno, Llanwrda, Carmarthenshire. 2nd in class 11

Redhead & Watson's 'Tweeddale Freddy ET' 9,000gns to Garrowby Estate Farms, Bugthorpe, York, Yorkshire. 4th in class 7

John F G Killen's 'Rockview Fanaldo' 9,000gns to DR Owen & Sons, Sandilands Farm, Tywyn, Gwynedd. 1st in class 8 and Reserve Intermediate Champion

HR & WJ Maudsley's 'Littlebank Fredie ET' 8,300gns to RW Owen, Geirn, Carmel, Llanerchymedd, Anglesey. 1st in class 3 and Reserve Senior Champion

D & J Wyllie's 'Tamhorn Fernando' 8,000gns to Wainwright Partnership, Todd Hall, Cooper, Fife. 1st in class 5 and Senior Male Champion

Malcolm Telfer & Helen Claxton's 'Newton Blues Freddy ET' 8,000gns to KD & DE Millar & Partners, Crookholme Farm, Canonbie, Dumfriesshire. 2nd in class 7

JR & L Ogden's 'Owlden Firebolt ET' 7,500gns to S & A Taylor, Dearne House Farm, Cumberworth, Huddersfield, West Yorks. 3rd in class 7

Malcolm Telfer & Helen Claxton's Newton Blues Forest Gump ET' 7,500gns to M T Findlay & Son, Hallington High Farm, Hallington, Newcastle Upon Tyne.

GL & KS Morgan's 'Almeley Ferdinand' 7,000gns to RW Owen, Geirn, Carmel, Llanerchymedd, Anglesey. 4th in class 6

JF & C Saunders' 'Maidenlands Fagan' 6,500gns to JD Yeats, Woodhouse Farm, Coanwood, Haltwhistle, Northumberland. 1st in class 4

GL & KS Morgan's 'Almeley Ferguson' 6,500gns to A R Edmonson, Hawkswell, Broughton Beck, Ulverston, Cumbria. 5th in class 7

Richard J Mowbray's 'Droit Fabulous ET' 6,500gns to M Nelson, Bull and Cave Farm, Clapham, Lancaster. 1st in class 12 and Junior Male Champion

ER Hemmings' 'Paulern Francis ET' 6,200gns to M & J McLaren, Fintalich Farm, Crieff, Perthshire. 1st in class 2

K Preston's ' Glenpark Fritz ET' 6,200gns to JE Studholme & Son, Nealhouse Farm, Cardewlees, Carlisle, Cumbria. 2nd in class 6

SJ & RR Brough's 'Carrock Flame ET' 6,200gns to J Browell & Sons, Quarry House Farm, Colwell, Hexham, Northumberland. 4th in class 11

Kenneth J Hill's 'Kenray Frasier' 6,000gns to M Allan, Uppermill Farm, Kintore, Inverurie, Aberdeen. 5th in class 3

Redhead & Watson's 'Tweeddale Forte ET' 6,000gns to J Hyslop & Sons, Netherton Farm, Abingdon, Biggar, Lanarkshire.

K Preston's 'Glenpark Frome ET' 6,000gns to S Allardyce, East Town Farm, Tarland, Aboyne, Aberdeenshire

Females
Andrew Price's 'Bedgebury Glamourous' 6,800gns to RJ & K Tiplady, Powis House, Long Marton, Appleby, Cumbria. 2nd in class 21
Kenneth Veitch's 'Drumlone Fancypants ET' 6,600gns to JS Youngson, Westerton, Cullerie, Echt, Aberdeenshire. 3rd in class 17

JC Innes & Sons' 'Strathbogie Edith ET' 5,000gns to DR Owen & Son, Sandilands Farm, Tywyn, Gwynedd. 4th in class 17

Andrew & Jade Phillips' 'Balzer Forget Me Not ET' 5,000gns to Norbreck Genetics, c/o Phillip Halhead, Norbeck Farm, Cockerham, Lancs. 1st in class 17

Kenneth Veitch's 'Drumlone Fanfare ET' 4,500gns to A Bainbridge, Owlands Farm, Hurst, Richmond, North Yorkshire. 2nd in class 17

Sally & Neil Lloyd's 'Black N Blue FC UK Two' 4,500gns to H W Jerman, Rhinbrongelly, Llanidloes, Powys. 1st in class 18 and Reserve Female Champion

RO & EJ Ibbotson's 'Judicieuse D'Izier and her heifer calf Hawksbridge Georgina' 4,400gns to N Cooper & Sons, Troughton Hall, Broughton In Furness, Cumbria

MD Gamble & SJ Rigg's 'Sharplaw Foxylady ET' 4,200gns to Preston Farms, Barnhills, Kirkcolm, Stranraer, Wigtownshire. 1st in class 19