Carlisle Autumn Show & Sale 2011
The Border British Blue Club staged their Twenty-second Annual Autumn Show & Sale at Carlisle, when auctioneers Harrison & Hetherington Ltd, Borderway Mart, Rosehill offered for sale a good show of British Blue Cattle but buyers were very quality selective when bidding for their purchases. With a lead call of 8,000gns and a further 9 bids of 4,100gns and above, the overall average for bulls was £3605.92, with nearly an 80% clearance.
The show and sale was kindly sponsored by NWF Agriculture & Agri-Lloyd.

The judge, Brian Griffiths, (Penygelly Herd), Lower Penygelly, Kerry, Newtown, Powys had the difficult task of judging the show. The Male & Supreme Championship was awarded to Border Club enthusiast Kevin Watret, Annan with his 2 year old, well muscled bull Solway View Extreme ET by the Gitan Du P'Tit Mayeur and Broomfield Vivien flush. Extreme was knocked down to a half share for 7,000gns to H Cockburn & Partners, Kingside, Leadburn, West Linton, Peeblesshire & J & S Wilson, Killernie Farm, Saline, Dunfermline, Fife. Maulcastle Farming Company also wins the "Macmin Cup" for the highest priced animal owned and exhibited by a member of the Border Club.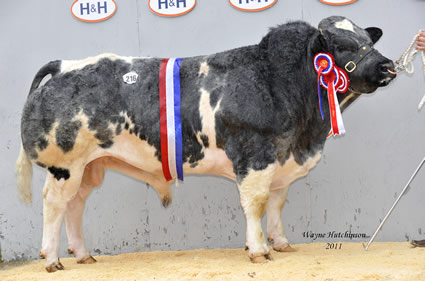 The judge awarded the Reserve Male & Reserve Supreme Championship to Norton Eddy ET, a June 2009 son by the Tamhorn Sumo (SR) ET and Betws Wispa flush. He was exhibited by Nigel Pritchard, Hyatt, Sarnesfield, Norton, Cannon, Herefordshire. Eddy was knocked down for 4,800gns to TG Taylor, Gilts, Crosby Ravensworth, Penrith, Cumbria.
Top price of the day however went Richard J Mowbray, 34 Droit Road, Newtonstewart, Co. Tyrone for his 2nd prize winning bull Droit Ebenezer ET from the Gitan Du P'Tit Mayeur and Droit Alana ET flush and was successfully purchased for 8,000gns by JC & SE Little, Mayfield, Thursby, Carlisle, Cumbria.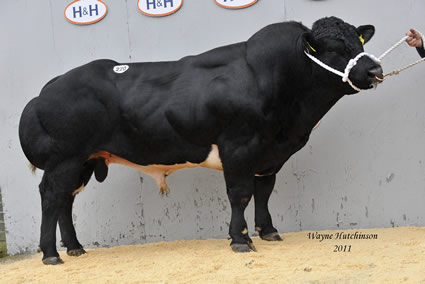 Also hitting the high spots on 6,000gns was the 3rd prize winning bull from Steve & Claire Pattinson, Kinkry Hill Farm, Roadhead, Carlisle. Kelowna Ferdinand, a March 2010 bull by Bluegrass Cyclone ET and Kelowna Brandy was purchased by JL Hartley, Holdgate Hall, Much Wenlock, Shropshire. Ferdinand has been successfully shown this season gaining reserve male champion at the Border Club's spring calf show. His figures are in the top 1% of the breed.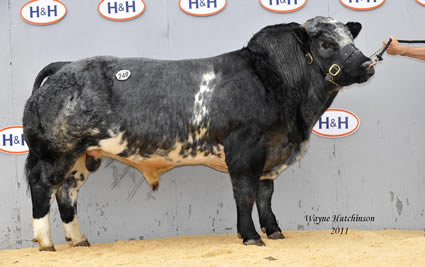 Jane & Danny Wyllie, Pessall Farm, Edingale, Nr Tamworth, Staffs sold two bulls for 6,000gns the first through the ring was their 2nd prize winning bull Tamhorn Ferdinand ET from the Empire D'Ochain (IS) (SR) and Tamhorn Tinkerbelle ET flush. This March 2010 bull was successfully purchased by EJ Ivinson & Sons Ltd, Skelling, Skirwith, Penrith, Cumbria. A few lots later Tamhorn Fagan ET also made 6,000gns. Fagan, an April 2010 son from the Ballygrange Alex and Tamhorn Wisteria ET flush was knocked down to TP & EA Clayton, Low Mills Farm, Boston Spa, Wetherby.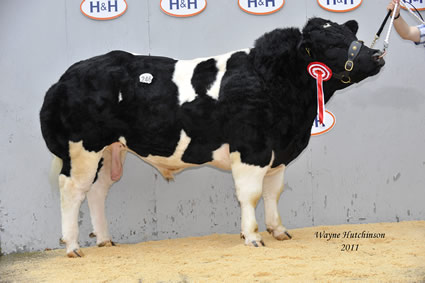 Leading the ladies on 2,500gns was Mel & Diane Lucas (Lukeroyal), 154 Sevenmile Straight, Antrim, N Ireland with Lukeroyal Faberge ET, a 14 month old daughter of Lukeroyal Battle Axe ET and Lukeroyal Confetti flush. Faberge was sold to M Kirby, Blackberry Farm, Holsworthy, Devon.
The female champion and winner of the 'Wilodge Perpetual Shield' for the Best Animal Opposite Sex to the Champion was awarded to Richard Mowbray's heifer Droit Enid ET who left the sale ring unsold.
Recipients sold to a top of 2,100gns for AB Holliday, Highfield, Langwathby, Penrith for a 6 month old heifer from the Bluegrass Cyclone (SR) ET and Widewath Verity ET flush. This stylish heifer was purchased by Messrs Ellis, Trevarrack Farm, Lelant, St Ives, Cornall.
Leading prices: -
Bulls
Richard J Mowbray's "Droit Ebenezer ET" 8,000gns to Messrs Little, Mayfield, Thursby, Carlisle, Cumbria. 2nd in class 2
Maulcastle Farming Company's "Solway View Extreme ET" 7,000gns to H Cockburn & Partners, Kingside, Leadburn, West Linton, Peeblesshire & J & S Wilson, Killernie Farm, Saline, Dunfermline, Fife. 1st in class 2, Male and Supreme Champion & winner of the "Macmin Cup" for the top price animal owned by a member of the Border club.
Steve & Claire Pattinson's "Kelowna Ferdinand" 6,000gns to JL Hartley, Holdgate Hall, Much Wenlock, Shropshire. 3rd in class 5.
D & J Wyllie's "Tamhorn Ferdinand ET" 6,000gns to EJ Ivinson & Sons, Skelling, Skirwith, Penrith, Cumbria. 2nd in class 4.
D & J Wyllie's "Tamhorn Fagan" 6,000gns to TP Clayton, Low Mills Farm, Boston Spa, Wetherby. 2nd in class 5.
GR Jones' "Whiterock Firestorm ET" 5,000gns to CP Barwood, Grange Farm, Fleggburgh, Great Yarmouth, Norfolk. 1st in class 4.
Nigel P Pritchard's "Norton Eddy ET" 4,800gns to TG Taylor, Gilts, Crosby Ravensworth, Penrith, Cumbria. 1st in class 1, reserve male & reserve supreme champion.
James & Gloria Annett's "Snowy Ridge Emperor Eddie ET" 4,800gns to R Hall & Son, Inglewood Edge, Dalston, Carlisle, Cumbria. 3rd in class 1
Females
Mel & Diane Lucas's "Lukeroyal Faberge ET" 2,500gns to M Kirby, Blackberry Farm, Milton Dameral, Holsworthy, Devon
AB Holliday's "High Farm Gem ET" 2,100gns to EA & DA Ellis, Trevarrack Farm, Lelant, St. Ives
Sharplaw Farm's "Sharplaw Fifi ET" 2,000gns to DS Townend, Quarry Farm, Broughton, Malton
Mel & Diane Lucas's Lukeroyal Guess ET" 2,000gns to JA McGarva, Nether Abington, Abington, Biggar
Pasturefields Livestock "Boomer Gamani ET" 2,000gns to A Armstrong, 43 Camderry Road, Dromore, Co. Tyrone, Northern Ireland
Averages
38 Bulls £3605.92
6 Maiden Heifers £2065.00
5 Recipients with calves at foot £2089.50
1 Recipient in calf £1837.50