Carlisle Annual Spring Show & Sale 2011

Supreme Champion Secures the Top Price of 14,000gns
British Blue Breeders enjoyed a bumper days trading at the Border British Blue Clubs Twenty-first Annual Spring Show & Sale at Carlisle on Saturday 21 May. Top call of the day was 14,000gns and a further three bulls broke the five figure barrier.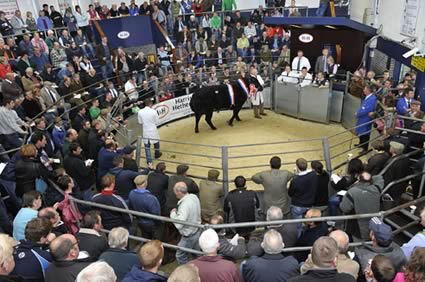 There was exceptionally strong demand for the intermediate bulls which was reflected in the average of £4,703.21, with a strong commercial trade throughout the day and buyers keenly bidding on animals which met their criteria. There was a good number of females offered for sale with maiden heifers averaging £2,695.00. The auctioneers worked tirelessly to maintain the trade throughout the day's proceedings.
The show and sale was kindly sponsored by Galloway & MacLeod, Cogent and Norbrook Pharmaceuticals (Prize Money), British Blue Cattle Society and Border Club (Advertising).
The judge, Alistair Smart, Shiel Farm, Muir of Fowlis, Alford, Aberdeenshire had the unenviable task of judging the 24 classes and championships the day prior to the sale. Alistair made some sound judgements as most of the top priced animals had been placed in their classes.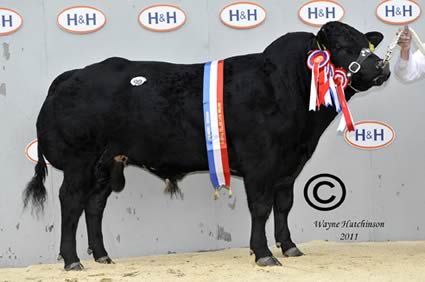 Top price of the day 14,000gns went to the Intermediate Male Champion, Overall Male Champion and Supreme Champion. It was Northern Ireland breeder, Sam Milliken of Co.Londonderry, who had the honour of receiving both accolades for his sole entry, Faughanvale Ernie ET, a 22 month old son of the noted imported sire, Dafydd D'Ochain and bred from a Hazelwood Freshman ET daughter. Ernie, an all black bull, was bred by Oliver McGuinness and was the crowds favourite but it was the Elkington herd for Northampton breeders Page Bros that made the final bid to secure Ernie.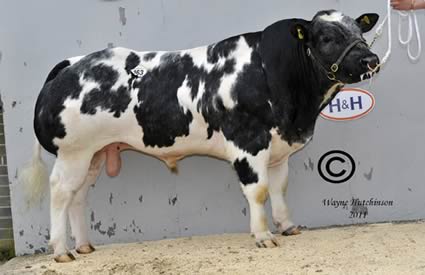 A junior entry from Danny and Jane Wyllie of the Tamhorn herd based in Staffordshire took the next leading price at 13,000gns. Tamhorn Fearless ET, a son of the noted show winning sire Ballygrange Alex and out of the herds best Affute bred daughter Tamhorn Vienna ET, Fearless was sold to local noted commercial producers Messrs Harrison of Grange Hall, Appleby.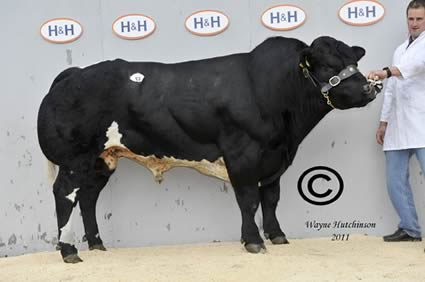 Selling for 12,000gns were two senior entries. The first entry came from G&K Williams of Lampeter with their December 2008 born bull, Dragon Blues Dorian ET, another Dafydd sired bull. This black bull was purchased by Welsh breeder Dylan Rees for his Blue Stone herd.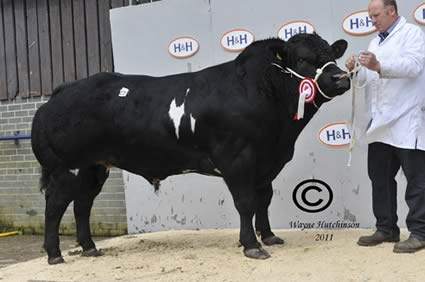 The other 12,000gn price tag went to Yorkshire breeder Messrs Maudsley for Littlebank Elliot ET. This 27 month old entry, also by the popular sire Dafydd and is out of a Woodview cow by Affute. Elliot was sold to a half share purchase, namely, TE Jones & Co of Bailea, Brecon and JM & AM Lewis of Pentwyn, Carmarthen.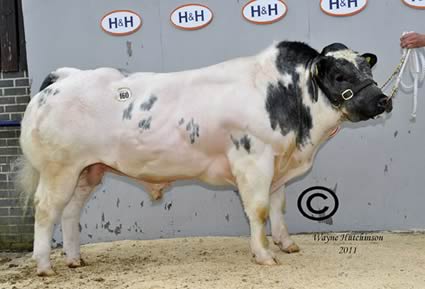 Selling at 10,000gns was Tamhorn Flanker ET, a January 2010 son of Tamhorn Sumo (SR) ET and Tamhorn Winifred ET flush. Flanker was another entry from Danny & Jane Wyllie who had an excellent days trading for their exceptional consignment of bulls. Flanker was bought by Messrs Cheesbrough & Son, Heddon Haugh, Heddon on the Wall, Newcastle Upon Tyne.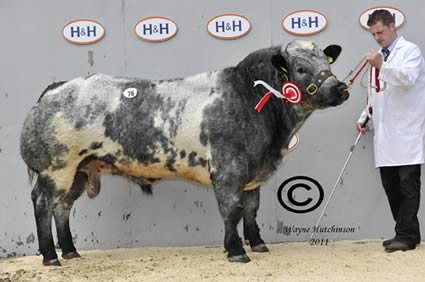 Richard Mowbray, Newtonstewart, Co. Tyrone took his first prize winning bull into the ring and was bid to 9,000gns for Droit Esquire ET a 23 month old son from the Dafydd and Droit Beech ET flush. Denver was purchased by AC Fotheringham, Ballinloan, Perth.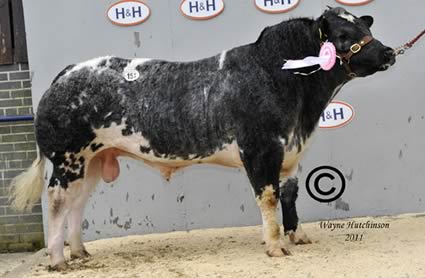 Also hitting the high spots at 8,400gns was a Mountjoy Utopia bred son and fifth prize winning bull, Auchenlay Eriskay ET, shown by R & M Paterson, Upper Auchenlay, Dunblane. This eye-catching December 2009 bull bred from Herts Octavia, sold to JA Wood & Sons, Kinnerton Farm, Ratlinghope, Shrewsbury.
The Junior Male championship went to Tamhorn Enterprising ET from Danny & Jane Wyllie. This October 2009 son of the Ballygrange Alex and Gregmaur Brandy flush caught the eye of Border Club enthusiasts Blair & Shona Comrie, The Beeches, Stonebyres Mains Farm, Lanark. Enterprising joins their Stonebyres herd for 7,900gns.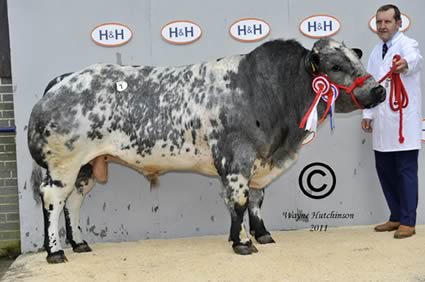 The single entry from Jim Sloan, Kilkeel, Co.Down was next in the price ratings at 7,500gns. Ballygrange Dalton, the Senior Male champion is by Springbank Blackstar ET and out of Ballygrange Uree and travels back to Northern Ireland for S Loughery, Limavady, Co. Londonderry.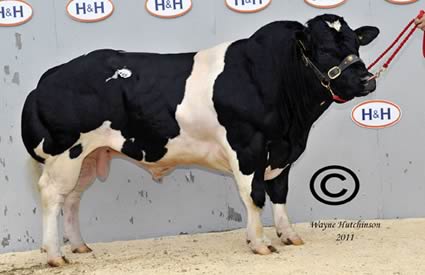 Selling at 7,000gns was Belmore Emperor ET from Barbara Van Rie, Tobermore, Magherafelt, Co. Londonderry. Emperor is a stylish black & white 20 month old son of the Empire D'Ochain (IS) and Subtil 8827 De Maffe flush. This fifth prize winning bull was knocked down to A Bainbridge, Owlands Farm, Richmond.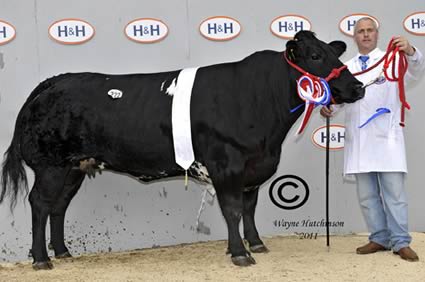 Leading the ladies was the Female Champion and Reserve Overall Champion Lukeroyal Clarabelle ET out of the Twyning Ash Vaughan and Lukeroyal Wannabee Star ET flush. Consigned by Mel & Diane Lucas, Antrim, N Ireland. Clarabelle who is in calf to Lukeroyal Battleaxe was finally knocked down for 5,500gns after much bidding to William Warren, 115 Church Farm, Gomersal, Cleckheaton.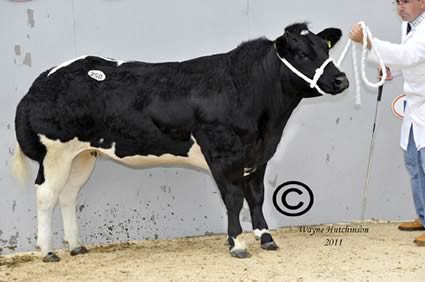 Matthew Jones, Sunnyside Farm, Hadnall, Shrewsbury sold their third prize winning maiden heifer for 5,500gns. Graymar Fantasy ET, an April 2010 daughter from the Empire D O'Chain (IS) and Bringlee Beth ET Flush was successfully purchased by GR Jones, Tyn Rhos, Llanrhaeadr YM, Oswestry.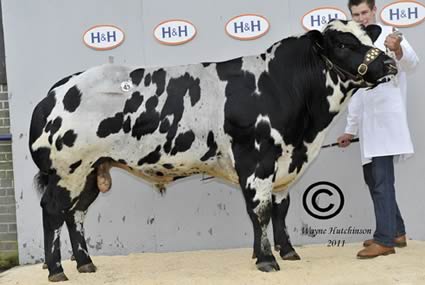 Nether Hall Farm Ltd won the Border Club Special trophy for the highest priced animal owned by a member of the Club when Nether Hall Extra Special ET sold for 6,000gns.
Averages:
35 Senior Bulls £4142.40
53 Intermediate Bulls £4703.21
37 Junior Bulls £4138.99
125 Bulls £4379.17 (minus £161.47)
2 Served Heifers £2370.00
51 Maiden Heifers £2695.00
2 Cows served and/or suckling £4803.75
6 Recipients with FOT calves or carrying embryo £2870.00
Leading prices: -
Lot
Price
Purchaser
Bulls
90
14,000gns
Page Bros, Lodge Farm, Elkington, Northampton
1st in class 8 and Intermediate Male, Overall Male and Supreme Champion
163
13,000gns
AJ & FM Harrison, Grange Hall, Great Asby, Appleby
13
12,000gns
TD Rees, Llwynhirion, Brynberion, Crymych
27
12,000gns
Half Share:
TE Jones & Co, Bailea Farm, Heol Senni, Sennybridge, Brecon.
JM & AM Lewis, Pentwyn, Cwrtycadno, Llanwrda, Carmarthenshire
1st in class 3

160
10,000gns
M/s Cheesbrough & Son, Heddon Haugh, Heddon on the Wall, Newcastle upon Tyne
76
9,000gns
AC Fotheringham, Ballinloan, Dunkeld, Perth
1st in class 7

151
8,400gns
JA Wood & Sons, Kinnerton Farm, Ratlinghope, Shrewsbury, Shropshire
5th in class 13
126
7,900gns
A & CS Comrie, The Beeches, Stonebyres Mains Farm, Stonebyres, Lanark
1st in class 11 and Reserve Junior Male Champion
7
7,500gns
S Loughery, 184 Drumsurn Road, Limavady, Co.Londonderry
1st in class 2 and Senior Male Champion
115
7,000gns
A Bainbridge, Owlands Farm, Hurst, Richmond, Yorkshire
5th in class 10
54
6,800gns
B Irving, Harperhill, Roweltown, Carlisle
4th in class 6
101
6,800gns
JI & WN Stout, Whitehall Farm, Stronsay, Orkney
1st in class 9

113
6,500gns
RA Cadzow, Inland Pasture, Berwick upon Tweed
1st in class 10 and Reserve Intermediate Male and Reserve Overall Male Champion
2
6,000gns
L Guy & Son, Home Farm, Bowes, Barnard Castle, Co.Durham 2nd in class 1

43
6,000gns
Half Share
J & W Baillie, Hillhead of Covington, Thankerton, Biggar
A Baillie, Carstairs Mains, Carstairs, Lanark
1st in class 5

53
6,000gns
TH Harrison & Sons, Sleddale Hall, Wet Sleddale, Shap, Penrith, Cumbria
79
6,000gns
J Lee & Sons, Agars Hills, Whitfield, Hexham, Northumberland
2nd in class 7

120
6,000gns
K Rodney & Sons, Leighton Grange, Healey, Masham, Ripon, N.Yorkshire
2nd in class 10

Females
250
5,500gns
GR Jones, Tyn Rhos, Llanrhaeadr YM, Oswestry, Shropshire
3rd in class 22

272
5,500gns
W Warren, Church Farm, Church Lane, Gomersal, Cleckheaton
1st in class 24, Female and Reserve Supreme Champion
266
4,100gns
JS Stephenson, Bordley Green, Skipton, N.Yorkshire
193
4,000gns
M/s Stephen & Co, Meikle Geddes Farm, Nairn, Inverness
3rd in class 17

205
4,000gns
RJ & K Tiplady, Powis House, Long Marton, Appleby, Cumbria
1st in class 18

246
3,800gns
S Loughery, 184 Drumsurn Road, Limavady, Co.Londonderry, N.Ireland
5th in class 21
263
3,800gns
RG & EA Roberts & Son, Plas Heaton Farm, Denbigh
1st in class 23

188
3,700gns
S Madeley & Son, Little Whitfield Farm, Glewstone, Ross-on-Wye
1st in class 16

239
3,700gns
M/s Jackson, Skelton Wood End, Skelton, Penrith, Cumbria
271
3,650gns
Manifold Valley Meats, Doveway, Waterhouses, Leek, Stoke-on-Trent
208
3,500gns
G Nicholls, East Middleton Farm, Parracombe, Nr.Barnstaple, N.Devon
2nd in class 18
211
3,500gns
GE Davies & Sons, Cwmbromley, Sarn, Newtown, Powys
4th in class 18

231
3,500gns
GS Owen, Tyddyn Tudar, Llanfihangel, Corwen
259
3,500gns
FW Harrison, Shiel Farm, Alford, Aberdeenshire
2nd in class 22

Recipient with FOT Calf
276
5,000gns
WR & WW Jones, Henfache, Llanrhaeadr, Oswestry, Shropshire