Carlisle Autumn Show & Sale 2010
Saturday 9th October 2010
The Border British Blue Club staged their Twenty-first Annual Autumn Show & Sale at Carlisle, when auctioneers Harrison & Hetherington Ltd, Borderway Mart, Rosehill offered for sale a great selection of British Blue Cattle but buyers were very quality selective when choosing their purchases. With a lead call of 6,900gns and a further 10 bids of 4,000gns and above, the overall average for bulls was £3,650.77.
The show and sale was kindly sponsored by Garry Phillips Polaris and Davidsons Animal Feeds.
The judge, Stephen Hough, (Featherstone Herd), Park Grange Farm, Pontefract, W Yorkshire had the difficult task of judging the show. He commented "It was pleasing to see such a high standard of cattle on show, and I would like to thank the club for organising such a memorable event and asking me to judge."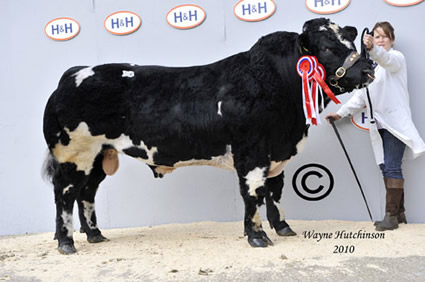 The Male & Supreme Championship was awarded to Sally & Neil Lloyd, Stoneycroft Farm, Luston, Leominster, Herefordshire for their single entry, a striking black and white bull Black N Blue Emperor ET. This 19 month old bull, by Empire D'Ochain (IS) and out of a Serum D'Anloy (IS) bred daughter Black N Blue UK.Com flush. Emperor was knocked down for 5,400gns to T Bean & Son, Shield Farm, Muggleswick, Consett.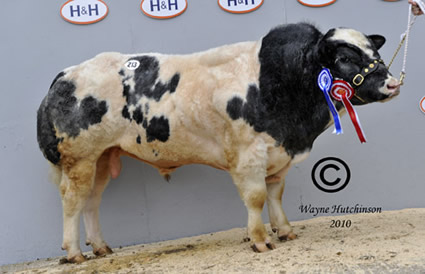 The judge awarded the Reserve Male Championship to Crackley Bank Dan, an October 2008 son by Blak Du Baty D'Eprave (IS) and out of Crackley Bank Weetabix ET. He was exhibited by Paul Walker, Horsepool Farm, Hunnington, West Midlands. Dan was knocked down for 4,200gns to JD Yeats, Woodhouse Farm, Coanwood, Haltwhistle, Northumberland.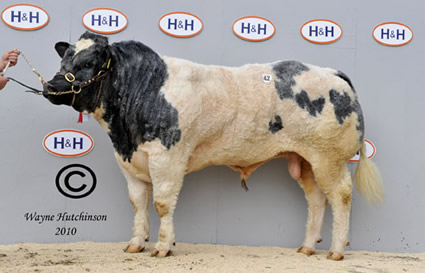 Top price of the day however went Neil R Barclay, Harestone Farm, Crathes, Banchory, Aberdeenshire for his 1st prize winning bull Harestone Excalibre ET from the Empire D'Ochain (IS) and Woodview Whitney flush and was purchased for 6,900gns by Smallburn Farms Ltd, Mayne Farm, Elgin, Morayshire.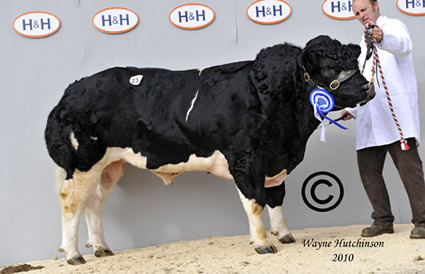 Also hitting the high spots at 5,500gns was the 2nd prize winning bull from Redhead & Watson, Bowsden Moor, Bowsden, Berwick-Upon-Tweed. Tweeddale Energiser ET, a March 2009 bull from the Bringlee Blackstar ET and Clarebrand Bertha flush was purchased by McCosh Bros, Culterallers, Biggar, Lanarkshire. Energiser won first prize most promising young bull in the 2010 Border British Blue Club herd competition. Redhead & Watson also win the "Macmin Cup" for the highest priced animal owned and exhibited by a member of the Border Club.
An AI son of Mountjoy Utopia (SR) was next in the price ratings. New Close Daz ET bred and exhibited by IE & M Wilson, New Close Farm, Hollington, Nr. Tean, Staffordshire was successfully purchased by R Carter, Twyning Ash Uley Lane, Coaley, Dursley, Glos for 5,100gns. This 22 month old bull is out of a Hazelwood Jake daughter, Hazelwood Tinkerbell and was attracted to Richard Carter because of his top of the breed EBV figures.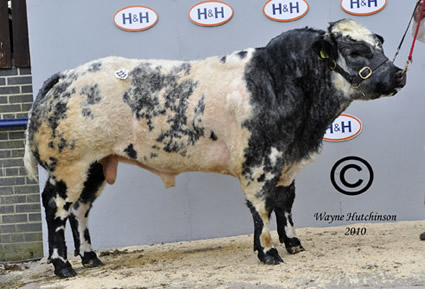 Also on 5,100gns was the single entry from Zara Chestnutt, Clougher Farm, Bushmills, Co. Antrim, N Ireland. Clouger Email, who was born on New Years Day 2009, is by Springbank Blackstar ET and out of their homebred cow Clougher Wendy who was Junior Heifer RUAS 2004 and Champion Clougher Valley Show this year. Email himself is no stranger to the show ring having won Male Champion and Reserve BB Champion RUAS 2010 and the Osmonds BB Young Bull Champion. After much interest Email was finally knocked down to JR & HH Thomas, Woodmore Farm, Chirbury, Montgomery.
Leading the ladies on 5,000gns was the 1st prize heifer and Reserve Female Champion for Carrick Primestock, Lyonpark, Maybole, Ayrshire for Lyonpark Evelien ET, a 20 month old daughter of Gitan Du P'Tit Mayeur (IS) and Woodview April ET flush. Evelien was sold to H Cockburn & Ptrs, Kingside, Leadburn, West Linton, Peeblesshire.
Next at 3,000gns was the 4th prize heifer Low Longthwaite Diamond ET, from newly married Border Club enthusiasts Ross & Elaine Pattinson, Low Longthwaite Farm, Wigton. This stylish black, 23 month old heifer is from the Empire D'Ochain (IS) and Tamhorn Tinkerbelle ET flush. Signing the cheque was WT Evans, Awhirk, Lochans, Stranraer.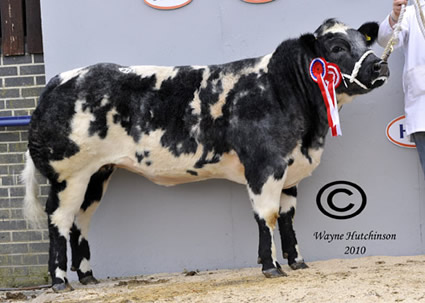 The female champion and winner of the 'Wilodge Perpetual Shield' for the Best Animal Opposite Sex to the Champion was awarded to D Whiteley & J Courts' heifer Franks Enigma ET who left the sale ring unsold.
Recipients sold to a top of 3,000gns for JT Gibson & Son, Fairview Farm, Evenwoodgate, Bishop Auckland, Co. Durham for an 8 month old heifer from the Harley Du Chateau Lebrun (IS) and Ridge Dean Tania ET flush. This stylish blue and white heifer was purchased by G Mitchinson & Sons, High Greenhill, Kirkcamback, Brampton, Cumbria.
Averages
26 Bulls £3,650.77
1 Served Heifer £1,890.00 3 Cows served and/or suckling £2,450.00
9 Unserved Heifers £2,695.00 2 Recipients with calves at foot £2,992.50

Leading prices: -
Bulls
Neil R Barclay's "Harestone Excalibre ET" 6,900gns to Smallburn Farms Ltd, Mayne Farm, Elgin, Morayshire. 1st in class 4

Redhead & Watson's "Tweeddale Energiser ET" 5,500gns to McCosh Bros, Culterallers, Biggar, Lanarkshire. 2nd in class 3 & winner of the "Macmin Cup" for the top price animal owned by a member of the Border club.

Sally & Neil Lloyd's "Black N Blue Emperor ET" 5,400gns to T Bean & Son, Shield Farm, Muggleswick, Consett. 1st in class 3, Male and Supreme Champion

IE & M Wilson's "New Close Daz ET" 5,100gns to R Carter, Twyning Ash Uley Lane, Coaley, Dursley, Glos

Zara Chestnutt's "Clougher Email" 5,100gns to JR & HH Thomas, Woodmore Farm, Chirbury, Montgomery

D & J Wyllie's "Tamhorn Electrifying ET" 4,900gns to Lowesby Farms, Lowesby Hall, Lowesby, Leics

Nigel P Pritchard's "Snowy Ridge Domino ET" 4,500gns to PE & RA Jones, Long Oaks Farm, Pewmafan, Gower, Swansea. 1st in class 1

Richard J Mowbray's "Droit Dexter ET" 4,400gns to Messrs Huck, Church Farm, Hubberholme, Skipton, Yorkshire. 3rd in class 2

Neil R Barclay's "Harestone Drambuie ET" 4,300gns to WM Patterson & Son, Upper Forgie, Aultmore, Keith, Moray. 5th in class 2

Paul Walker's "Crackley Bank Dan" 4,200gns to JD Yeats, Woodhouse Farm, Coanwood, Haltwhistle, Northumberland. 1st in class 2 and Reserve Male Champion

Females
Carrick Primestock's "Lyonpark Evelien ET" 5,000gns to H Cockburn & Ptrs, Kingside, Leadburn, West Linton, Peeblesshire. 1st in class 7 and Reserve Female Champion

Ross & Elaine Pattinson's "Low Longthwaite Diamond ET" 3,000gns to WT Evans, Awhirk, Lochans, Stranraer. 4th in class 6

A & CS Comrie's "Stonebyres Elsa ET" 2,800gns to R & RE Everitt & Son, Kirkley House Farm, Wolsingham, Bishop Auckland. 4th in class 6

Stewart Gill's "Hallfield Aye Up Petal ET & her bull calf at foot Hallfield Fireside" 2,700gns to GA & JM Maw, Wintershields, Bewcastle, Carlisle, Cumbria

Carrick Primestock's "Lyonpark Elise ET" 2,600gns to WT Evans, Awhirk, Lochans, Stranraer. 2nd in class 7