English Winter Fair Champion Baby Beef – Sired by a Blue!
Saturday 16th - Sunday 17th November 2013
The British Blues had a very successful weekend at the English Winter Fair, taking the Overall Champion Baby Beef, with a February 2013 born heifer from Christine Williams and Paul Tippetts; "Hot Buns" was sired by Tweeddale Ebony and out of a Limousin Cow. She sold for £4,500 to V Bowring.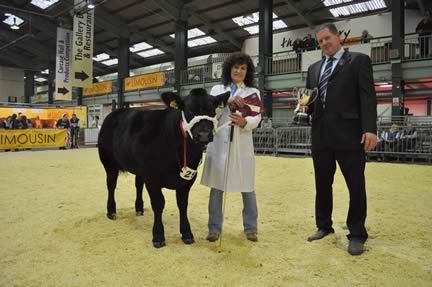 Jason & Sarah Wareham took the Overall Champion in the pedigree section, with Wareham's Heather. This June 2012 born heifer was sired by Boothlow Elvis and out of Wareham's Diamond.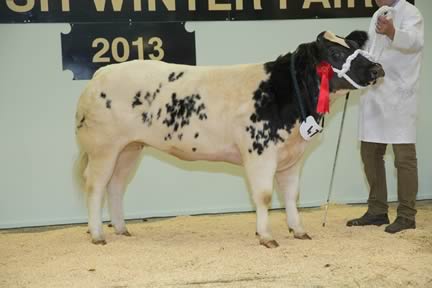 Inaugural Cull Cow Class
Black Bettie and Hazelwood Wisegirl bow out at £2,707 at EWF
B & CE Wilson won the inaugural Cull Cow class with Black Bettie a British Blue x 5 year old cow, who weighed in at 820 kg and later realised £2,707 @ 3.30p p/kl
Ted Haste sold his pure British Blue cow, Hazelwood Wisegirl, a September 2004 cow, in the new Cull Cow Section. Weighing in at 940kg making 2.88p p/kl, realising £2,707: After nearly 10 years of productive life, this is a tremendous value for a cull cow and puts a very sound financial base into the Pedigree British Blue female. Both were purchased by Pickstocks Ashby Ltd.
Tim & Kitty Bodily took the Champion pure-bred British Blue Steer with Llanymynach HD. This April 2012 born steer is sired by Imperial De L'Ecluse and out of their prolific show cow Black N Blue Cleopatra.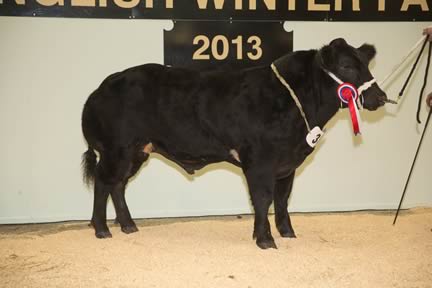 Taking the Champion homebred and fed class was "Bonny" a British Blue heifer from J L Marks.
The Champion Crossbred steer, sired by a British Blue was won by M & C Keel with a steer bred by Messrs. Little and the Champion Crossbred heifer sired by a British Blue was won by John Mellin & Claire Cropper with "The Ritz" bred by Messrs. Robinson of Clitheroe.
photos by Tim Scrivenor
view full results here