Trencrom Herd leads Newark Sale
A production sale from Gail Ellis' Trencrom herd of British Blues led the prices at Newark's British Blue day on Saturday 25th March 2017, with bumper entries of both pedigree and commercial British Blue sired cattle and prime and cull sheep making it once again Super Saturday at Newark.
Auctioneer Paul Gentry said the ringside was packed from the beginning to the end of the sale, with buyers from across the country present. "Both pedigree and commercial buyers were out in force, with prices reflecting both the quality of the cattle on offer and the eagerness of buyers.
"I'd like to thank all our vendors for putting forward such an excellent show of cattle, but particularly Gail Ellis and family for their draft from the Trencrom herd and also the Baldwin family for their annual consignment of British Blue sired suckled calves."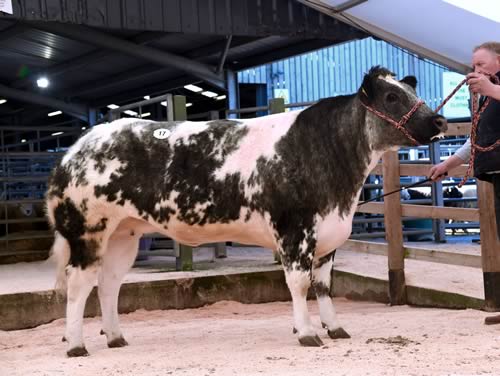 Leading the trade was a 6500gns call for Gail Ellis' maiden heifer Trencrom K Factor., a January 2015-born Boherard Cantona daughter out of Trencrom Ex Factor, a Bringlee Blackstar daughter. Bred from a naturally calving line, she was the pick of Messrs Todd, Wragby, Lincolnshire.
Second best among the maiden heifers was a 4000gns sale for Trencrom Kalypso from the same home. This Phenomene De Martinpre daughter is an ET bred maternal sister to the sale topper and sold to Messrs Boocock and Son, Stamford Bridge, East Yorkshire.
Then making 3800gns was Trencrom Kentish Glory, a Meadowview Blues Fudge daughter out of Trencrom Gypsy Moth, a New Close Colonel daughter. This one was knocked down to Messrs Potter, Stratford Upon Avon, Warwickshire.
At the same money was Trencrom Kotton Kandy, a September 2015-born Mannequin De Sberchamps daughter out of Boroside Glenda, a Jackpot 9831 Et Ter Reybroeck daughter. She was bought by S and S Hough, Pontefract, West Yorkshire.
And then making 3500gns was Trencrom Kween Bee, a Pinnacle Fists daughter out of Trencrom Elizabeth 1st, herself by the noted Empire D'Ochain. This one found a new home with J and S Ward, Frome, Somerset.
Bulls
British Blue bulls sold to a top of 5000gns for Trencrom Kronenborg, again from Gail Ellis' Cornwall-based Trencrom herd. This Littlebank Gigolo son is out of Denby Ebony, a Ballygrange Alex daughter and sold to W H Farrow and Sons, Alford, Lincolnshire.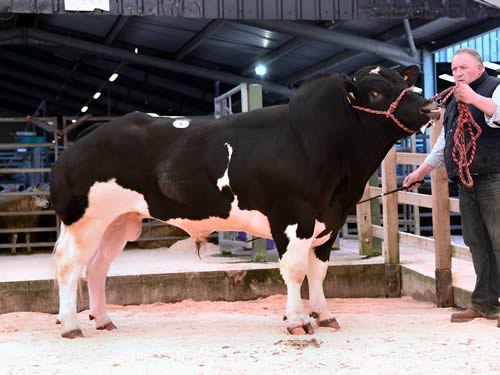 A pair then made 3500gns, with the first being Katie Allen's Woodseat Kaiser Chief, a Ridge Dean Dictator son out of Ridge Dean Esther, a Heros Du Peroy daughter. This one found a new home with A J Smith Farming, Nash, Buckinghamshire.
The second to make this money was Angela Falkingham and Diane Hill's Tweeddale Kurt. Bred by Messrs Redhead and Watson, this Tweeddale Hebony son is out of Tweeddale Gabriella, a Visconti De St Fontaine daughter. He was bought by the Layton family, Leominster, Herefordshire.
Following that at 3400gns was Nigel Pritchard's Norton Juggernaut, a Brown Clee Frazier son out of Norton Alpine, a Baron Du Bois Bauloye daughter. This May 2014-born bull was used commercially last year and sold to S F and J H Wagstaff, Rugby, Warwickshire.
Cows and Calves
Pedigree British Blue cows and calves peaked at 2500gns for Lark Valley Hazel from Robert Brittain. This ET bred 2012-born cow is by Hazelwood Freshman out of Ridge Dean Supreme, an Inexes De La Croix De Mer daughter. Sold with a crossbred steer calf at foot this third calver was bought by Gail Ellis, St Ives, Cornwall.
Meanwhile, a run of pedigree Limousin cows with British Blue sired calves at foot sold to a peak of 3100gns for the Hazard family, Grantham, Lincolnshire. Topping this consignment was Mereside Hotlips, a Haltcliffe Dancer daughter out of an Obus-sired dam. She sold with a Blue sired bull calf at foot and having been served by Mereside Jackal and was bought by Andrew and Becky Bishop, Eldersfield, Gloucestershire.
Next best among this offering were a brace of 3000gns calls, with the first being for Mereside Gertrude, a Bolide daughter out of another Obus daughter. This fourth calver sold with a British Blue corss bull calf at foot and having been AI'd to another Blue sire. She sold to R B Ingamells, Grantham, Lincolnshire.
The other at this level was Mereside Hevienne, a Dormeur daughter out of a dam by Bloomben. She sold with a Blue cross heifer calf at foot and back in calf to a Blue again and was taken by J Gowthorpe, North Cliff, York.
Then selling for 2800gns was Mereside Hyacinth, a Procters Borrins daughter out of an Obus-sired dam. This one sold with a Blue cross bull calf at foot and back in calf to Mereside Jackal. She was bought by Bainbridge Bros, Richmond, North Yorkshire.
Commercial cattle
British Blue sired commercial cattle also met a flying demand, with a number of large consignments well bid for, including the Baldwin family's annual offering of just shy of 100 British Blue crosses from their Wigan-based suckler herd.
Topping this consignment was a £3000 call for a British Blue cross heifer, with steers peaking at £1500. Overall 55 heifers from the Baldwins levelled at £1356.63, while their 44 steers averaged out at £1156.
Local vendor Chall Parsons also enjoyed a good trade for his 28 Blue cross steers, with these hitting a high of £1100 and averaging £890.
The Bates family's trip from Kent was well rewarded too, with their Limousin cross steers peaking at £1180, with heifers from the same home topping at the same money and the entire consignment of 93 averaging through at £965.27.
The Ellis family, Cornwall, sold Blue cross heifers to a top of £1340, with 19 averaging £1121.05 and East Sussex vendor Andrew Holt sold Limousin cross Blue steers to a high of £1010, with heifers from the same home making £940.
Another East Sussex vendor, Messrs Keeley and Hobden then sold Limousin x Blue heifers to £1100, with their steers making up to £1030.
More local vendors were also in the mix, with Robert Hutchinson selling Limousin x Blue steers to a top of £1800 and Lincoln-based Phil and Sharon Sellers selling a Limousin cross heifer at £2200.
Derbyshire-based G G Buckston then sold 44 pure Limouins bulls to a top of 1210 and to level at £1085.23, with Paul Dawes, Herefordshire, selling Limousin x Blue steers to £1150.
And the Gascoine Broup sold 21 month old Limousin heifers to £1300, with younger heifers making up to £1020 and Limousin cross steers selling to £1080. The same vendors sold Saler x Limousin steers to £1040 at 10 months old, while Andrew and Becky Bishop, Gloucestershire, sold a 17 month old Limousin x Blue heifer at £2400.
And Oxfordshire-based Smiths of Bloxham sold Blue x Limousin steers to £1150 at 12 months old, with similarly bred heifers making £1280 at the same age.
Paul Gentry said a number of volume buyers were active across the commercial entry, seeking out top quality cattle for both finishing and also for retention as suckler females. "Trade was electric throughout and without doubt some potential buyers left disappointed having been unable to secure the cattle they were wanting."
Averages; Eight British Blue bulls £3307.50, two British Blue cows and calves £2257.50, six British Blue maiden heifers £3780, eight Limousin cows with British Blue calves £2874.37