Blues Top at 6,900gns at Chelford
It was another super day for the British Blue Cattle breed at Chelford on Saturday, 7th March 2015 at the 60th National Show and Sale to be held at the Centre.
The morning's show was watched by a huge crowd, which bode well for the following sale, and pre-sale expectations were exceeded many times throughout.
It was the Supreme Champion in the show which topped the trade at 6,900 gns. Tapped out by the judge, John Laight of the Witham Bank Herd, Lincolnshire, Trencrom Icarus was shown by his breeder Gail Ellis, of St Ives, Cornwall. Sired by New Close Colonel and out of the homebred cow Trencrom Ellie Ellis, this powerful predominantly black bull had excited plenty of pre-sale interest, and eventually sold to H Hitchcock, Belper, Derbyshire.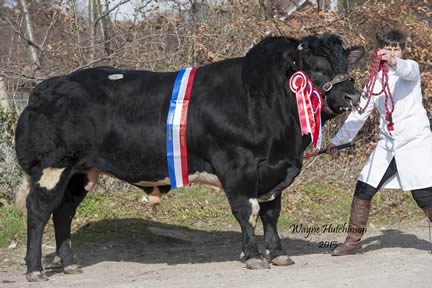 Fred & Dean Saunders travelled from their base in Ulverston, Cumbria and were well rewarded, when their December 2012 born bull, Maidenlands Hercules, a son of Imperial De L'Ecluse, out of the Empire D'Ochain sired Solway View Entertainer made 6,100 gns. Hercules a previous show winner, stood second in his class and found a new home with to S Horsfield, Hebden Bridge, Lancashire.
Another long distance traveller was Dymond Blue Isambard, from Nigel and Candy Jenkinson, Shebbear, Devon. Having had a successful 2014 show season, he stood second to the Champion and sold to D McLaren, Kinross, Perthshire. Sired by the great multi prize winning bull Drift Domino, out of the Dafydd sired Springfield Crystal he realized 5,400gns.
Derbyshire breeder Mark Hambleton is fast establishing a reputation for breeding fit, powerful bulls and his black and white bull, Clayfields Ike was no exception. Sired by Lotto VD Vloeikenshoeve and out of the Empire sired Clayfields Flossie, he stood Reserve Male Champion, and, again having excited plenty of bidding, went home for 5,100gns with T Roberts, Tycroes, Anglesey.
The Hartley family brought out the third prize winner, Pendle Inxs, expertly shown by their daughter Issy. Sired by their old stock bull, Newton Blues Chico and out of Pendle Witch, he found a new home with B Jones, Belper, Derbyshire for 4,900gns
Breeders out in force for Females
Breeders were out in force looking for smart replacement females, the top price at 3,600gns being shared by two outstanding examples of the breed.
Firstly, the Female Champion a February 2013 heifer, Pendle Indigo from the Hartley family, again, by their stock bull Newton Blues Chico and out of Greystone Bonzer sired Pendle Fruity Tutti, this eye catching blue roan heifer sold to David Heath, Tarvin, Cheshire.
She was closely followed for the same price by the first heifer to be sold out of the Barleyclose herd of Messrs Wells and Sons, Monyash, Bakewell. Barleyclose Icebun, by the prolific sire, Bluegrass Cyclone and out of the Hazelwood Freshman sired Gregmaur Empress stood first in her class, and went home with D Wright, Parwich, Derbyshire.
Next in line was first female through the ring, Norton Gem, from Nigel Pritchard. This young second calving cow sold in calf to the Dafydd sired Brown Clee Fraser. Out of the homebred cow, Norton Arrow, herself a daughter of Bannister Naïve, she sold for 2,500gns and finds a new home with fellow breeder, Richard Driver, Bradford, West Yorks, for his Dean House herd.
The junior heifers were led by Tanat Iona, the latest example to come out of the Oswestry based herd of Wyn Jones and family. Placed as Reserve Female Champion, this heifer, by Bringlee Waldo out of the Serum sired Burton Ulrika, made 2,300gns to Ted and Andrew Haste, Shebbear, Devon, to join their long-established Stoneleigh Herd.
An extensive collection of pedigree embryos and bull semen created plenty of interest, peaking at 300 gns for an embryo by Dafydd D'Ochain out of the outstanding cow Immediate ET 2840 De Mehogne, put forward by the family of the late John Mawer. Straws of semen, now in very limited supply, from the proven bull Tweeddale Ebony, made up to 200gns each, with straws of Mountjoy Utopia to 100gns.
Pedigree Averages:
24 Bulls £4,278
13 Heifers £2,453
Lively Trade for Crossbreds
Following the lively trade in the Pedigree sale, it was fantastic to see the ringside remain at full capacity as the Blue Cross section got underway.
Strong entries of steers and heifers came under the close scrutiny of respected breeder and showman, John Stephenson (Bordley Blues), who carried out his judging duties with lightning efficiency.
He chose as his Champion a very stylish black heifer, born last March, from Andrew Price (Bedgebury Blues). which sold to BJ Haigh, Hexham for £1630.
The Reserve Champion ticket was won by Owen Brothers, who had travelled from Colwyn Bay with a very shapey steer, first lot in the ring selling at £1280 to S Daly, Northants.
It was the halter tied classes which produced some of the day's top prices, DE Morgan & Co topped the sale with their June born heifer by Hawthorne Fabio. Standing first in her class she makes her way to Matlock Derbyshire with new owner N Gratton for £2120.
Paul Walker saw the best of his pen top the steers at £1400, selling to RW Balls, Norfolk. First prize halter tied steer came from the same stable, selling at £1320 to RG Manning, Sudbury.
Other notable prices included a very pretty 8mo heifer from DE Morgan & Co at £1800 to RG Manning, and G Nutt, Thirtleby, paid £1710 for the day's penultimate lot, an outstanding, pure heifer exhibited by Leslie Driver & Son, Bradford.
Auctioneer Jon Farrall commented;
"Although there was a shortage of headline prices, the averages returned indicate a very robust trade throughout with the vast majority of entries realising in excess of £1000, steers levelling at £1140 with heifers fairing slightly better at £1162."
Blue Cross Averages:
Steers £1140
Heifers £1162
Auctioneers: Wright Marshall