Silver Celebrations For Bringlee Blue Herd At Chelford
It is 25 years since Graham Brindley and his family started breeding British Blue Cattle, and in that time the Bringlee Herd has become synonymous throughout the world for top quality Blue genetics. The Bringlee females, in particular, have played a large part in establishing and developing other herds of Blues during that time and there have been some notable show and sale successes along the way, for both bulls and females.
Graham Brindley and his family decided to mark this 25th anniversary with a further, special production sale, mainly of females, from the Bringlee Herd at Chelford last Saturday, which was well supported by Blue breeders and enthusiasts from throughout the UK, Ireland and part of Europe. On the same day, Auctioneers Frank Marshall & Co, were pleased to arrange a dispersal of the majority of the Plein Air Herd, on behalf of Mr Raymond Hull, Tiverton, Devon.
On the commencement of the sale, Graham Brindley welcomed all present to Chelford, and re-iterated that breeding Blues had given him massive pleasure over the period of 25 yrs, and had become a real obsession for him and his family.
He hoped other breeders would have the same fun and enjoyment out of breeding cattle as his family had.
The sale produced outstanding results, particularly for a superb run of young heifers. Leading the sale trade at 6,700 gns was the January 2011 born Bringlee Garmani, by the outstanding breed bull Bringlee Waldo out of the great show winning heifer Boomer Armani, a full sister to Euphoria winner of many championships and interbreed rosettes over the last two years, and half sister to Boomer Dior and DKNY, both having won Championships at various Royal and regional shows.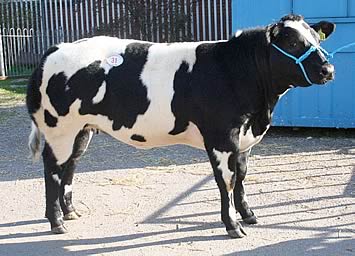 This heifer had been much admired in the pens prior to the sale, and at sale time a bidding war ensued between several enthusiasts, keen to acquire her both for breeding, and show purposes. In the end, auctioneer Gwyn Williams banged his gavel and confirmed the sale to young breeder and show girl Victoria Bowring of Mansfield, Nottinghamshire, who was determined to add Garmani to her impressive show team.
The beautiful Blue roan heifer Bringlee Fawn, who Graham rates highly as a future potential show heifer and brood female was also much admired. By Bringlee Blackstar out of an imported cow Raspoutine, she also attracted great attention pre sale and this time it was Pasturefields Livestock, Weston, Stafford, who fought off all other interested parties to take her home for 5,900 gns.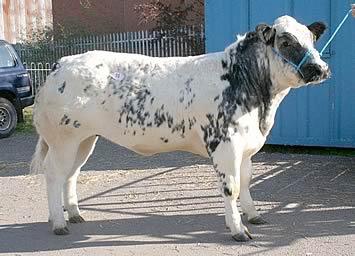 Another heifer to attract attention was Bringlee Eamy, again by Waldo, but this time out of the natural calving dam Carrock Amy. Again there was plenty of activity around the ringside, but she went home to Reading, Berkshire with A & P Phillips for 5,300 gns.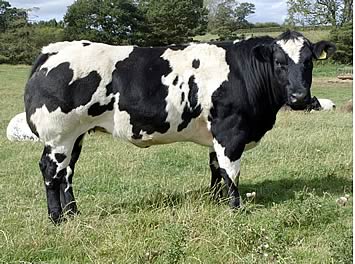 An outstanding selection of summer born calves was headed by the June born Bringlee Gibson, sold at the foot of his recipient dam. The only bull calf out of Boomer Armani in the sale, and sired by Bringlee Waldo, he is also a full brother to Boomer Euphoria, and a half sister to Dior and DKNY. He led a sparkling trade for the young calves, when selling for 5,000 gns to Messrs Madders & Johnson, Tixall, Stafford.
Leading the heifer calves was a full sister to Garmani, this time Bringlee Geemarni, January 2011 born, and again by Waldo and out of Boomer Armani. Sold again at the foot of her recipient dam, she made 4,700 gns to the Bidwell Blues Herd of Messrs Ludgate, Bedfordshire.
The very attractive Bringlee Go Girl, a June born calf by Bringlee Waldo and out of Bringlee Wanda, a full sister to the 10,000 gns Titus, again sold at the foot of her recipient dam made 4,000 gns to J A Hopkins, Lympsham, Somerset.
At the conclusion of the sale, several embryos were offered for sale representing some of the best Bringlee breeding. Two embryos by Baron Du Bois, out of the outstanding show cow Bringlee Sandy, sold for 750 gns each to Kevin Watret, Solway View Herd, Annan, Dumfrieshire, with two embryos by Graphite also out of Sandy selling for 500 gns each to Messrs Wallbank, Settle, Skipton.
Mr Brindley was delighted with the overall trade and thanked all purchasers for their support, wishing them well with their future purchases.
Bringlee sale averages:
25 Maiden Heifers £3,185.00
3 Bulls £2,310.00
10 Pedigree Calves with recipient dams £3,381.00
12 Embryos £392.88
Following the Bringlee Production Sale, Ray Hull brought to the ring his Plein Air Herd, bred and reared at between 900 and 1000 feet on the Devon hills, near Tiverton. This sale afforded breeders an ideal opportunity to purchase sound breeding females, with many potential foundation cows within the herd.
Leading this sale, at 3,000 gns, was the 2002 born natural calving cow Peel Ursula, sold with her heifer calf Plein Air Golfy, by the Bringlee Waldo sired Plein Air Cromwell. Ursula, by the naturally calving bull, Stoneleigh Cassius, had been sold at Chelford as a calf, at the Peel Dispersal Sale in June 2002, and returned to the West Country, this time going to Chard in Somerset with Messrs S & M North.
The 2004 born Plein Air Wisteria, by Lenborough Olivier and sold with her heifer calf at foot by Cromwell, had also attracted quite a bit of pre-sale interest, and made 2650 gns to J T Wainwright and Sons, Perthshire, Scotland.
The catalogue "cover girl" Plein Air Aspen, by Stoneleigh Claudius and out of Peel Rhapsody, the top priced animal in the Peel Dispersal sale in 2002, was also sold with a heifer calf at foot, this time Ghislaine, also by Cromwell and made 2,600 gns to Messrs Randall, Milton Keynes, Bedfordshire.
Plein Air Averages:
7 Cows with calves £2,535.00
11 In-calf Cows £1,386.00
4 Maiden Heifers £1,270.00
2 Bulls £1,325.00