Bank of Ireland British Blue Young Bull Championship
The annual British Blue Young Bull Championship took place at Castlewellan Show on Saturday 19th July. This prestigious competition was kindly sponsored by Bank of Ireland. This year it was confined to young Pedigree British Blue Bulls born on or after 1st October 2012 and before 30th June 2013 with qualifying taking place at various regional shows throughout Northern Ireland.
The Judge was the much experienced and well known cattle breeder Ivan Gordon from Kilkeel. He was accompanied in the ring by the President of the Irish Show Association, Jim Harrison to oversee the competition. Alongside many of spectators were representatives from the Bank of Ireland, Agri-Manager William Thompson and Customer Sales Consultant Declan Maginn.
After close scrutiny, Ivan's choice for The Young Bull Champion went to a fabulous bull Ballygrange Incee owned by Jim Sloan from Kilkeel. This January 2013 bull was sired by Springbank Blackstar with dam Ballygrange Delight. His second choice was Springhill Hammer, a November 2012 bull sired by Lotto with dam Springhill Fizz owned by Martin Brothers from Newtownards. His third choice was Hillview Ideal owned by Peter Stratton from Tempo, Co.Fermanagh. It was an April 2013 bull sired by Gitan De PTI'T Mayeur with dam Hillview Camilla.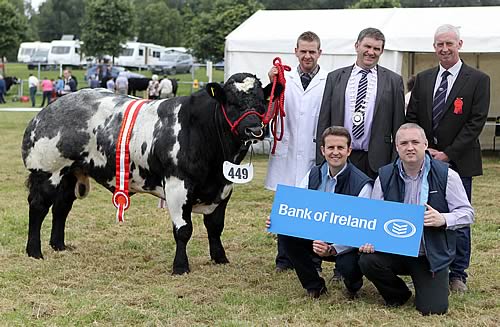 British Blue Young Bull Champion Ballygrange Incee , owner James Sloan, ISA President Jim Harrision, Judge Ivan Gordon with William Thompson & Declan Maginn from Bank of Ireland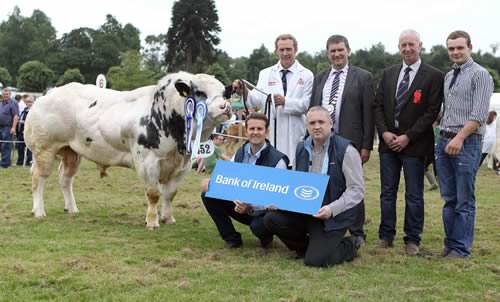 British Blue Young Bull Reserve Champion, Springhill Hammer, owner James Martin, ISA President Jim Harrison, Judge Ivan Gordon, Sam Martin with William Thompson & Declan Maginn from Bank of Ireland
Ivan was greatly impressed by the quality of all the young bulls in the line-up and acknowledged the hard work of the competitors in the presentation of their animals.
Thanks to Bank of Ireland for their sponsorship, the Irish Show Association and the competitors, this prestigious event was a great success for the British Blue Breed.