£4,200 for British Blue X at Leyburn Spring Spectacular
30th March 2015
Leyburn Marts Tenth Anniversary Spring Spectacular for Show Potential Cattle on Saturday 14th March 2015 proved another success with 51 cattle entered for this dedicated show and sale day.
Expert judge and respected cattleman in the show world Michael Alford from Devon was invited back as the main judge with his wife Melanie chosen to decide the Young Handlers section.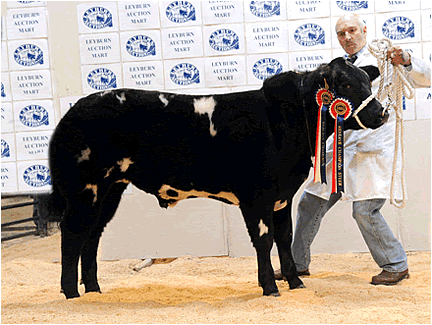 The Champion, a Charolais X steer, came from Messrs. Orme, which sold for £1,700, but it was the Reserve Champion, a British Blue x steer, which made the top price of £4,200. Brought forward by John Smith-Jackson, this steer took the special prize sponsored by the British Blue Cattle Society. Successful purchasers were Luke and Beth Wilkinson.
Trevor and Johnny Lyon from Lincolnshire were awarded the Champion British Blue heifer which followed on to take the Reserve British Blue prize and sold for £1,350 to the Dent Family from Lartington, Barnard Castle.