Record Price of £2867.48 for Champion British Blue Cull Cow at Chelford
9th December 2014
A record price for a Barren Cow at Chelford, was achieved at their Christmas Show, when Sam Madeley of Glewstone, Ross-on-Wye, sold his British Blue cow for £2867.48!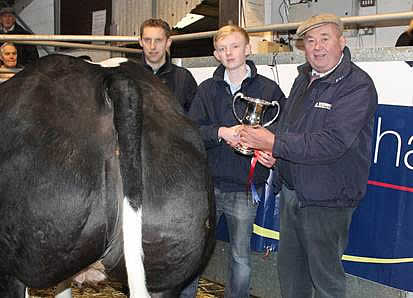 This was the first British Blue cow Sam purchased, to form him Glewstone Herd and she weighed in at a whopping 1078kg. She made 266p/pkg to gross a fantastic £2867.48.

The purchaser was Owain Llyr of Ruthin.

Auctioneer, Roy Waller, commented "After 45 years it was a pleasure to see such a good cow and a pleasure to sell it. It is 35 years since I sold my first pedigree "Blue" – a breed that has changed the UK Beef Industry."

Two further British Blue cows made £2128.52 and £1697.08!