NewPole wins Most Improved Herd Award
1st September 2014
The NewPole herd, owned by Phil White and Jools Turner of Wellington, near Somerset, has been recognised by EBLEX as the Most Improved Herd of British Blue cattle in England for 2014.
The award is presented by the EBLEX Beef Better Returns Programme (BRP) to the performance-recorded herd that shows the greatest genetic gain for commercial characteristics over a 12-month period. There is a separate award for each of 10 UK breeds.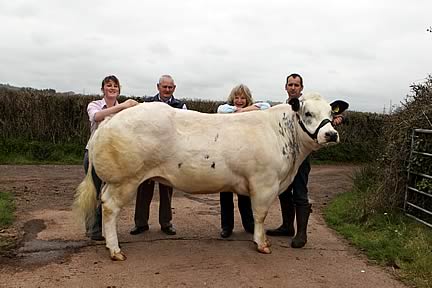 Phil and Jools run two farms in partnership. Middle Poleshill, owned by Jools Turner, is home to the NewPole herd. Alongside the Blues, Jools breeds Suffolk Punch horses and Weimaraners. For 14 years the farm has been home to Bishopswood Bloodstock, breeding thoroughbreds for flat racing, in partnership with Trickledown Stud.
Newlands Farm is a fully-operational dairy herd, owned and managed by Phil White, using exclusively NewPole pedigree stock bulls for the last eight years. All dairy heifers calve to sexed semen for their first calf, thereafter only ever seeing the British Blue bulls. This has provided trouble-free, higher-revenue British Blue x calves which are sold as stores. Caesareans are unheard of and many of the Blue x heifers end up as recipients for NewPole's flushing programme.
Middle Poleshill, a former dairy farm bought in 2000, is comprised of 106 acres, of which around 70 per cent is permanent pasture and 30 per cent is sown to winter wheat, barley and fodder beet. Situated in the Vale of Taunton, the farm has a mix of soil types, but the majority is the traditional, very fertile red Somerset/Devon soil, which produces very good grass.
Phil's daughter Pip, a vital part of the showing team, halter breaks all young stock and has just completed her 'A' Levels. His son, Rob, is spending his first year on apprenticeship at the farm, helping to run the farms managed by Phil, including their third holding at Elworthy.
Establishing the NewPole herd
Phil's father Reg had a passion for livestock, therefore, in 2004, they purchased an imported, Belgian in-calf cow at the Chelford Society Sale. This became one of the foundation cows of the NewPole herd. They gradually built up numbers through keeping homebred heifer replacements. Over the years they have bought-in embryos and several good females to flush.
"Reg made perhaps the most astute purchase in Astbury Valentine, whom he bought at Chelford sale in 2005," said Jools.
"We also bought Ameley Uvita there, another brilliant flushing cow. These cows have produced very successful bulls, some have been purchased for Artificial Insemination (AI) stations, many more are doing sterling work on commercial and suckler herds.
"Breeding decent animals that perform well is a huge pleasure for all of us here."
Uvita's first calf, NewPole Bouncer, became the first stock bull for Newlands and remained there for five years. He has since been replaced by NewPole Eskimo, one of Valentine's calves.
Their first homebred calves were a black and white heifer, NewPole AbFab, and NewPole Asset, their first embryo transfer calf, who became champion female at the Royal Cornwall Show in 2009.
Genus noticed NewPole showing at Honiton show in 2008 and as a result visited the farm, where they saw naturally-calved NewPole Easy at the foot of his Hereford recipient dam. Easy was sired by Greystone Turbo, who was then the top-selling Genus bull. Genus invested in Easy, giving them the opportunity to replace Turbo.
The NewPole herd use the show ring as an opportunity to bring out smart youngsters, with the hope of making champions They had a successful year showing in 2011 and an even-better year in 2012, producing the homebred heifer that ended up on the front cover of the 2013 society yearbook, being shown by daughter Pip. Reg was able to enjoy this success before sadly passing away last year.
Performance Recording
Performance recording has always been valued by the NewPole herd, with estimated breeding values (EBVs) providing a tool to aid selection. They focus on traits for calving ease and milk, combined with good 200 and 400-Day Weight EBVs or a desirable muscle area EBV. In 2010, they started submitting weights and scanning information.
"An animal needs to be built to do the job required of it, so conformation, mobility, ease of calving and muscling is of huge importance," Jools said.
"Demand for Blue semen increases year on year in the dairy sector, which demonstrates that Blue breeders across the board are getting the product right!"
Annual production cycle
The main function of the herd is to produce bulls for dairy and commercial suckler herds. This year they have switched from autumn to early spring calving in order to produce animals of the correct age for the society sales. Middle Poleshill maintains a high health status for cattle, giving peace of mind to buyers.
The NewPole herd numbers around 30 pedigree cows and heifers, with a further 25 recipient heifers. Recipients provided by Newlands are Friesian x Blue, they are very milky and their calves do very well. Selected cows are flushed once a year in April, when the recipients are lined up. Having built numbers up, they can now cull cows as required to promote easy calving.
Cattle are housed in late October/early November and are turned out in the spring after calving. Calves run on with recipient dams until they are between six and ten months old. Once the recipient takes a new embryo, the calf is then weaned.
"Our animals are not heavily pushed," said Jools.
"We mix our own 16 per cent protein ration, with home-grown grain and bought-in straights. We make our own forage and together this provides the most cost-effective way to feed our stock."
Looking to the future
Maternal traits are a priority for heifer replacements; females need to milk well with a tidy udder and plenty of capacity, without this they will not remain in the herd. They must be easy calving, but not to the detriment of muscle on the backend, as this is required to produce good bulls.
"There is a fine line to tread in order to balance well-muscled conformation with other desirable traits," Jools said.
At NewPole, they require a huge range of different traits, not all attributable to EBVs, and use a number of sires for Artificial Insemination (AI) to complement stock bulls, allowing a wider gene pool.
NewPole Asset is by the high genetic merit bull, Dafydd D'Ochain, who is one of the breed's trait leaders for carcase traits. Asset has great EBVs for ease of calving and sits in the top five per cent of the breed for the Eye Muscle Area EBV. Other sires used include Empire D'Ochain, Panache de Centfontaine and Twyning Ash Vaughan, to name a few.
In partnership with commercial suckler farmers Ray and Keith Barrow, NewPole took semen from the Barrow's Greystone Carbon, an all-black terminal sire, who is well proven on their own commercial suckler herd of 350 cows. They have just flushed Asset to Carbon and have embryos to implant for the future.
Progeny from Greystone Carbon consistently does well through Sedgemoor J24 and to date all calves have inherited his outstanding loin. His daughters are now of breeding age, with first calves sired by NewPole's homebred Limousin bull expected later this year. Subsequent progeny from these females will be sired by a British Blue bull.
They are delighted with their achievement in getting numerous bulls onto AI studs, many such as Easy and Chalky White already well known. Heartthrob is now at Genus ready to start work and other bulls are undergoing tests on farm for other semen companies.
Promotion of the herd remains an important factor and they keep website and social media such as Facebook up to date with their latest news.
The runner up in the competition was the "Cromwell" Herd of A E Neachell & Son.