British Blue Prime Cow Tops £2022.11 at Borderway
4th December 2013
At Borderway Mart, Carlisle on Monday 2nd December 2013 Harrison & Hetherington held their weekly sale of Primestock, which included the Christmas show and sale for prime cattle, cast cows & OTM cattle, also prime bulls.
The cattle classes were judged by J Craig of Ballards Butchers, Castle Douglas, whilst the cast cows & OTM cattle were judged by John Little of Lancaster Meats. All classes were kindly sponsored by John Scott.
Cast Cows & OTM Cattle – A fantastic show of 288 cast cows were presented with 26 outstanding cows put forward to be judged by Mr John Little; a massive ring side of 20 buyers ensuring that all classes were dearer on the week.
Messrs Henderson & Son of Park House Farm sold the Champion British Blue cow for 730kg 240.5p £1755 purchased by Mr Charles Kirkpatrick. Telfer & Claxton of Newton High House run of cows topped at 934kg 216.5p £2022 purchased by Mr Charles Kirkpatrick. Messrs Mitchinson & Sons of High Greenhill sold two outstanding British Blue cows topping at 211.5p bought by Charles Kirkpatrick.
Leading price per Kilo: British Blue 240.50p, 192.50p, 188.50p Park House Farm, 216.50p, 197.50p Newton High House, 211.50p High Green Hill, 206.50p Nook House, 198.50p Akeldsteads House, 192.50p High Tarns Farm, 189.50p Blackhamilton, 184.50p Edmonds Farm.
Overall: British Blue £2022.11, £1943.40 Newton High House, £1827.36, £1540.11 High Green Hill, £1755.65, £1570.21, £1561.18 Park House Farm, £1605.15 Edmonds Farm, £1484.78 Akeldsteads House,
Prime Bulls – A larger entry of 87 prime bulls were forward with 16 being entered for the show. Top pence per kilo was paid for 1st prize British Blue from Messrs Telfer, Newton High House, selling to 233.50p/kg or £1732.57
Leading price per Kilo: British Blue 233.50p Newton High House, 232.50p Maison Gill, 228.50p Mirkbooths, 220.50p Cardew Hall, 214.50p Whitefield,
British Blue £1737.54 Cardew Hall, £1732.57 Newton High House, £1604.25 Maison Gill, £1574.37 Mirkbooths, £1355.20 Whitehead Hill Farm.
British Blues Dominate Prime Cattle
Prime Cattle – An outstanding show of 78 prime cattle were forward for the Christmas Primestock show where a total of 33 prime cattle were presented in front of the judge Messrs J Craig of Ballards Butchers, King Street, Castle Douglas. He awarded his overall champion to the first prize cross heifer shown by Messrs Hall of Ainstable Hall, Ainstable winning with his British Blue cross weighing 714kgs and selling to 300pence per kilo and £2142 which was backed by his judgement and purchased the the winning entry.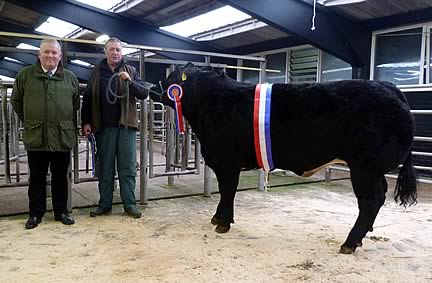 Reserve Overall Champion also came from Messrs Hall with the second prize heifer in this class a British Blue cross heifer weighing 660kgs which later sold for 257.50p/kg and or £1699.50 selling to Messrs Wilson, Butcher, Corby Hill. Outwith the show cattle all other classes of cattle met a very strong selling trade on comparison of the deadweight system. The leading overall pounds per head entry come from Messrs Studholme of Nealhouse Farm, Nealhouse, Wigton selling his British Blue cross steer to £2016.37 and top pence per kilo outwith the prize winners was a British Blue cross heifer from Messrs Hall of Ainstable selling to 300p/kg selling to Messrs Mullholland, Butchers Shop, Great Orton, Carlisle.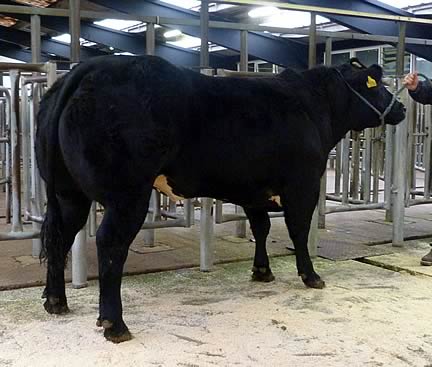 Leading price per kilo: Steers: British Blue 253.50p Beckhouse Farm, 246.50p, 242.50p Nealhouse Farm
Heifers: British Blue 300p, 257.50p Ainstable Hall, 266.50p West View, 262.50p Muirfield, 257.50p, 235.50p Ashcroft, 232.50p Akeldsteads House,
Overall:
Steers: British Blue £2016.37, £1935.15 Nealhouse Farm, £1640.15 Beckhouse Farm,
Heifers: British Blue £2142, £1699.50 Ainstable Hall £1710.93 West View, £1579.62 Akeldsteads House, £1577.91, £1547.24 Thurstonfield, £1561.88 Muirfield